Big Cartel and Wix are two good e-commerce platforms serving different genres of sellers. Both platforms offer a free plan and are beginner friendly. In this Big Cartel vs Wix comparison, we'll find out which is better for new sellers.
Table of Contents
Overview
Big Cartel is a platform for creative artists selling vintage or handmade products. It is one of the affordable options for those sellers with a low budget. Big Cartel is beginner's friendly and offers decent customization options. Even marketing is easy on this platform.
On the other hand, Wix is an all-around website builder with the option to create an e-commerce store. It is also affordable, slightly costlier than Big Cartel, and easy to work with. There are tons of marketing and e-commerce tools to help with store promotions. Any seller wanting to sell products or services will find Wix useful.
Premium Plan Starting: $15/month
Free Plan: Yes


Premium Plan Starting: $9.99/month
Free Plan: Yes



Big Cartel vs Wix: Which is best for you?
Big Cartel is a self-hosted e-commerce platform for side hustlers or hobbyists selling handmade crafts like jewelry, woodwork, painting, ceramic cutlery, and more. Although the store on Big Cartel looks plain and simple, they're still navigational and offer good features.
There is a suite of e-commerce tools to help the store function, like payment options, social media integration, marketing, and promotions. Big Cartel makes the whole deal sweeter with a forever-free plan and premium plan starting at just $9.99/month. If you're planning to sell less than 500 products, Big Cartel is ideal for you. For anything bigger than 500 items, you'll have to look for another alternative.
Wix is another self-hosted e-commerce solution for all sizes of retailers. It is comprehensive and can be used for anything online, from blogs to personal portfolios to restaurants to online stores.
It offers many e-commerce and marketing tools, hundreds of stunning website themes, and an easy drag-drop website builder. These website features and flexibility are why Wix is one of the most chosen website builders out there. Similar to Big Cartel, Wix also offers a free plan with some limitations like no online payment, no custom domain and more.
Also Read: Big Cartel vs Squarespace: Which One Is Best For You In 2023?
Big Cartel vs Wix: Pros and Cons
Big Cartel
| Pros | Cons |
| --- | --- |
| Intuitive Store Editor | Steep learning curve |
| Simple-looking artistic themes | Limited customization in themes |
| Easy to setup | Adding elements takes getting used to |
| Forever free plan | Requires basic coding know-how |
| Useful E-commerce tools | Can list only 500 products in the top plan |
Wix
| Pros | Cons |
| --- | --- |
| Beginner-friendly drag-drop builder | Builders require getting used to |
| Over 800 stunning themes | Analytics feature not available on free plan |
| Tons of marketing and e-commerce tools | Can't switch template when the website is live |
| Free custom domain | So many functionalities can feel overwhelming |
| Excellent customer support | Limited storage on all plan |
Big Cartel vs Wix: Ease of Use
Big Cartel is initially very beginner-friendly. There's no intricate process to get on-board. When you select a plan, you're taken to the Big Cartel dashboard, where you can access different options, including website design, products, payment setup, and more.
Beginners wanting to set up an online store would find Big Cartel really helpful as it is not intimidating. The platform is fairly intuitive, with some learning curve. There aren't too many features to overwhelm. It is simple: sign up, add products, put your logo and products title and description, set up payment methods, and you're good to go. Selling online couldn't get any simpler.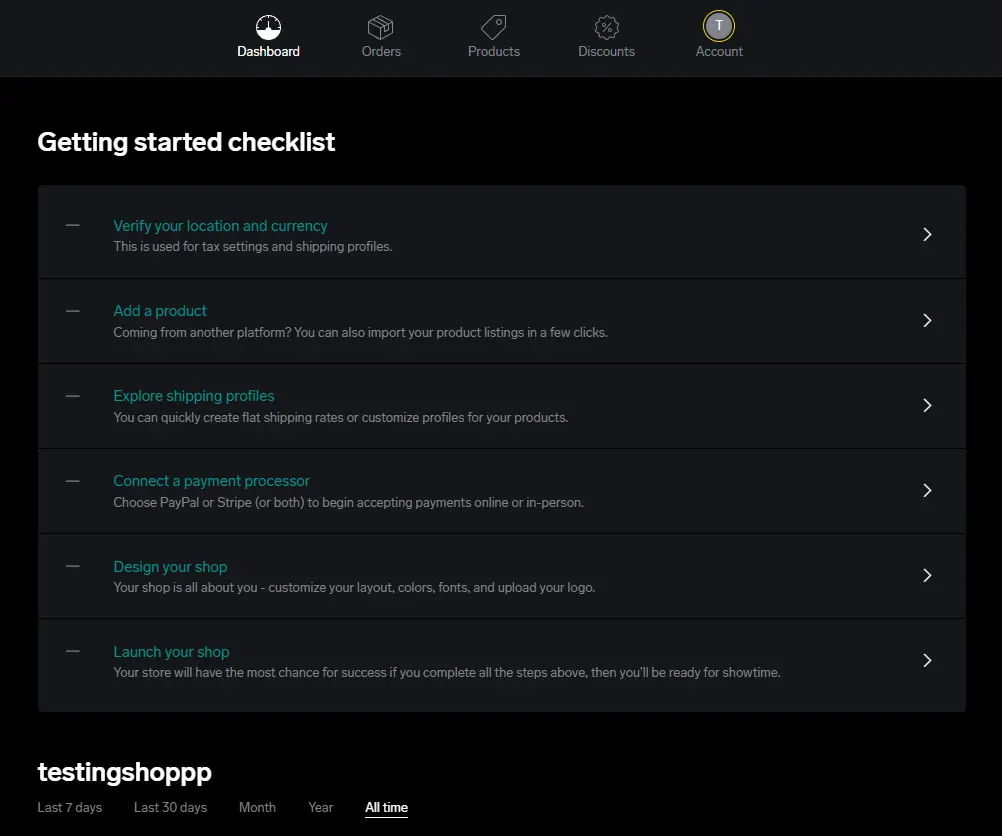 Wix is extremely beginner's friendly, and once you get used to it, very intuitive to create websites with. The biggest advantage of Wix is its visual drag-and-drop builder that lets you see the changes as you make them. From elements to blocks to sections, everything is customizable from the get-go.
For sellers wanting almost complete control over the design layouts and placements of elements—buttons, products, sign-up forms, gallery, and more—Wix will be an enjoyable e-commerce solution. A site history option allows you to revert changes or see the history of the website's versions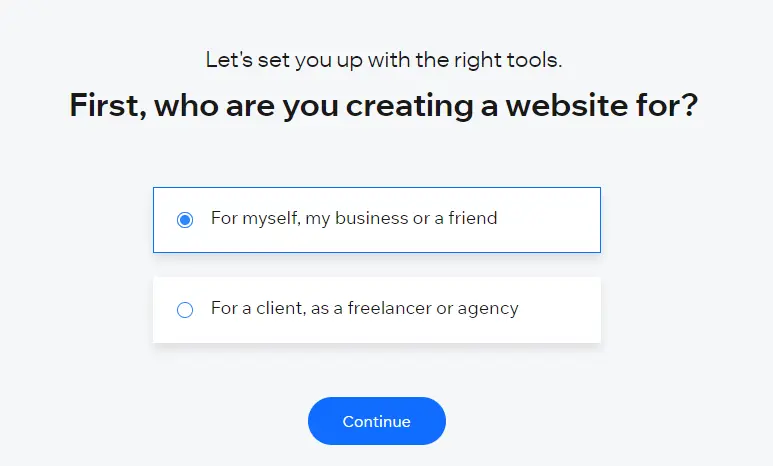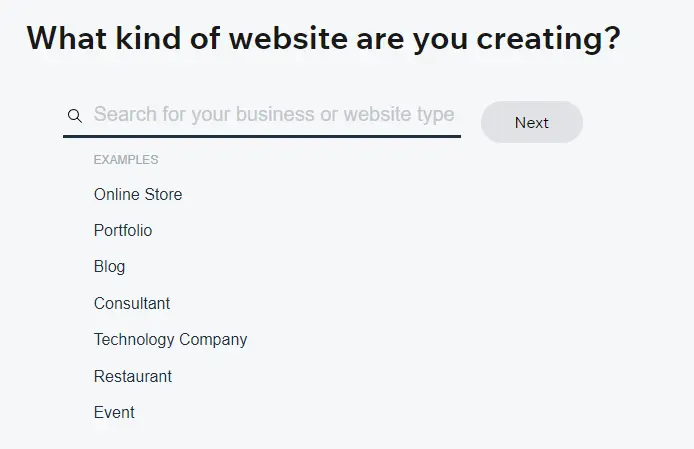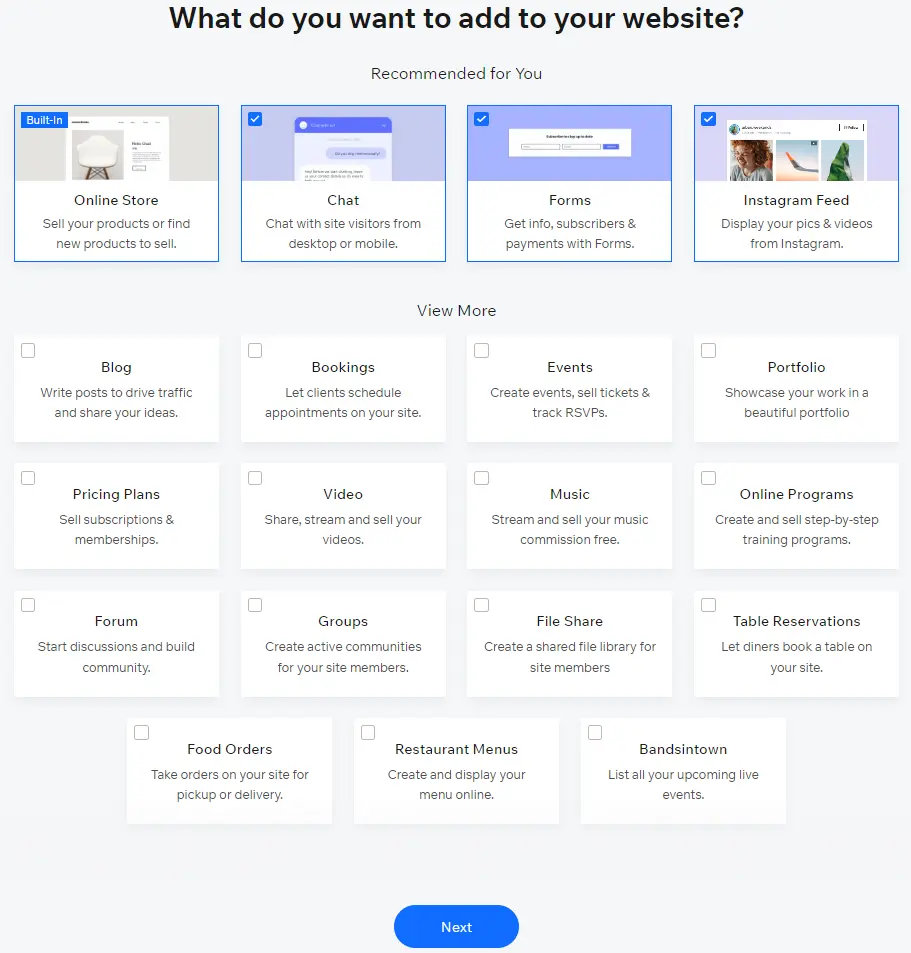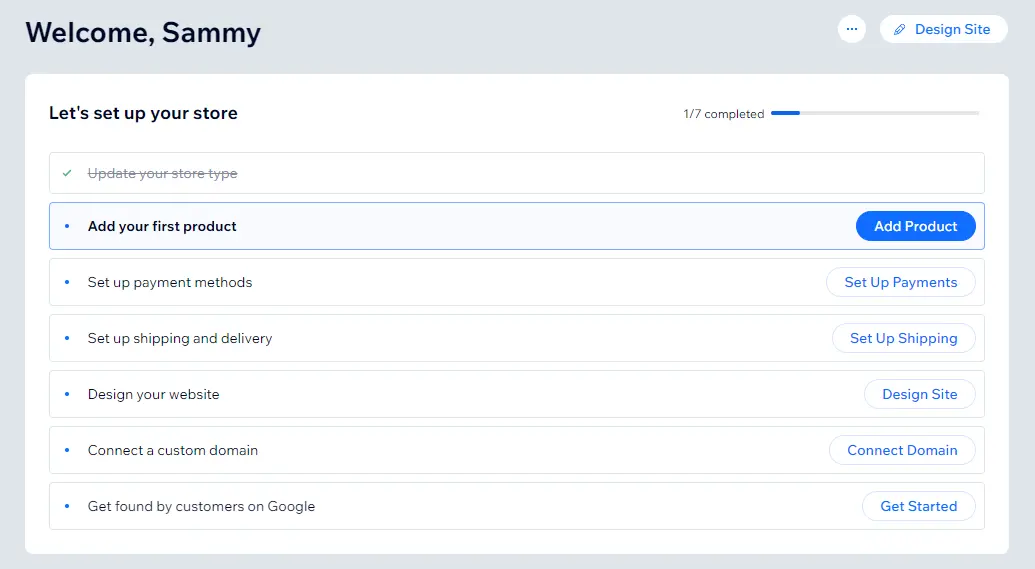 That's not it; for those sellers with no prior experience, Wix's ADI is a blessing. It creates a website/store for you based on the inputs you provide.
Big Cartel vs Wix: Website Design and Flexibility
Big Cartel is a contradiction in itself. On the one hand, it has a very easy setup. On the other hand, designing the website gets challenging. There are 19 themes to choose from, and each theme/template offers a different level of customization.
Design flexibility is poor, and you can only do so much with the editor. To get further customizations, you need to have some knowledge of CSS. It is a downer for people without any technical knowledge. What further upsets is the themes do not even offer basic visual features like zoom on product images. Conversion also depends on visual stimuli, as shoppers like to see the products in detail.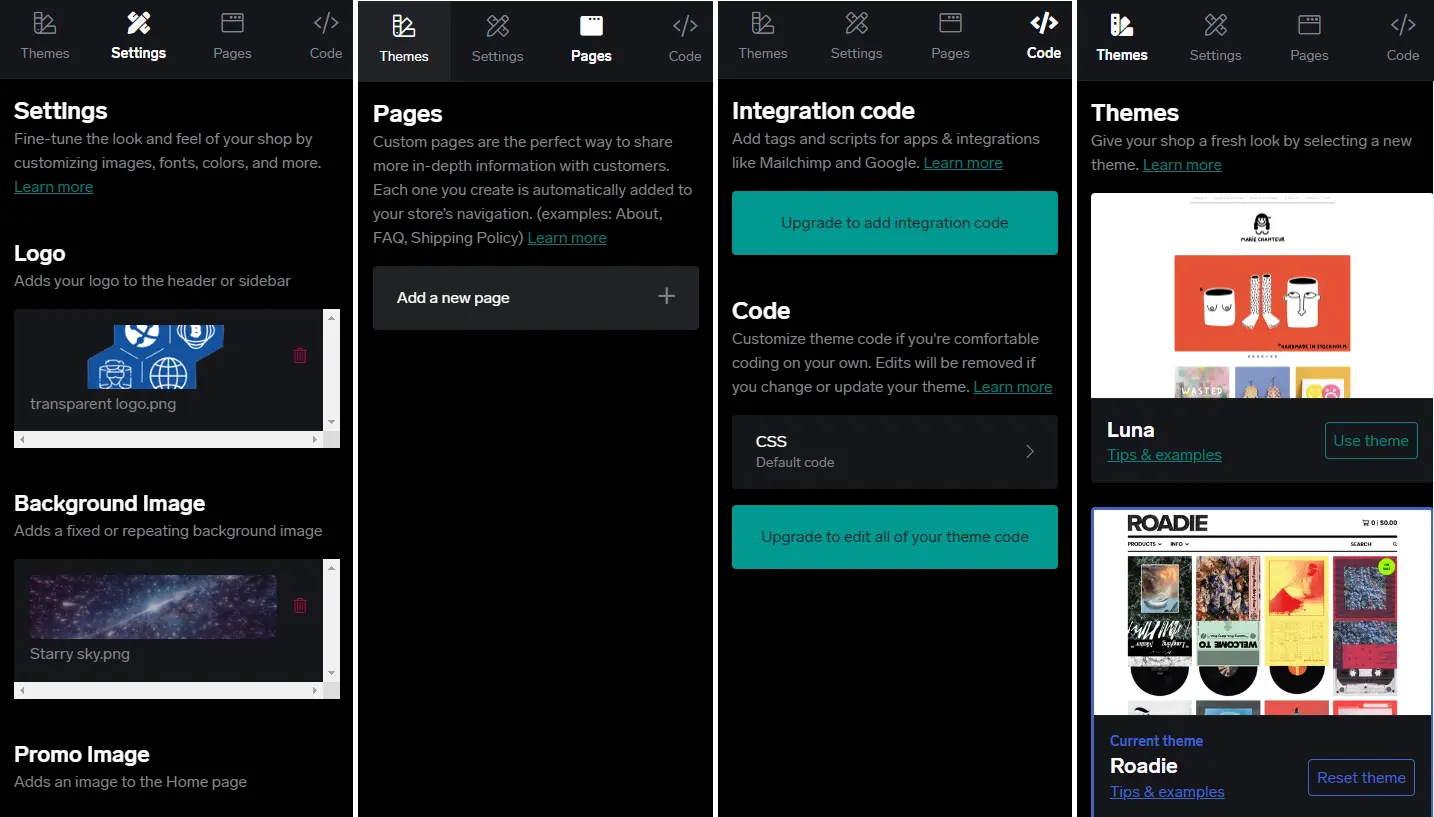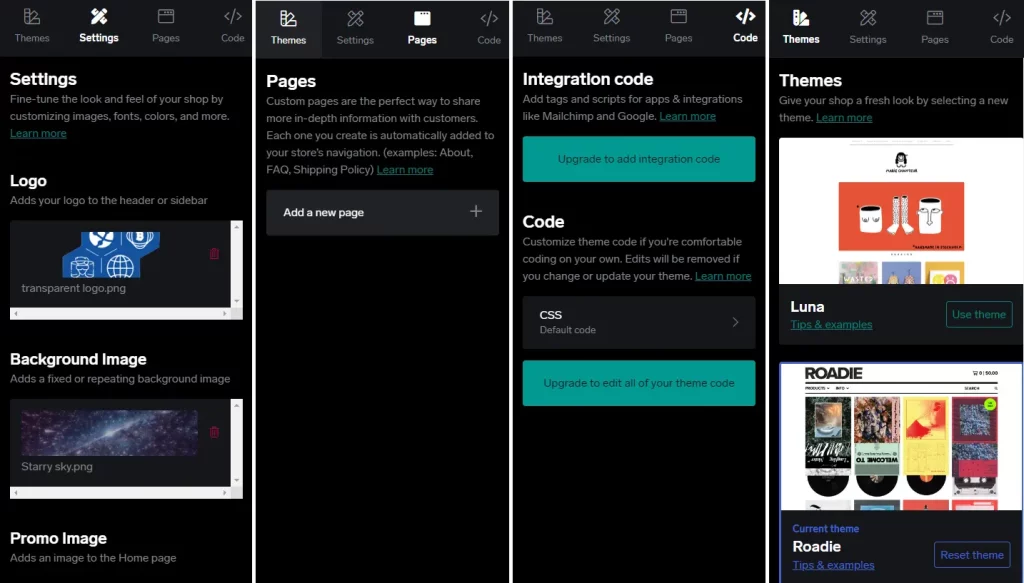 Wix is as flexible as any WYSIWYG drag-and-drop website builder can get. Wix editor has more than enough flexibility to customize every element to a greater extent. It offers over 800 different themes which you can customize to your satisfaction.
Sellers can easily manage orders, catalogs, and inventory and inventory in a straightforward manner. The biggest advantage is you don't have to stick with a boring layout for your store and can spice it up as you want. There's a separate mobile editor to make the store mobile friendly.
The only drawback to Wix is the number of features, as it can overwhelm a lot of beginner sellers. It seems ironic, given these features are what makes Wix so amazing. The only website builder that comes close to Wix's Editor is the Squarespace Fluid Engine.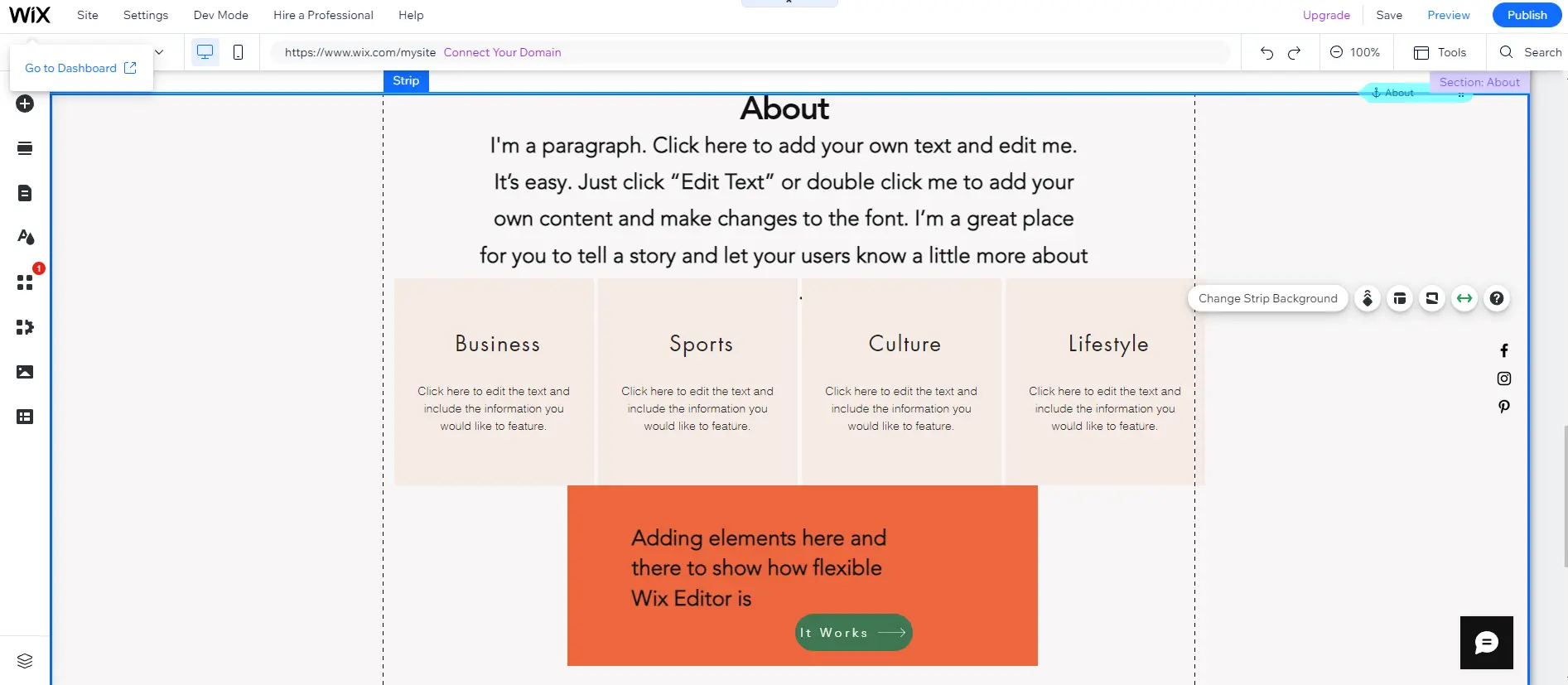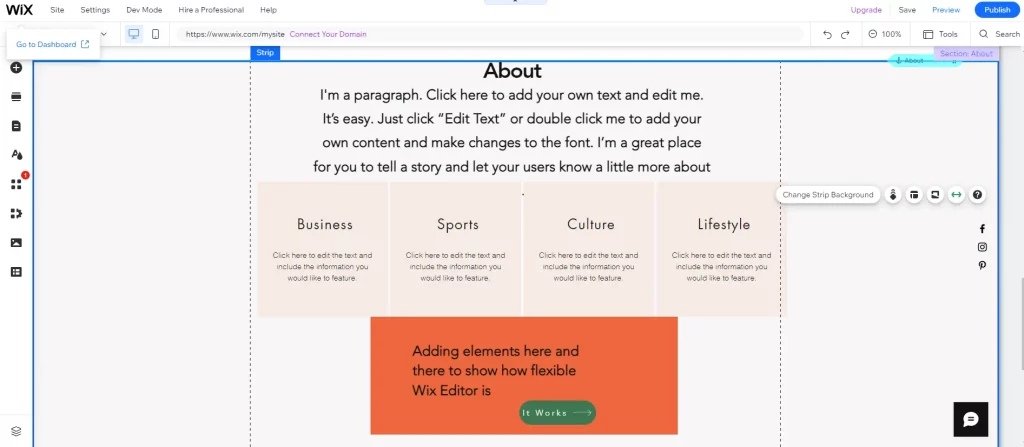 Big Cartel vs Wix: E-commerce Features
Big Cartel offers decent e-commerce tools, and yet not enough. It mostly relies on 3rd party app integration to access tools like analytics, email marketing, blogs, and more. You'll have to buy a paid plan to use Google Analytics on the platform. Big Cartel is also limited in what you can sell. Apparently, you can only sell physical items and not services of any kind.
Basic features like product and inventory management, shipping, and payment options are available and easily manageable. However, you'll have to buy a premium plan for bulk editing. For sellers with a bigger catalog, say more than 500, Big Cartel isn't the right platform because it only lets you sell 500 items on their most premium plan.
You will get automatic taxation in the US and Puerto region and automatic email notifications for sellers and customers.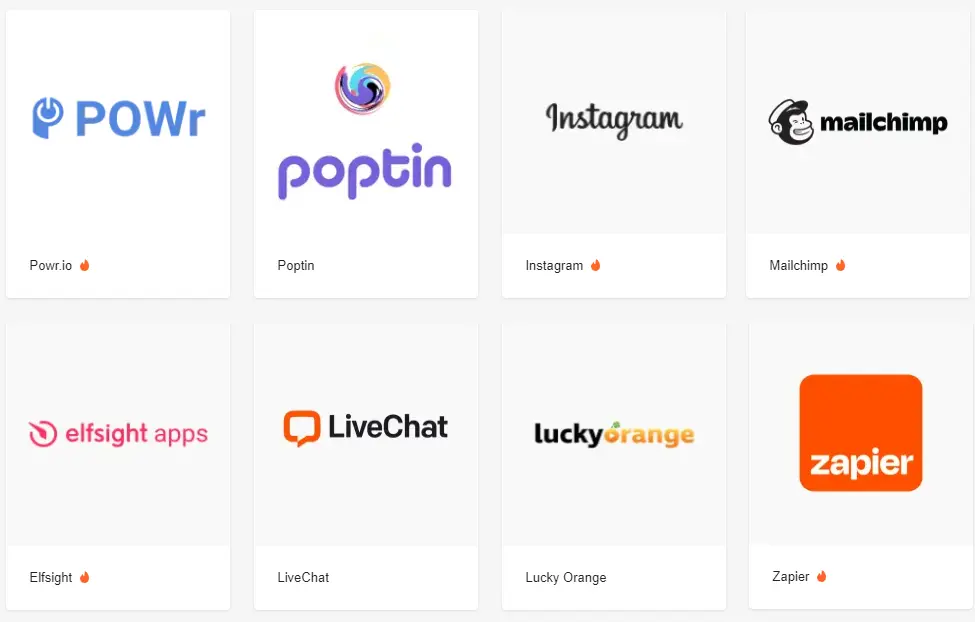 Wix is the clear winner of the two, with better product management, easy listing, stunning presentation, and more. You can create a really immersive shopping experience using Wix's built-in product video feature. Shoppers can zoom into product images and read the product description with ease.
You can also create a custom checkout page to represent your brand uniquely, something not offered by even Shopify. There's no limitation to what you can sell or how much. Wix allows for unlimited listings, and you can sell services as well as products. Though, you'll require a specific application to sell services.
Wix isn't meant for large-scale stores. It is more suited to small and medium-sized businesses.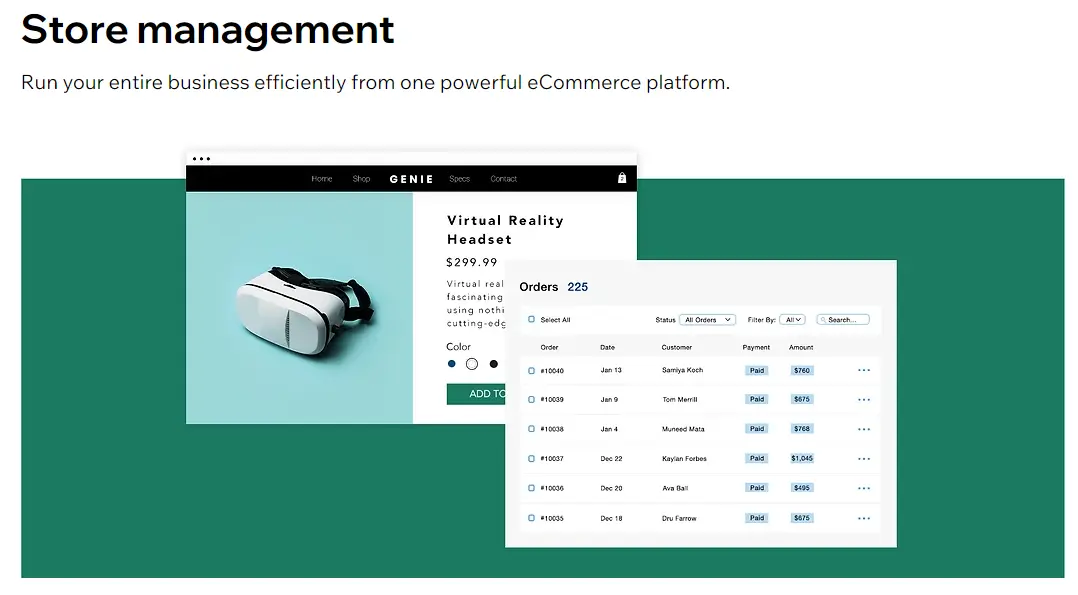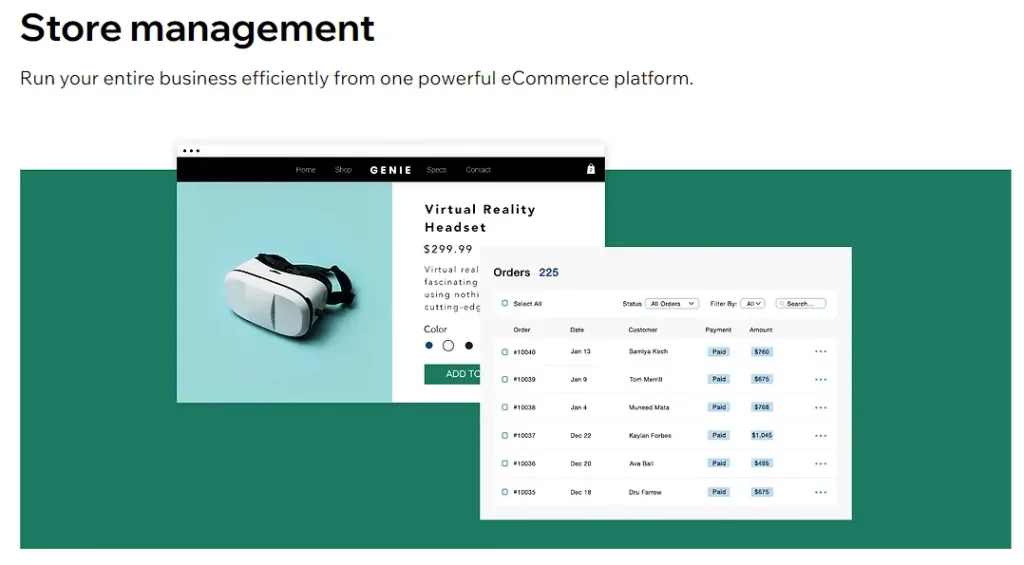 Big Cartel vs Wix: Payment Options
Big Cartel offers different payment options, unlike Etsy. You can choose from Stripe, PayPal, or Square to accept payments. What works in Big Cartel's favor is there is no transaction fee on any of their plans.
If you're using Stripe on Big Cartel, you can offer customers Instant Checkout, letting them pay without leaving the product page. If you want to sell in person through physical stores, the process gets a little complicated.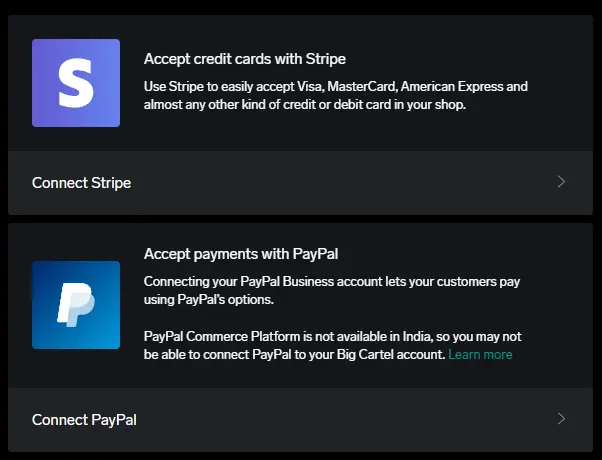 Wix provides over 80 payment options, including PayPal, Stripe, Square, and Wix's in-house payment solution. There's a processing fee that varies based on geographical location. For example, in the U.S., the processing fee is 2.9% plus $0.3, while in Europe, Wix takes 1.9% and 0.3 Euros.
However, if you issue a full refund to your customer, the processing fee won't be paid back to your Wix account. This means you'll have to bear the processing fee. You can also sell offline with Wix's bespoke POS solution. The billing and shipping management is easy and the checkout experience for customers can be customized.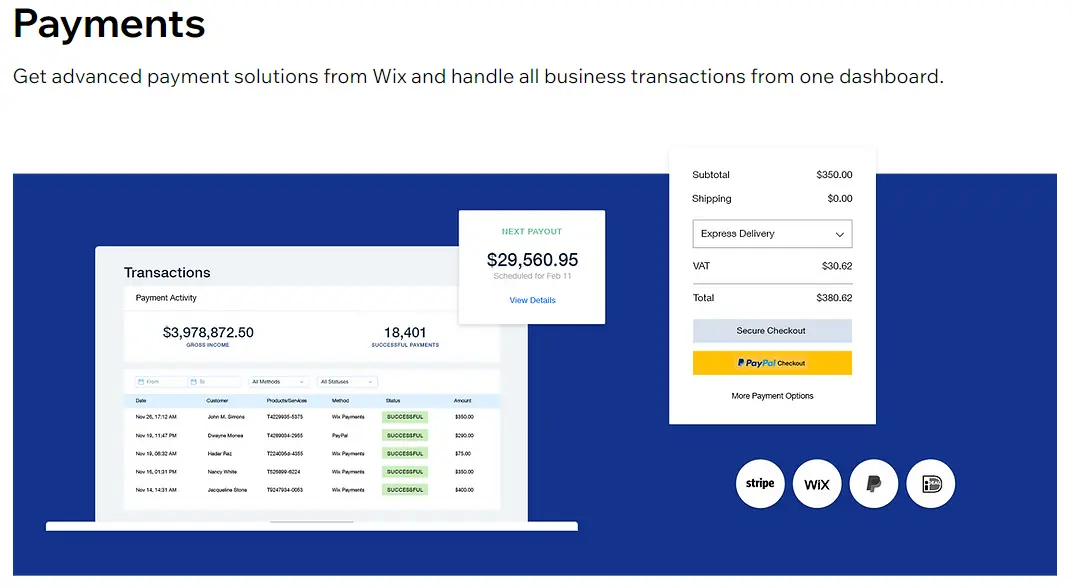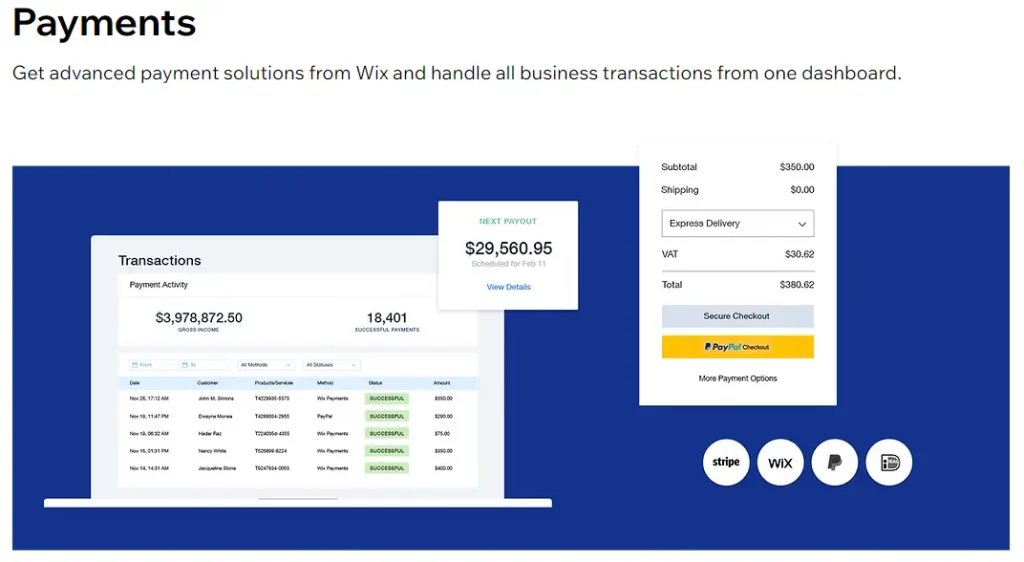 Big Cartel vs Wix: Marketing Tools and Features
For marketing promotions, Big Cartel falls behind Wix.
Big Cartel is good for search engine optimization. It automatically applies all alt texts, meta titles, and descriptions for your product images and web pages. It also helps maintain clean navigation and a simple URL structure for search engines.
Email marketing isn't one of the features Big Cartel offers. You'll have to rely on third-party apps to use email marketing. Similar is the story with the blog. There isn't any inbuilt option for blogging, and external apps are the only way.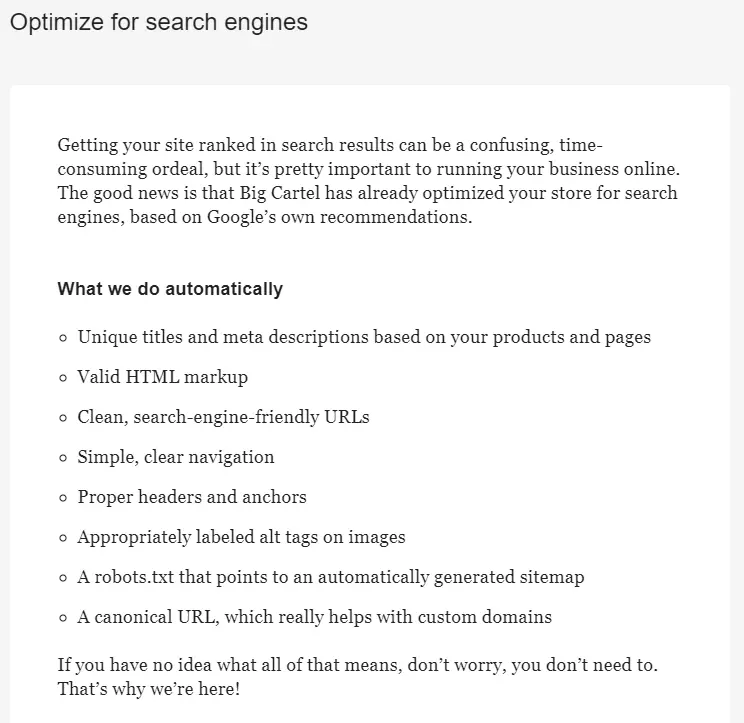 Wix provides one of the biggest arsenal of marketing tools. You get access to the most basic and important features built into the platform. You can optimize your website/store for search engines with a dedicated SEO tool. From customized URLs to redirects to structured data markup, Wix has it all. You can also easily integrate your Wix store with Google search console and Analytics to monitor store performance and customer acquisition.
You can also use built-in email marketing tools to manage your customers, send new offers or notify them when a product is back in stock. Wix lets you run ad campaigns from the dashboard to target the right audience. You can also create blogs about your store, products or anything related to your product on the Wix store. There's no extra cost for that.
If you feel Wix lacks any marketing feature or tool, there's a Wix App Marketplace. You can use apps from the marketplace to fulfil your marketing needs.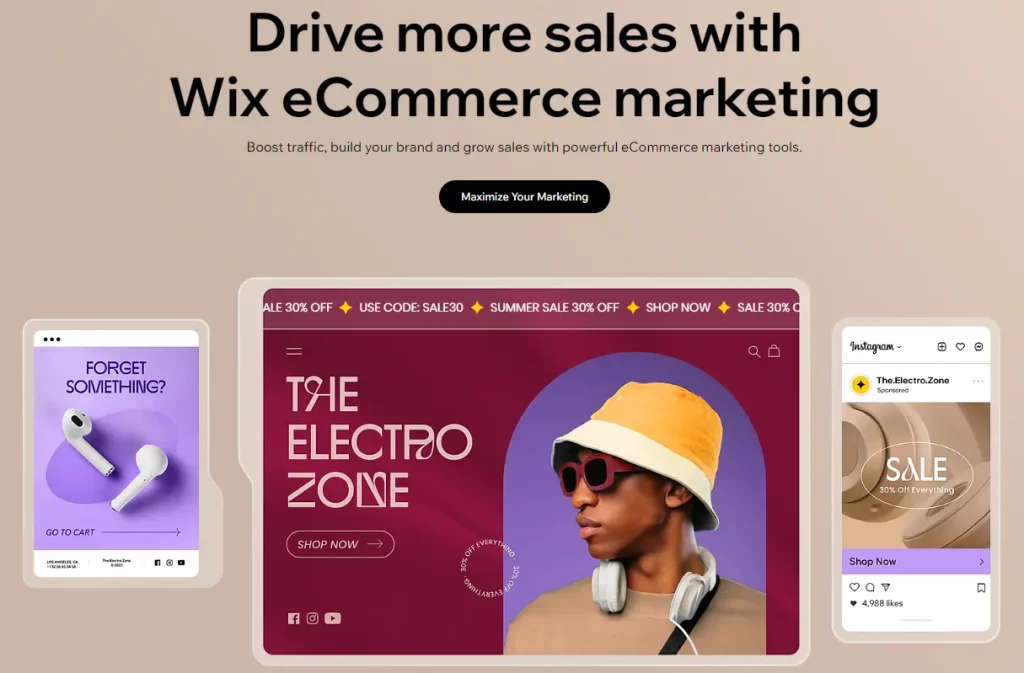 Big Cartel vs Wix: Pricing and Value
Big Cartel's premium plan starts from $9.99/month and ends at $19.99/month. You can access all the basic features necessary to run a store, like analytics, inventory management, shipment tracking and payment options. These plans appear cheaper than some of Big Cartel's competitors but impose many limitations. For example, you can only sell 50 and 500 products in the Diamond and Platinum plans.
There's also a free plan that lets you set up a store and sell up to 5 items. It is really great if you want to test Big Cartel to check if it is the right e-commerce platform for you. And you can use a custom domain even on the free plan.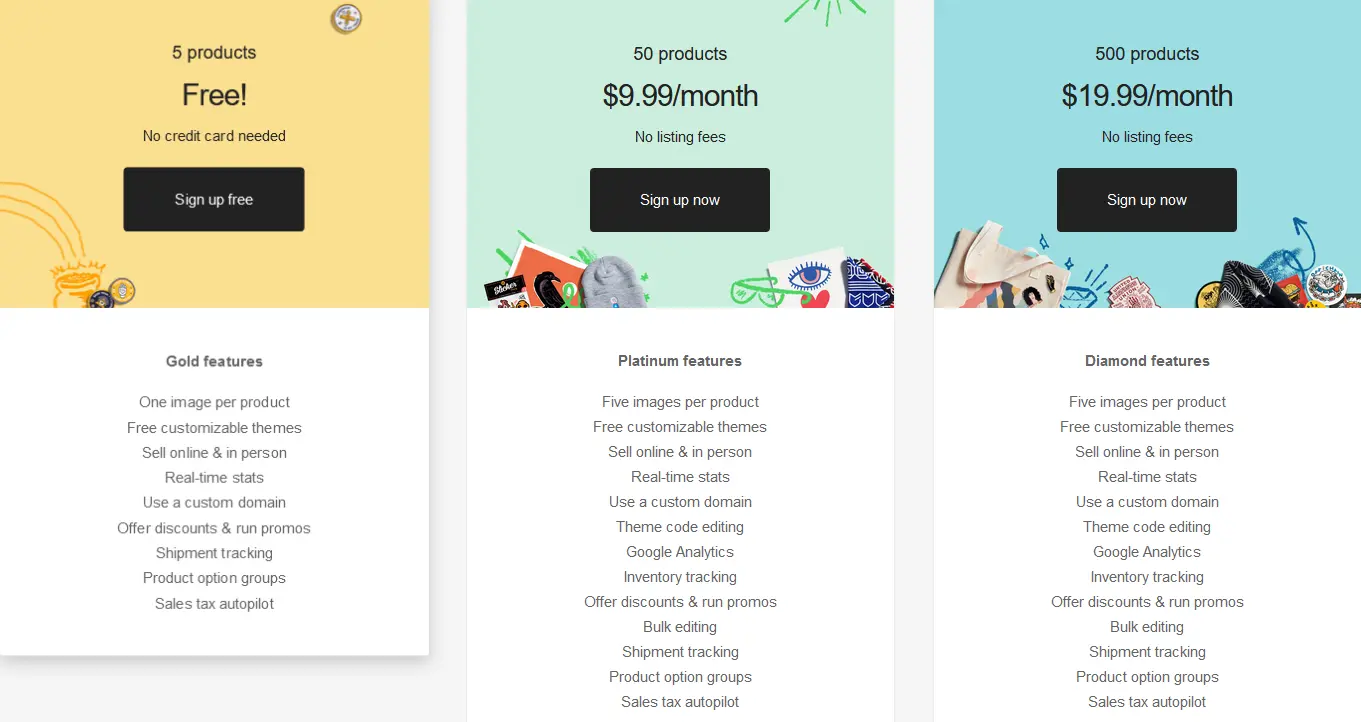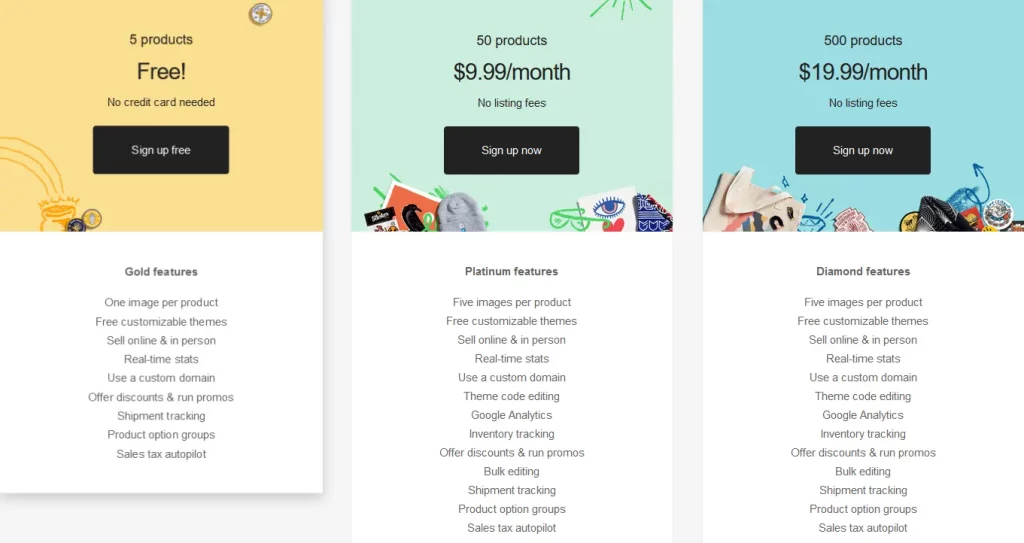 Wix offers 3 ecommerce plans: Business Basic at $27/month, Business Unlimited at $32/month and Business VIP at $59/month. The biggest advantage of Wix ecommerce is you can sell as many products as you want. And if you subscribe to an annual plan, you get a free custom domain with all bells and whistles.
When you pay $27/month, you expect unlimited storage like Shopify or BigCommerce. Unfortunately, that is not the case. The basic Business plan only has 50 GB, and the Unlimited plan has 100GB of available storage. You'll have to get a VIP plan for unlimited storage.
You can customize the checkout experience and have customer's accounts to give them faster payment access. And you can access several marketing tools to promote your store on social media, Google and through emails.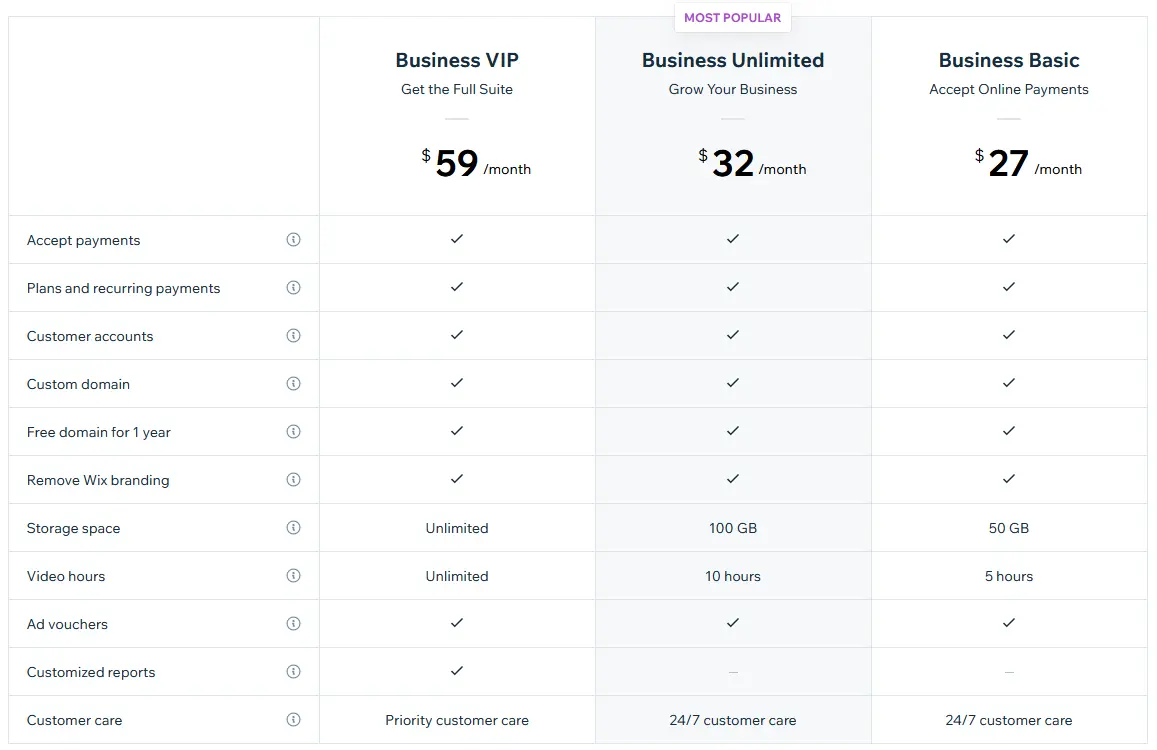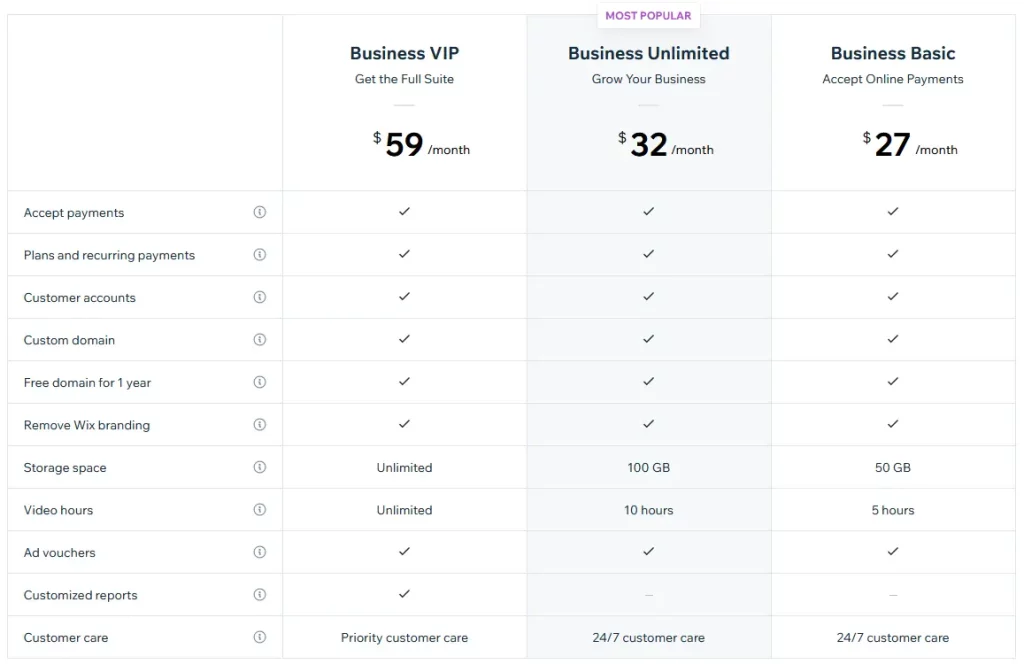 Big Cartel vs Wix: Customer Support
Big Cartel's customer support is below average and disappointing. You can only contact Big Cartel customer support through emails, and the staff will only respond from Monday to Friday between 9:00 AM to 6:00 PM.
There is a help or knowledge centre that covers various store-related topics, but it isn't enough. A 24/7 email option alone would have made support better.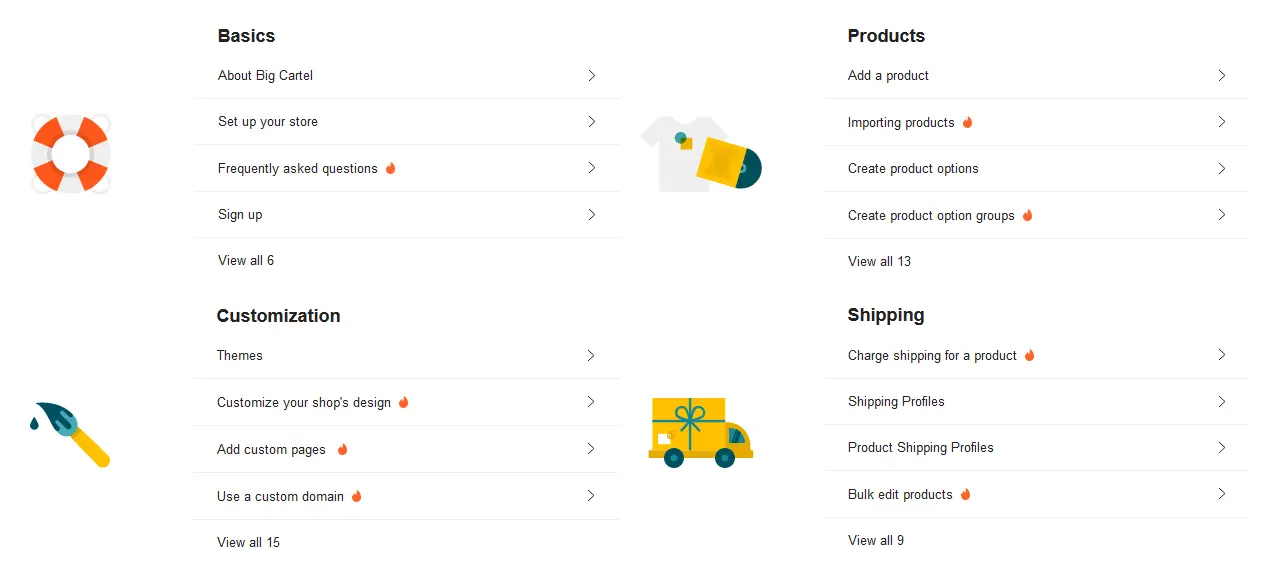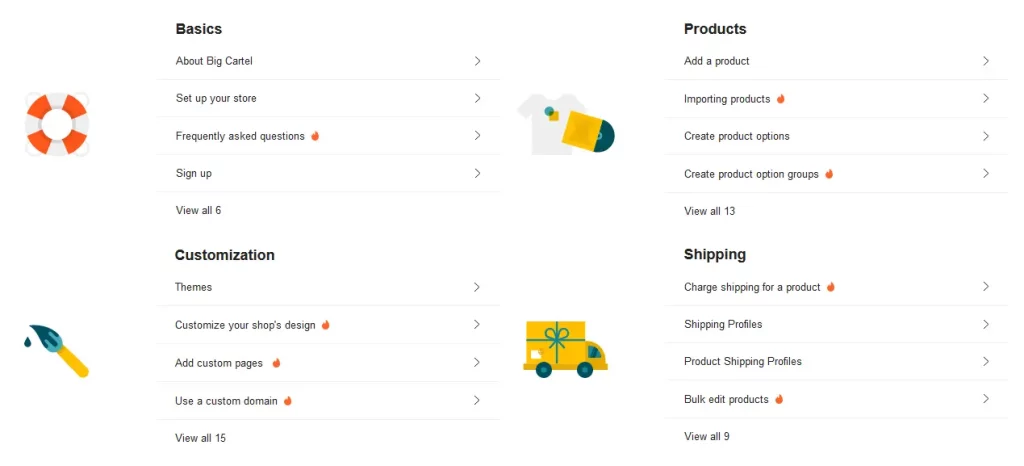 Wix has a dedicated support center with numerous help topics, and articles sorted categorically. You can search for your desired topic to find the answer. You can contact Wix support via email, chat or callback if you want further assistance.
You can use the Wix bot to start a chat with an agent or request a callback. There's also priority support if you're subscribed to the Business VIP plan. Overall, Wix's customer support is excellent and is a clear winner.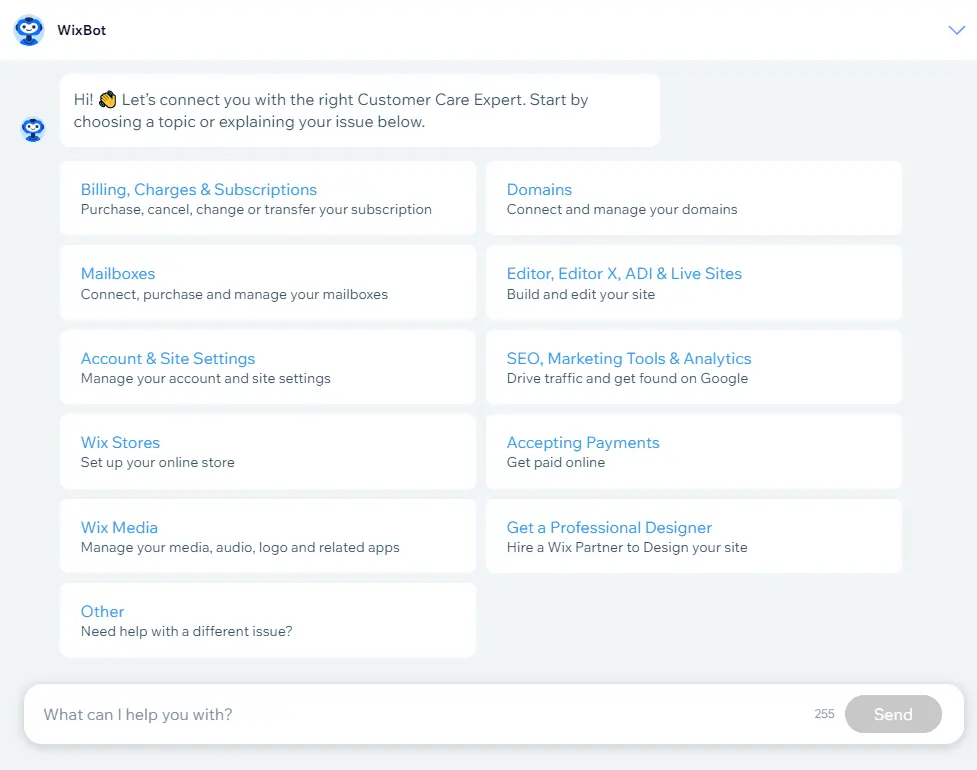 Big Cartel vs Wix: Conclusion
Big Cartel and Wix are two good ecommerce solutions. One is a dedicated e-commerce platform for artists and creatives, while the other is an all-around website builder with an ecommerce option. Both platforms are good for individuals and small-scale sellers.
With Big Cartel, you can use your domain on the free plan and will pay no transaction cost. Wix has higher transaction costs and only lets you use a domain when subscribing to a premium plan.
Wix has great built-in tools for marketing your products, with options to run ads on Google and Social media. Big Cartel does automatic SEO, and integrates Google Analytics, but you can also use third-party apps for email and analytics.
Overall, Big Cartel is best for hobbyists and side hustlers wanting to start a store and sell a few items. It is a better value for the price if you're selling on low volumes.
For those who want to own a website with future expansion in mind, Wix is the ideal option. It is pricier than Big Cartel, but all the eCommerce features and marketing tools you get are ideal for small to medium-scale businesses.
FAQs
How much does it cost to make a website with Big Cartel?
It doesn't cost anything to create a website with Big Cartel as it offers a forever free plan. However, if you want to use a custom domain on free plan, you will have to pay for the domain registration.
What percentage does Big Cartel take?
Big Cartel doesn't charge any transaction fee or listing fee nor it takes any percentage out of your sales.
Is Wix free of cost?
Wix has a provision for free plan but comes with few pros and cons. You'll be limited to a subdomain, for example, xyz.wixsite.com/my-site. Wix will display an ad on your website and you can. But you can access SEO, email marketing, and social media integration tools.
Is Wix reliable?
Yes, Wix is a publicly traded company has been around for quite some time. It is trusted by over 200 million users worldwide. Wix follows standard protocols for privacy payments and operations.