Wix Review – Wix's drag-and-drop editor makes it easy to create a professional website – without having to know a line of code! With hundreds of templates and great tools, Wix lets you build and sell through your site. Beginner-friendly and scalable, Wix is suitable for anything from personal online portfolios to small business websites.
What Are the Pros and Cons of Wix?
Pros
Easy-to-use editor, with a side menu for adding images and apps
Great help features, including a searchable knowledge base
Automatic website backups keep your work safe
Cons
Can't switch templates after a site is live
May have to spend more on third-party apps for scalability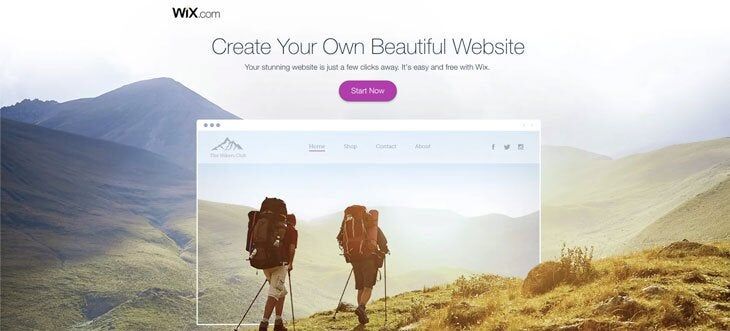 Overview of Wix
Wix is used by over 100 million people across 190 different countries. It's an affordable, easy and hassle-free way of creating your own website in a matter of minutes.
Building your own website used to be something only whizkid coders could do. Or people who were rich enough to pay whizkid coders to do it for them!
But thanks to Wix, now everyone can create a website of their own. Whatever your skill level, Wix's powerful template editor gives you full creative control – without needing to know a word of code.
If you have a look at some of the website examples that are created by Wix, they're beautiful and professional.
Wix isn't the only drag-and-drop website builder, of course. But it's the best in the world today.
Why do we think that? First off, it covers hundreds of industries – many more than any other website builder. Just check out what it's got for…
Small businesses
Cafes and restaurants
Hotels and hospitality
Musicians
Photographers
Graphic designers
No matter what your niche is, you'll find Wix templates, tools, and apps to match. Dog walkers? Success coaches? Internet stars? It's easier to say what industries Wix doesn't cover!
Since launching in 2006, Wix has swiftly established itself as the market's leading website builder. Before we get our teeth into this review of Wix, though, let's take a step back and explain what a website builder actually is:
A website builder is an online platform that helps you create your own website, without coding.
There are two main types of website builders – the classic template-based platforms, and the more modern AI (Artificial Intelligence) platforms.
A classic website builder lets you pick from a vast range of pre-designed templates. You can then easily customize the template and populate it with all your own content, adding useful features as you go.
AI website builders work by asking you a series of questions, like the type of website you'd like, and your design preferences. After that, it creates a website for you. You can still make some tweaks to the design, but this approach is really for people who need a simple website up fast.
Wix is a classic template website builder and an AI platform rolled into one. You can choose from over 500 industry-specific templates and make use of its incredible drag-and-drop editor. Or if you'd prefer, use Wix ADI and let Wix design a website for you!
Wix comes with a big reputation, but here at Website Builder Expert, it's our job to scratch beneath the surface and tells you exactly how good it is. Unlike many Wix reviews, we conduct our own thorough research and testing to bring you expert analysis.
Throughout this review of Wix, you'll learn about its strengths and weaknesses, how suitable Wix is for different types of websites, and how it fared when we put it through its paces.
How Easy Is Wix to Use?
With Wix, you have two choices – Wix ADI or Wix Editor. Wix ADI designs your website for you, based on your answers to a few questions. You can make edits to the final design, but this process is not ideal if you want total control. On the other hand, Wix Editor uses drag-and-drop functionality, meaning anything on your website can be repositioned simply by clicking and holding the item, then moving it where you want.
Wix scored an impressive 4.3/5 in our research for ease of use, and we were particularly impressed with how quickly you can create a site with its drag-and-drop editor.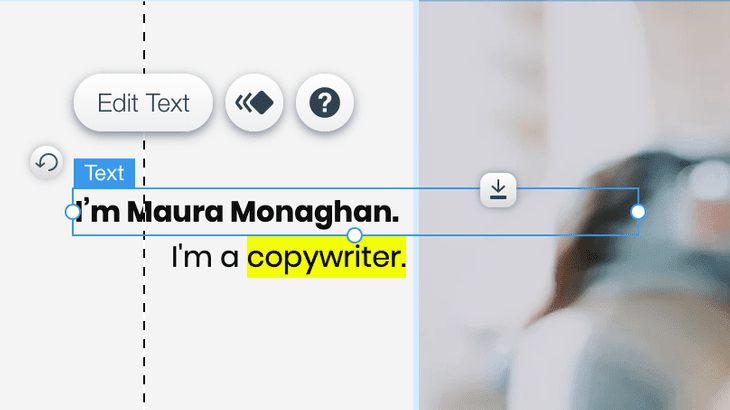 For those who are a little more tech-savvy, you can also use Corvid by Wix (previously called Wix Code). This lets you access and edits the raw HTML behind your template for even greater customization. Using Corvid by Wix is by no means essential, but the option is there if you want to dig a little deeper.
Customer Satisfaction
After everyone finished testing Wix, we asked them if they'd recommend it. Well, the results are in – and they're glowing.
A massive 88% of people who used it would highly recommend Wix to a friend.
To put that score into some context for you, that recommendation is:
24% higher than Weebly's
20% higher than Squarespace's
12% higher than GoDaddy's.
People loved the freedom Wix gave them when editing, and just how easy it was to drag and drop things around their website. They were also amazed at just how quickly they could create something they'd be happy to publish online.
The only criticism people had was that to begin with, Wix can feel overwhelming. There's so much choice – in templates, features, and customization – that it takes a few minutes to settle into the platform.
For pure ease of use and creative control, though, Wix is unrivaled.
Who Is Wix Best For?
We've determined that Wix is the best overall website builder, but is it right for you?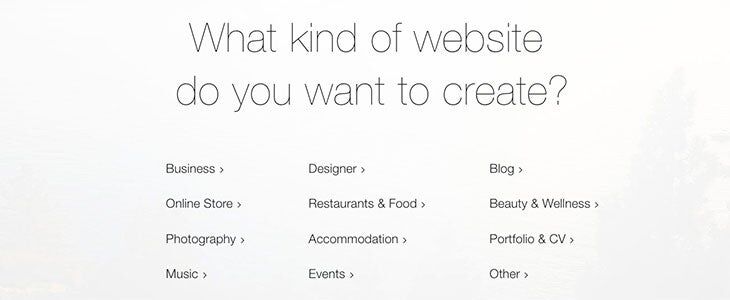 Depending on your needs, Wix could be just the answer you're looking for. However, there may be another platform out there better suited for the job. Below, we'll run through why people build websites, discuss what Wix is capable of, and suggest other options to Wix if we feel there are better out there.
Business
Business websites are Wix's bread and butter. There are hundreds of templates to choose from, designed specifically for different industries. From handy services to advertising and marketing, real estate to finance and law, everything is covered.
Wix also has a whole host of amazing business features – like subscription forms, appointment bookings, and email marketing – and an app market bursting with amazing add-ons.
Ecommerce
If you're looking to start selling online, Wix eCommerce has you covered. Create your own stunning online store with ease and speed using Wix Editor or Wix ADI.
Wix lets you sell an unlimited amount of products – whether physical, digital, or service-based. You can also create discount and promotional codes, control your shipping options, and even manage your store on the go through its mobile app. The mobile app in particular is an asset since mobile commerce is expected to account for 45% of the US eCommerce market by 2020.
If you want to take your online store to the next level, we'd recommend using a Wix app called Ecwid. This gives you access to guest checkouts, inventory tracking, social commerce, and more.
Wix has also put a lot of energy into making its eCommerce analytics much more powerful. Through its dashboard store analytics, you can now access in-house data to rival that of dedicated eCommerce platforms.
That said if you're generating six-figure monthly profits and need a powerful platform capable of managing bulk orders and scaling with you, look at either Shopify or BigCommerce. These are eCommerce website builders designed solely for building online stores.
Personal
Personal websites are another strength of Wix. Whether you need a site for an event (like your bachelor's party), a portfolio to showcase your work, or even just an online résumé, Wix has you covered.
There are templates for almost everything imaginable, and with Wix's intuitive editor, you can really get your personality across.
However, if you're in a creative field – such as photography, art, or graphics – you may be better off using Squarespace. Its templates are beautiful and cater better to those areas.
Blogging
Wix provides more than enough features for you to create a fantastic blog. That said, if you need a website solely for blogging, there are better options out there.
Wix allows you to create blog posts, separate them into categories, and even add a comments section and search bar for your users. Perfect if you want a blogging section on your site – and most of us do since companies with blogs generate 55% more website visits than those without.
For a more rounded experience, though, you can't look past Weebly. Weebly's blogging features are excellent, and they're used by some very well-established bloggers. For more on Weebly, read our expert review here.
Scalability
When speaking to our users, some expressed concern about whether you could outgrow a Wix website. In all honesty though, unless your website's going to become a global, household name, Wix has more than enough about it to scale with you.
Wix's app market is great, and is always releasing new, exciting add-ons that will enhance its websites – either in terms of the functions it can perform, or the quality of existing ones.
As mentioned, if you need a big, powerful eCommerce website, Wix may not be the best fit. Otherwise, Wix's developers are constantly improving the platform, and it keeps pace with almost every need.
How Good Are Wix's Templates?
94% of first impressions relate to a website's design, which means stellar templates are a must.
Wix's templates all look like designer websites. There are hundreds to choose from, and the designs are bang up-to-date with the latest trends.
Any of them can give your site the stylish, professional look it needs – even if you have no design or coding skills at all.
All Wix templates are categorized into types of websites – such as business, blogging, photography, etc – and are completely mobile responsive. This means your website will adjust automatically to fit both mobile and tablet screen sizes.
One downside to using Wix is that you can't switch templates after your site has been published online. Make sure you don't rush to pick a favorite template – if you switch templates, later on, you'll lose your content and customizations.
Design Customization
Wix's templates are ready-made websites in their own right. You can keep the dummy content and publish it right away if you want, but to make a site your own, you'll need to do some editing.
Wix makes basic tweaks very easy. For example, to edit text, just click the dummy text and type away. Changing its size is also a simple matter of dragging a slider: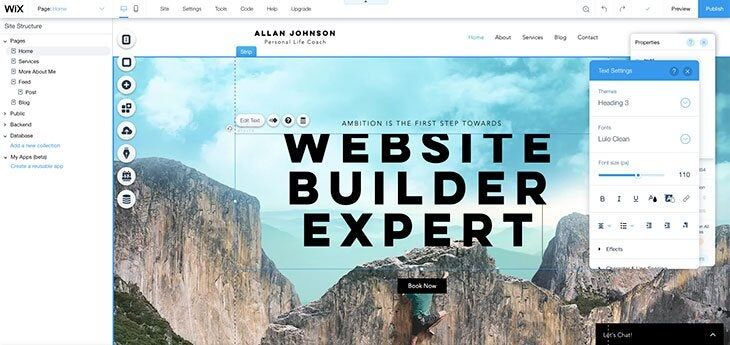 It's also simple to upload content from your laptop or other online accounts, such as Facebook or Instagram.
When you start getting more creative, Wix really comes into its own. You'll soon find you can really turn that template into something special.
The animation button is a great example. You can bring almost any feature to life – heading, photo, menu or whatever – by making it zoom, fade out, or even spin onto the page.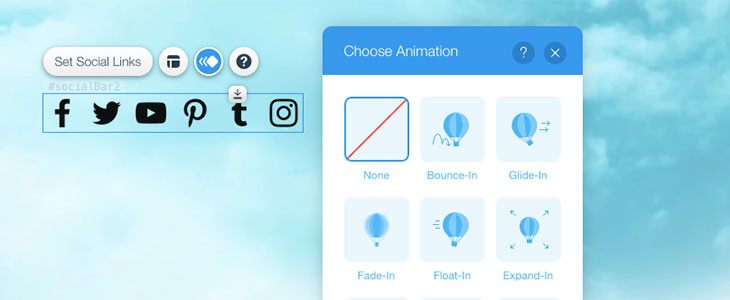 Wix also has hundreds of additional site features, which you can add by dragging them onto the template.
You can add blogs, restaurant menus, contact forms, music players, maps, interactive slideshows, video backgrounds… much more than we have room to list here!
Once you've added extra features, most can be customized by changing their size and behavior or adding effects like animation.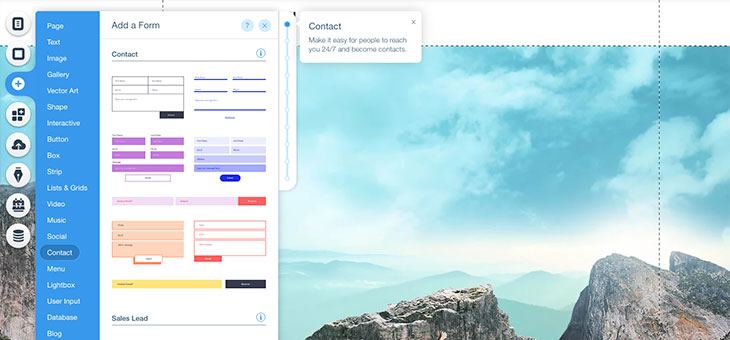 Wix offers a huge library of professional photos, graphics, and videos, all free to use on your site. Wix's free media content can save you tons of time and decision-making.
Wix's Tools and Features
While its templates and features steal the show, it's Wix's tools that keep things ticking over behind the scenes – in fact, Wix earns a 4.0/5 in our research for features.
We'd be here all day if we wanted to list every single one of Wix's tools. So, we've picked out some of the most important ones for you to consider.
App Market
Wix's built-in tools are excellent, but they can't quite do everything. Fortunately, if there's something they can't do, there's probably a Wix app that can. The App Market contains hundreds of third-party site features that make your website do more, and better.
Basically, what this means is that there are certain tools that Wix does not provide you as part of its core services, so to fill this void, Wix provides you with a 1-click, hassle-free installation of tools made by external service providers.
The apps in the Wix market are like the 'plugins' you can add to WordPress or the 'extensions' you can add to Chrome; different names, but basically the same thing.
Wix apps are very popular. Going by the statistics, users install 44,000 apps per day – that's 16 million app installations per year!
Wix App Market includes useful integrations such as shopping carts, live chat widgets, and marketing tools. A lot of these apps are completely free, although some offer you premium versions for a small monthly fee so that you can access even more functions.
If you're not sure what an app does, Wix App Market apps all come with descriptions, user reviews, and video demos. This means you'll get a pretty good idea if an app's right for you before deciding to use it.
Help & Support
Wix earned a 5/5 in our research for help and support. That makes it our number-one builder for customer service, and the only builder to score above 4.5/5.
The question mark buttons scattered throughout Wix's editor are small in size, but mighty useful!
Each button opens up a box packed with clever tips about the tool it's attached to, drawn from Wix's huge Help Center. Some boxes even feature a video tutorial.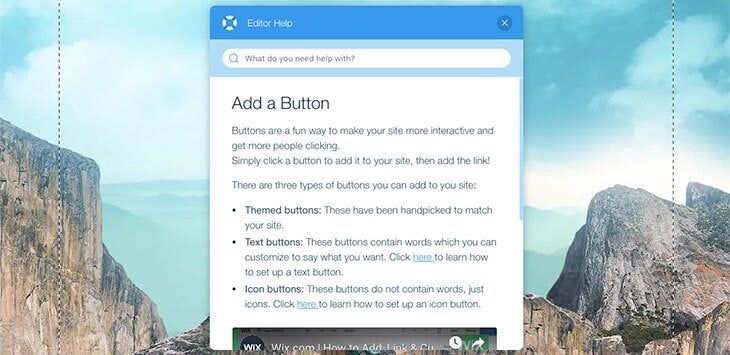 If you're looking for a more personal touch, you can get in contact with Wix directly via email or phone from Monday to Thursday, 5 am-5 pm EST.
Wix doesn't currently offer live chat support, but you can get your questions answered by contacting Wix directly on social media, or by a fellow user on Wix's official forum.
Domains and Social Media Integration
If you sign up for any of Wix's premium plans, you'll get a custom domain name free for the first year. The renewal price is $16.89 annually, and you can also transfer an existing domain and connect it to your Wix site once you upgrade to a paid plan.
Connecting your website to your social media accounts is a great way of increasing engagement for both. Wix allows you to add social buttons, likes, shares, feeds, and follower counts to your website, so people can easily find and follow you anywhere – which is helpful, since 72% of online adults use social networking sites.
One thing Wix hasn't cracked yet is multi-channel selling. Currently, you can't sell products directly on social media or marketplaces as you can with Shopify and BigCommerce.
SEO
When it comes to SEO (Search Engine Optimization), Wix is one of the best website builders at helping you rank highly on Google with its built-in SEO tools. You can edit meta titles and descriptions, customize URLs, and even tweak header code.
There's also a whole host of SEO apps available from Wix's app market if you need guidance or keyword support. From our own SEO testing, only Weebly came close to Wix for how good its SEO offerings were.
Security, Backups, and Restores
All Wix websites come with built-in SSL security certificates. SSL stands for 'Secure Sockets Layer, and all it really means is that your visitors will know the site they're on is safe thanks to the little padlock icon that appears next to your URL.
To stop you from tearing your hair out should anything go wrong, Wix also has a handy autosave feature. Multiple versions of your website will be backed up, so you can restore your website to a previous point in a matter of clicks. Phew!
Wix Ascend (Marketing)
As the name suggests, Ascend by Wix helps your business reach higher levels. It's an all-in-one solution, letting you connect with customers, automate your workflow, and generally promote your business.
What makes Ascend so different? While Squarespace and Weebly have introduced more marketing tools, the Wix package is much more ambitious. It covers 20 product areas all in one place, including:
Live chat
Wix automation (like personalized messages and notifications)
Email marketing
Social media posts
SEO
Like the sound of that? The free version of Ascend by Wix comes with all Wix plans, and its premium plans are available as a separate subscription, ranging from just $10 to $49 per month. Let's take a look at what you can get on each plan below.
| | Basic | Professional | Unlimited |
| --- | --- | --- | --- |
| Contributors | 1 | 5 | Unlimited |
| Lead Capture Forms | 50 | 150 | Unlimited |
| Email Marketing Campaigns Per Month | 5 | 20 | Unlimited |
| Emails Per Month | 9,500 | 50,000 | 1,000,000 |
| Social Media Campaigns Per Month | 5 | 20 | Unlimited |
This shows how much Wix can help your business grow, and with three pricing options, it suits almost anyone. Will your website be in the ascendancy this year?
Wix Pricing and Value for Money
Wix has a free plan, plus a two-week money-back guarantee on all seven of its paid plans. Wix also offers a high-end business solution called Wix Enterprise, which is a custom price plan designed for big businesses. Overall, Wix earns a 4.5/5 in the "value for money" category of our research.
The more time you sign up in advance, the better value your premium Wix plan will be. For example, you'll end up paying less per month when you choose an annual pricing plan. Check out the differences in each Wix plan below:
| Plan | Paid Monthly | Paid Yearly |
| --- | --- | --- |
| Combo | $18/month | $14/month |
| Unlimited | $23/month | $18/month |
| Pro | $28/month | $23/month |
| VIP | $47/month | $39/month |
| Business Basic | $28/month | $23/month |
| Business Unlimited | $33/month | $27/month |
| Business VIP | $56/month | $49/month |
If great value is what you're after, then Wix's Pro plan is for you. It's designed for small businesses that need company branding taken care of for them. You get a free logo design – normally worth $50 – plus access to the Events Calendar app and social media logo files.
Wix's most popular plan, though, is its Business Unlimited plan. Unsurprisingly, you get unlimited bandwidth, along with access to all of Wix's main help services, features, and apps. You can even build your own online store with Wix's excellent eCommerce tools.
Wix Review: Summary
Wix makes it easy to create a stunning, powerful, interactive website for any project, business, or idea you could possibly imagine – and you can do it all in an afternoon, no coding required.
Its designer templates give you a big head start. It lets you customize extensively using drag-and-drop controls, which are more powerful than those you'll find in any other website builder.
Wix's best premium features only cost a few bucks a month. They're excellent value – and they'll make your visitors think you've paid thousands of dollars for a custom-built website.
We'd recommend Wix to anyone looking to build either a small business or a personal website. For businesses, Wix has brilliant templates, SEO and marketing tools, and tons of apps to help you scale. For personal sites, you have everything you need for blogging, portfolios, or CVs at your fingertips.
Wix doesn't have everything for everyone, though. Its eCommerce functions aren't as powerful as Shopify's, and it doesn't let you switch templates or get help via live chat – both of which are offered by Squarespace.
None of those drawbacks are deal breakers for us. For example, we think the quality of Wix's support more than outweighs the fact that there's no live chat option.
It's easy to get started with and doesn't cost a dime. Remember, all Wix premium plans come with a two-week money-back guarantee, no questions asked (although you can use Wix free forever if you want).
Wix needn't cost you anything other than half an hour of your time, so give it a whirl! After all, that's the best way to find out if it's really the right website builder for you.