Weebly is a popular website builder for small and medium-sized businesses and powers 50 million websites worldwide. It is undoubtedly one of the most popular website builders, and we say this because we pitted Weebly against some of its competitors.
It is important to mention when talking of Weebly; Square acquired Weebly in 2018. This has allowed Weebly to adopt a more eCommerce-focused and seamless integration with Square.
Table of Contents
Weebly's drag-and-drop editor is a pleasure to work with. It's very easy to use. You don't even need to write a single line of code if it doesn't interest you. Weebly offers an integrated coding editor that allows you to customize your site further for those who would like to.
Weebly's approach to building websites is based on the fact that anyone can create a website with Weebly. Once you have gone through the basics, you can grow your site using Weebly apps, features, and guides.
Weebly offers everything you need to build functional websites, from SEO to blogging to eCommerce. Although it's not the best, most powerful, or flashiest e-commerce website builder available, it does a good job. You can read our Shopify vs Weebly comparison to know which is better for your e-commerce store.
This Weebly review will take you through the tested areas, including Weebly's ease of use, pricing, design, and features. So you can decide if this is the right builder for you!
Easy To Use
Weebly allows you to build your website precisely how you would see it online or, as they say, WYSIWYG (What You See Is What You Get). You don't have to switch between the front-end and back-end, edit raw code to move an image, or change colors.
Drag-and-drop editing makes it easy to move elements like text boxes, buttons, or images around your website using Weebly's drag-and-drop editor. It's easy to build your website with Weebly. If you have ever created a presentation slide deck, it is possible to create a Weebly site!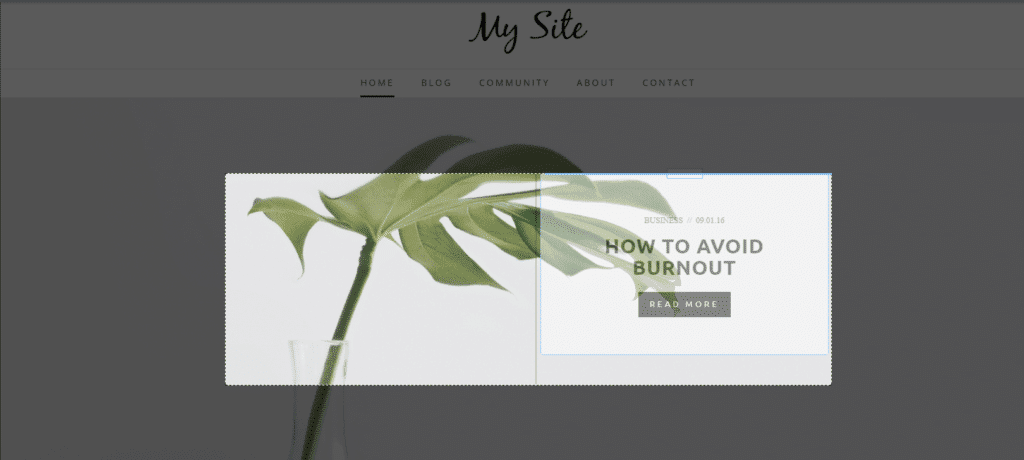 Despite this, we still found Wix easier to use than Weebly. It felt like Weebly's editor got stuck in time and never updated. At the same time, other website builders worked hard to improve their interfaces.
Weebly scored only relatively lower in our ease-of-use testing. Although it is easy to use and simple, it could be more user-friendly. Weebly could do well with some more development.
The builder also fell short in its customizability during our ease-of-use testing. The basic functions of Weebly were easy to use. Still, it was difficult for users to make their websites look how they wanted. We will go into detail about this in the Weebly themes section.
Weebly, on the whole, is a straightforward builder. Once you have mastered the basics, creating websites quickly and efficiently will be easy – especially if your templates don't limit you too much.
Creating Website Pages
If you want to add more pages to your website, you can do so from the sidebar. It appears when you click the Pages button on the top bar. You can choose from several template pages, including store, blog, or external pages. We like this because it keeps on displaying the preview. The navigational element is also fantastic as it takes you to the destination in the builder itself.
Unfortunately, Weebly doesn't have an Undo feature for changes like undoing box size, button placement, or even the site theme. Weebly's undo option only works with simple text entries. We would have loved to see an undo/redo button for site element changes and even a timeline/history of changes.
Weebly Themes
Weebly has around 50 themes to choose from, which are not the most amazing. They are definitely usable and not completely useless; you can switch templates anytime you want. But given Weebly's competition, it could have done away with better themes in all categories.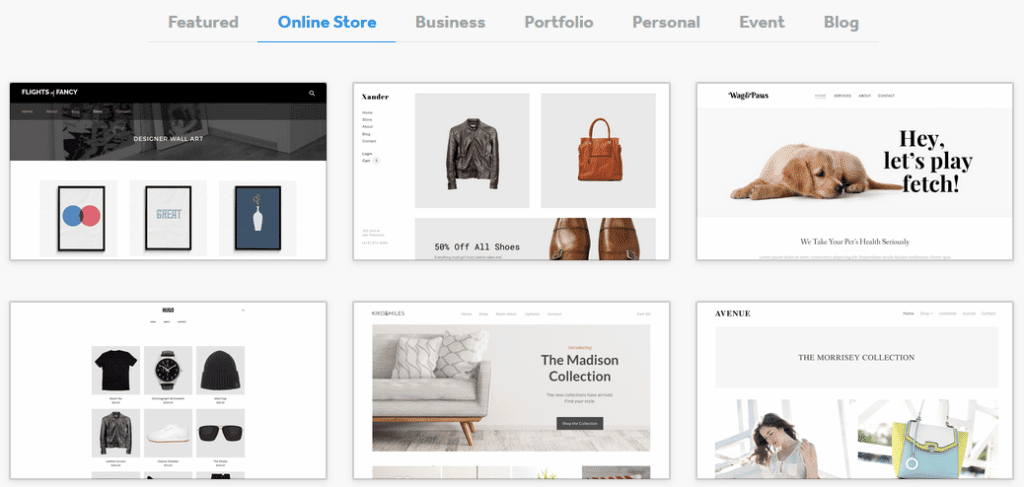 In our test, we found Weebly's templates are not as mobile-responsive as they claim. The designs and elements overflow their formatting and struggle to do well on smaller screens. This isn't very reassuring, given mobile accounts for half of the web traffic and plays a significant role in making a business successful.
Features and Tools
Weebly is not able to compete with Squarespace and Wix when it comes to features. However, it still managed to impress us enough. We'll be looking into its most significant features further below. The Weebly editor's basic features are available, including image galleries and text blocks.
App Center
You can use the Weebly App Center to find free and paid apps, which you can install and integrate on your website with just a few clicks. The basic features of the Weebly editor are built into the Weebly App Center, which is excellent if you want to add more advanced features like FAQs or scroll to the top buttons on your website. Finding apps on the Weebly app center is easy as all the apps are categorized.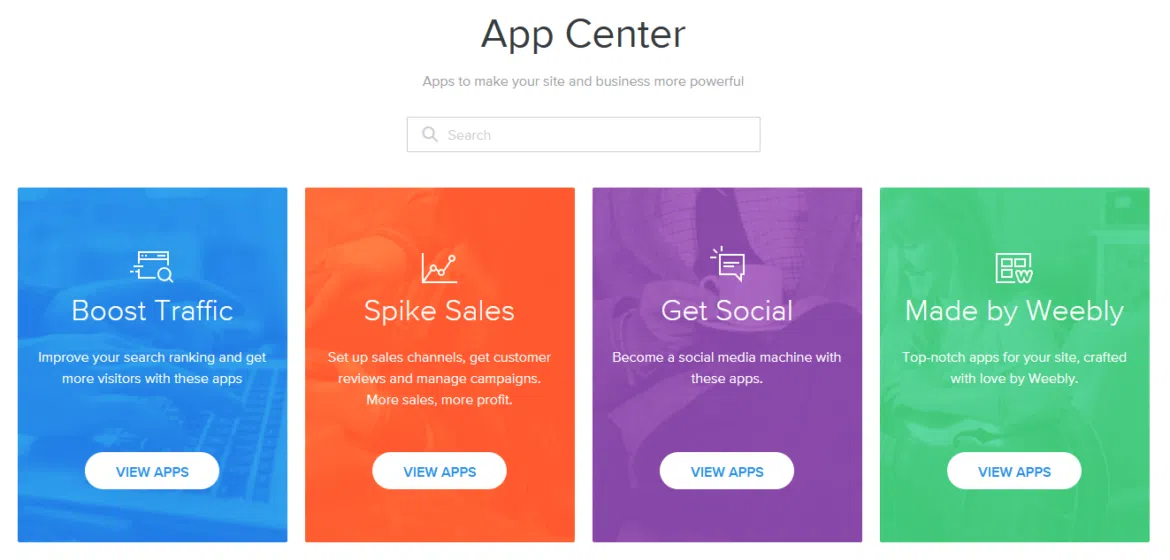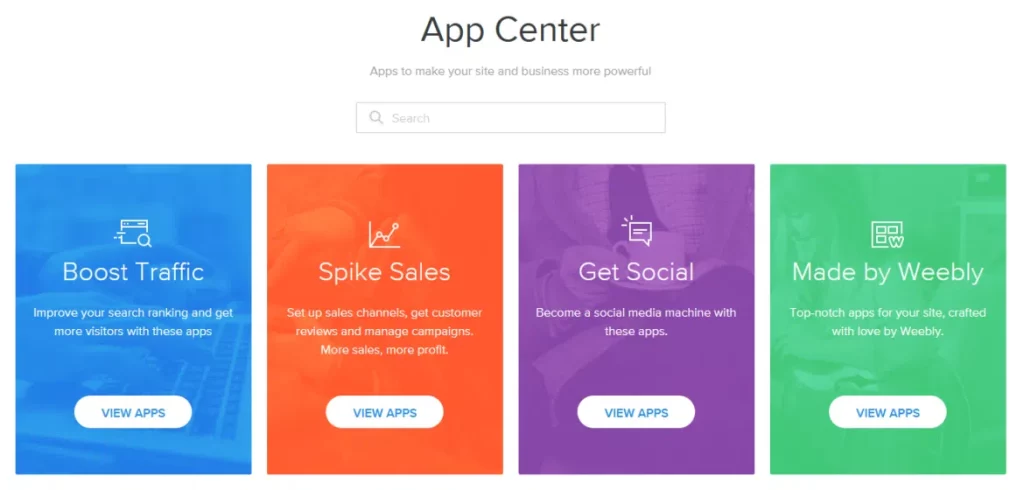 The App Center at Weebly makes it possible to personalize and expand your website without having to code. It's easy to add any of these apps with a single click, which makes it easy to add any extra features you need for your project. However, not all the apps are free, some are paid as well. The price for paid apps varies from $10 to $30 per month, but most of the time it's free. There are lots of free apps in the Weebly App Center, so you won't have to pay a dime.
SEO
Search Engine Optimization is the process of increasing the ranking of your website in search engine results. Good SEO is really necessary if you want to grow your online presence. In past, website owners and builders often got a bad rep for neglecting SEO, leading to underperforming websites. You don't need to worry about that with Weebly, as it has a strong set of tools.
When you create websites using Weebly, you get a sitemap, on-page SEO including meta description and title, and a responsive design.
Weebly offers some advanced SEO features like adding alt text to images and page-specific descriptions as well as changing your meta titles and descriptions. One downside to Weebly is it does fall behind when it comes to more advanced tools for Search Engine Optimisation: It doesn't provide any keyword support, and that it doesn't have mobile optimization. Weebly's server response time is among the slower ones. Since the introduction of Core Web Vitals, loading time is more important than ever.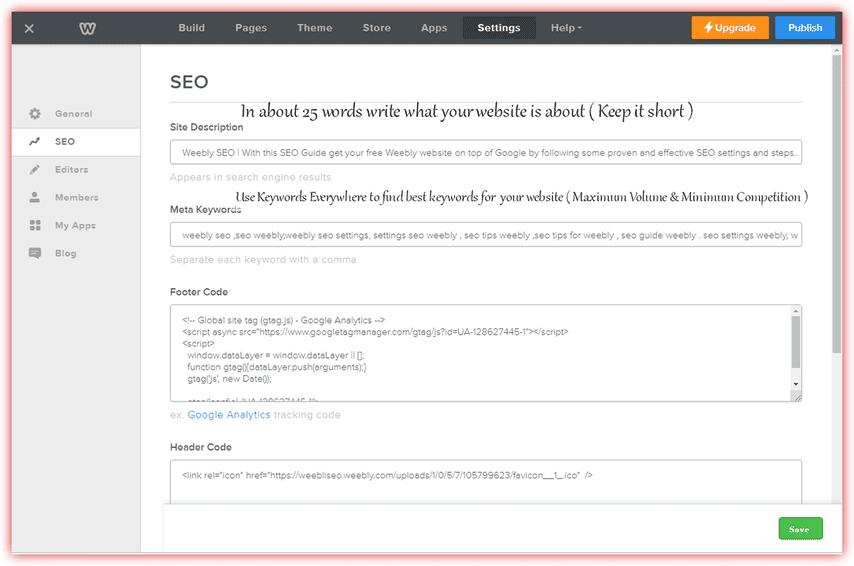 If you're new to SEO, Weebly is still a good choice. You can find a truly awesome Ultimate SEO Guide from Weebly, which walks you through Optimizing your Website from start to finish. In Weebly's guide, you'll find all the bells and whistles, from carrying out keyword research to analyzing your site performance. To monitor how well your site is doing on Google, it is recommended to use Google Analytics. Weebly also has a tool called Insights, which is a website statistics tracker that offers real-time data on your site's performance.
Overall, Weebly's SEO feature is good to get started with, especially for those new to SEO; but may underwhelm people looking for advanced options.
Marketing Tools
Growing and succeeding online requires a lot of marketing. In Weebly's App Center, there are a number of marketing apps, for example, you can add a photo feed to an existing account, make popups, or run a campaign using a Google Ads app in the Marketing category.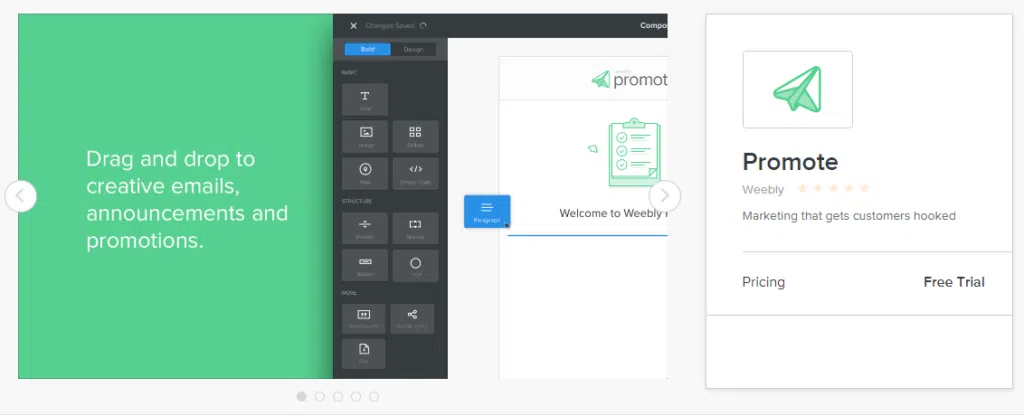 If you talk about marketing, email marketing always gets a place. It is one of the most powerful methods of building and retaining your customer base and that is where Weebly Promote comes in. The aim of this tool is to make email marketing more convenient and effective for Weebly users. Weebly Promote comes with ready-to-go layouts for you to use, makes contact import easier, and gives you reports about how many people have opened and clicked on your emails, as well as automatic sync with your Weebly website.
If you're planning to employ email marketing in your tactics, Weebly's email marketing tool is just the right one. Pricing starts from $8/month all the way to $75/month.
Help and Support
The Help Center at Weebly is a great place to learn about the platform and how to get started. There are many resources that can help you get started including a lot of videos for beginners and advanced users.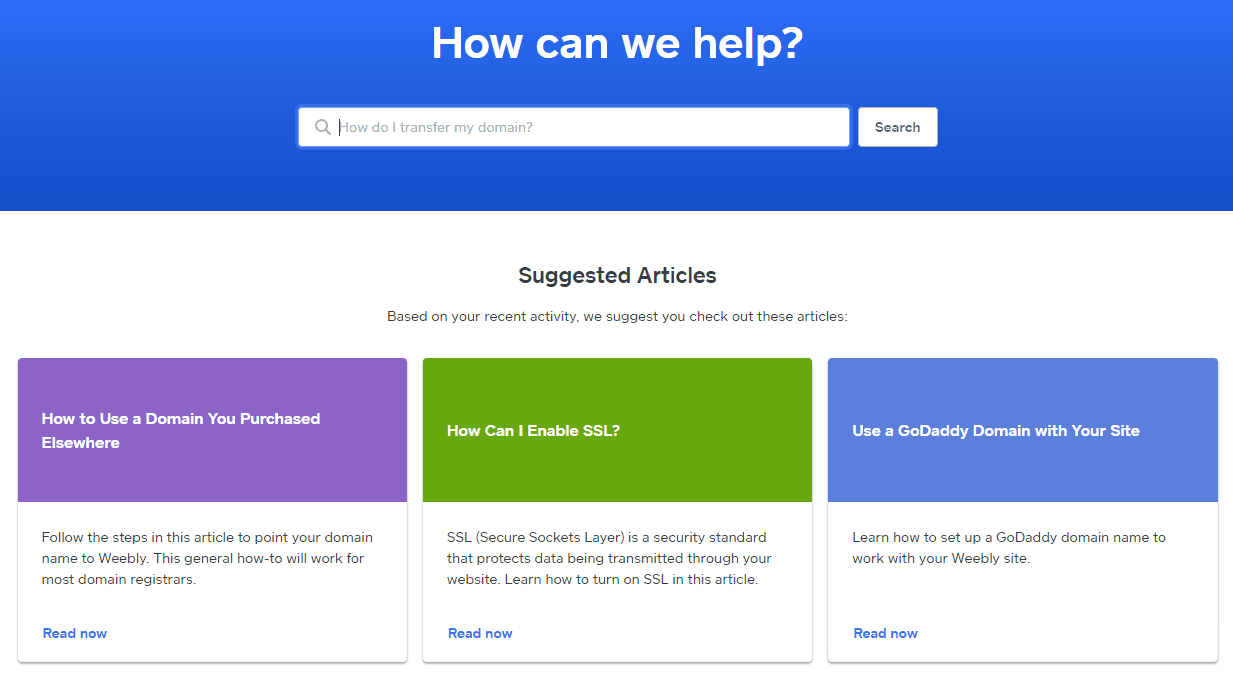 But if you use the help center to get started and still get stuck, what are you going to do? Weebly Support is available 24/7 and you can reach out to them via email. All plans include email support and access to the Weebly community forum.
However, if you're looking for a quick fix, there's no option for phone or chat support unless you are on a Pro or Performance plan. And even after the pro plan, you need to be in the US to access chat or phone support. Not having access to all the support channels on every plan is a big drawback.
Weebly Pricing
Weebly has no competition whatsoever when it comes to price-to-value.
There are a few things that affect its performance in this area. The biggest thing is it has a free plan—you can create a website, publish it and even sell using that website with no costs or time limit. This makes Weebly perfect if you want to give it a try before deciding to buy a premium plan. But there are a few catches with the free plan:
No custom domain
Limited storage
Displays advertisements on your website
If you plan on publishing your website or online store on Weebly, you might need to consider a paid plan.

Remember, Weebly charges users on both a monthly and yearly basis. If you intend to use Weebly for a longer time, we recommend going with yearly plans to save 10%-30% on plans. For example, the Personal plan will cost you $9/month if you bill month-to-month. If you bill annually, the same plan will cost $6/month or $72/year.
Weebly Hosting
It is very important to have the website up and running all the time. Every downtime moment is a potential loss of clients. Also, people can't find you if your website is not running.
We had heard about Weebly's amazing uptime, some claimed up to 99.98% but we wanted to test it ourselves and so we did. We used multiple tools to check Weebly's overall uptime history and our testing website's uptime status (5-minute loop for 1 hour).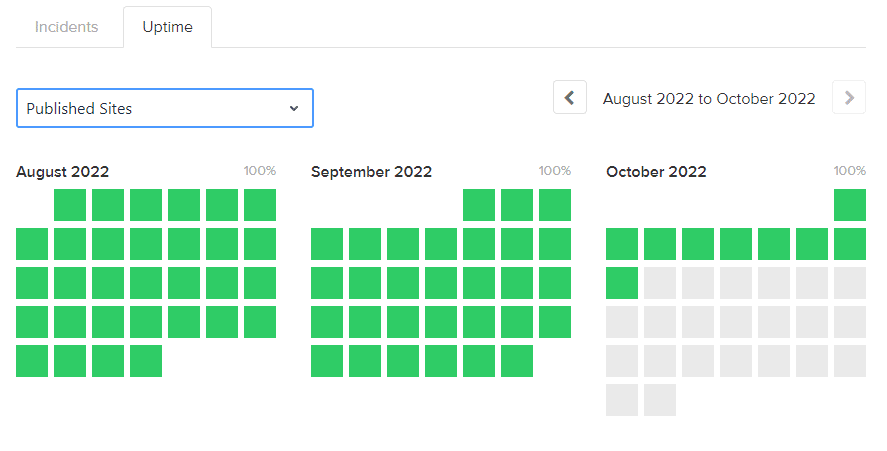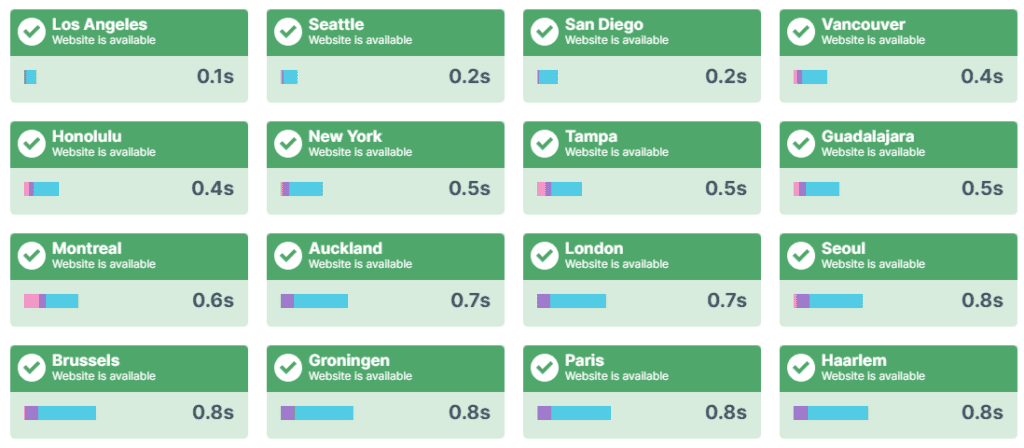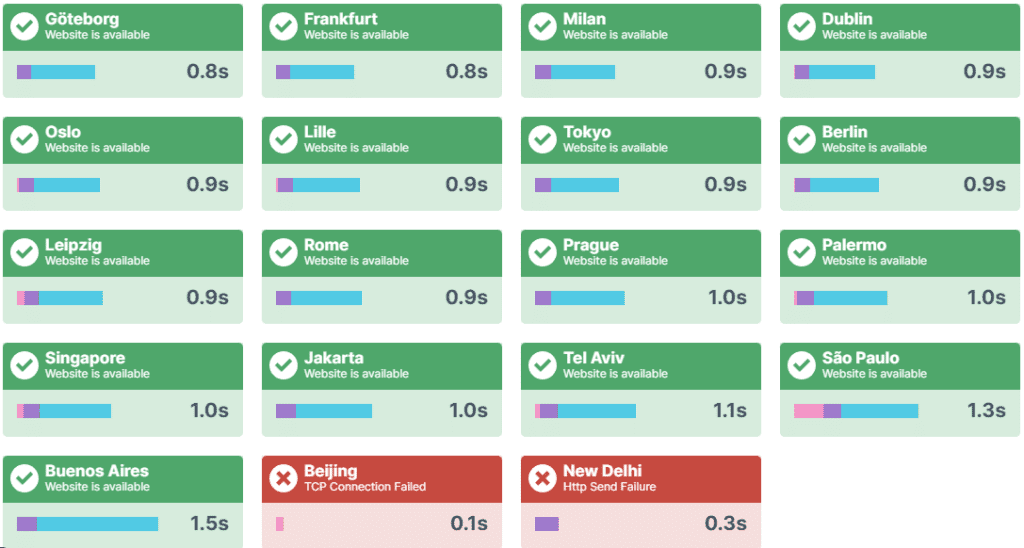 We only got an error once and that too was in only a couple of geolocations. So yeah, Weebly's hosting uptime is for sure a pro and amongst the best.
Conclusion – Should You Choose Weebly?
Despite its lack of a sitewide undo button and photo storage, Weebly is one of the easiest builders we've used with next to no learning curve. It gives you a free plan and is one of the few website builders that allow users to export site-wide code. Although, the block-styled themes limit design customizability and also do not happen to be mobile-friendly. But if you aren't afraid of designing the layout yourself, or if you want to take the free plan for a spin before you invest money, Weebly is the website builder to go for. Overall it is intuitive, easy to use, pocket friendly, and comes with great server uptime.