Shopify is a popular e-commerce platform that allows individuals and businesses to create their own online stores. It is known for its ease of use and customizability offering a wide range of tools and features to help users manage and grow their online businesses. In this Shopify review, we will take a closer look at what makes Shopify stand out, discuss some of the key features and capabilities of the platform, and decide if Shopify is still worth opting for in 2023.
Table of Contents
Our Shopify review process
We take consumers' pain points into consideration while approaching a product review—including price, usability, functionality, and support— while also comparing it with competitors' offerings.
To create this Shopify review, we tested Shopify on all the grounds, experienced what Shopify lacked and what we wanted more, noted the pros and cons, and concluded if it's the right choice for you.

What Is Shopify?
Shopify is a SaaS eCommerce solution that provides everything you need to create a website. Rather than having to go through a whole different process of buying a host and domain to create a website, you can just go to the Shopify main website, create an account, and launch your Shopify store without much hustle.
| Pros | Cons |
| --- | --- |
| Easy to setup interface | Limited customization compared to competitors |
| Over 6000 app integrations | Advanced plans are expensive |
| Ideal for larger stores | Fewer free themes |
| Modern and responsive themes | High transaction fees on sales on other payment options |
| An abundance of marketing features | Limited reporting options on the basic plan |
| Over 100 payment options | Uploading product images is complicated |
| 24/7 customer support | Lack of visual elements in help materials |
Features
Built-in support for popular social media and online marketplaces, such as Facebook, Instagram, and Amazon, allows users to efficiently sell their products on these platforms.
The ability to create and manage email marketing campaigns, including the ability to segment email lists and automate email marketing messages.
Tools for creating and managing online ads, including support for Google AdWords and Facebook Ads.
Built-in support for SEO, including customizable meta tags and the ability to create custom URLs for products and collections.
A blog platform that allows users to create and publish content to help promote their online store and improve its visibility in search engines.
Shopify Ease Of Use
Shopify is known for its user-friendly interface and is a popular choice for beginners looking to start an eCommerce business. It is a hosted platform, which means that it takes care of the technical aspects of setting up a website, such as hosting and security.
This makes it much easier to use than open-source platforms like Wix and BigCommerce, which require users to handle these tasks themselves. As a result, Shopify has become a trusted choice for millions of businesses around the world.
There's definitely a learning curve but with its intuitive interface and easy-to-use features, it is possible to get a store up and running on Shopify in a matter of minutes.
If you're curious about the user-friendliness of Shopify, you can try the platform for free for experience. If you're wondering how to get started with Shopify, below we have created a brief step-by-step guide for help. You can also watch a video tutorial made by Style Factory.
This is how you can create a website/store with Shopify:
Sign up using email or your Google account. Select the option you see best fit.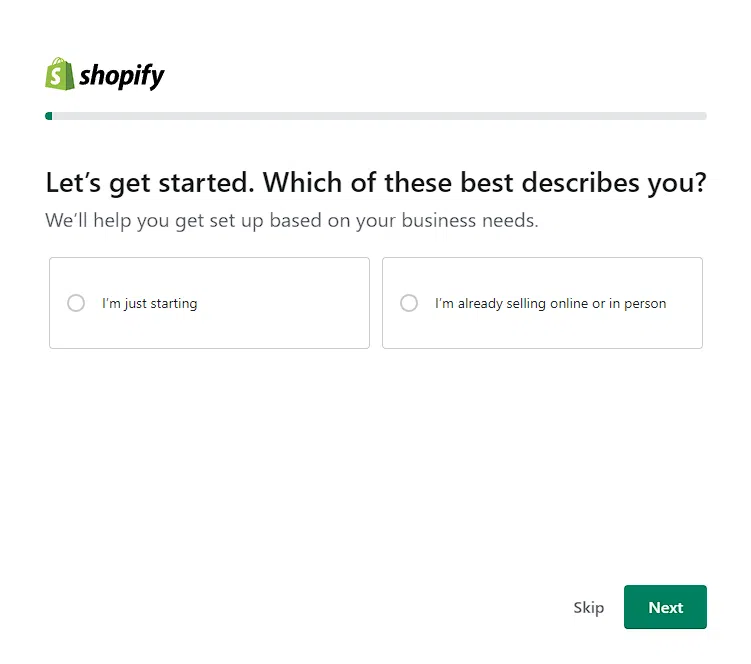 Select how you want to sell your products and then choose what kind of store you're building. For example, dropshipping, products you make, services, and more. Shopify also offers a 3-day trial for those wanting to give it a go.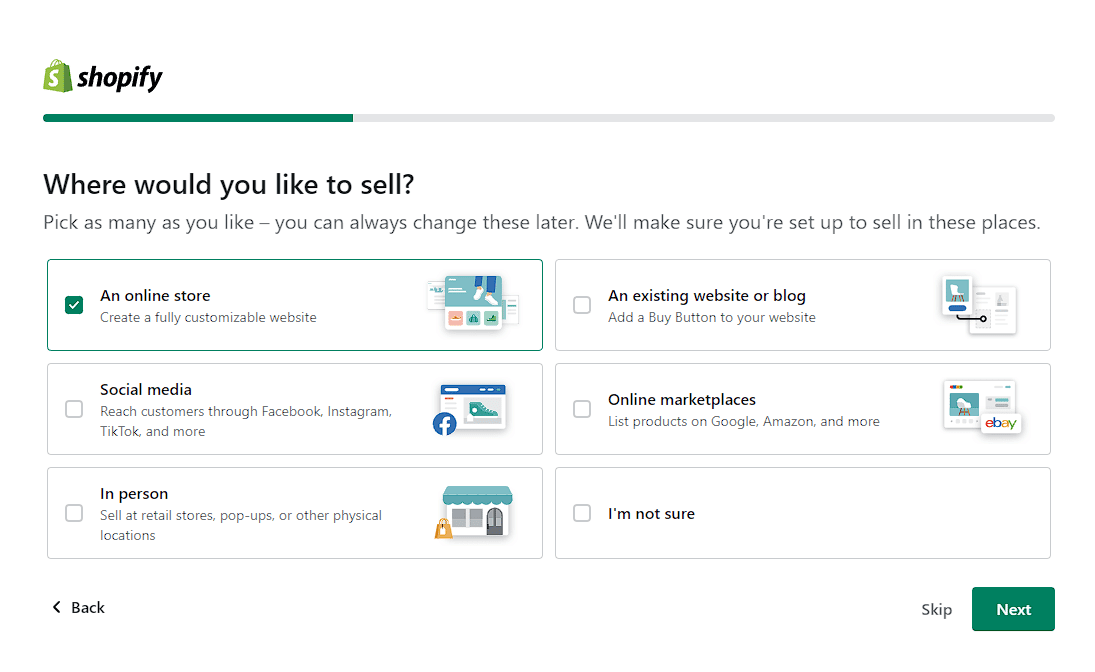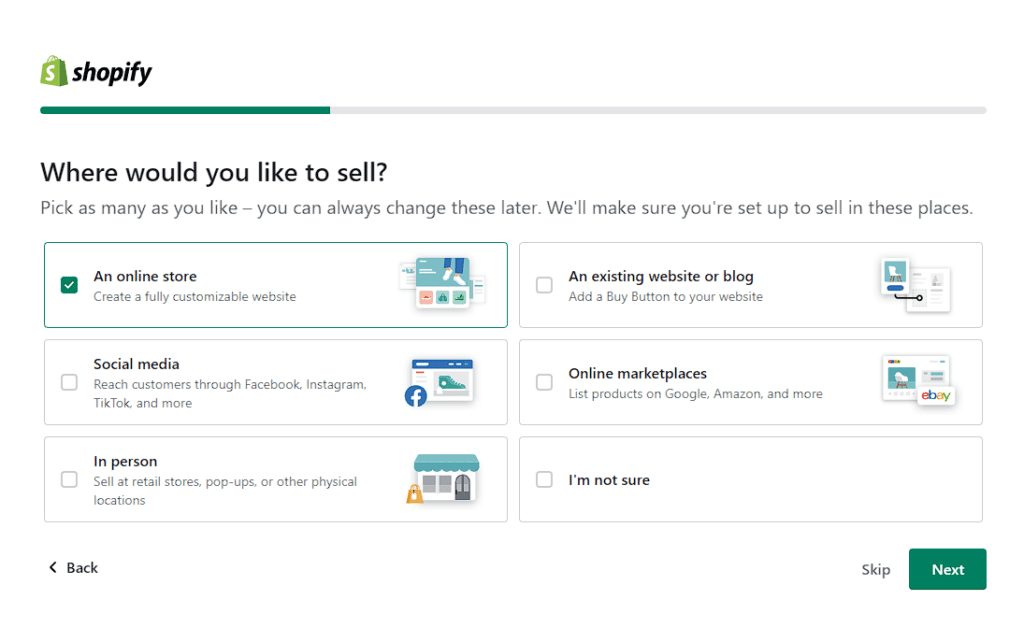 Choose a name for your store and where you want your store to be located, for example, the United States or Spain. Select a theme in your next step and customize, and click Publish. Your brand new store is live.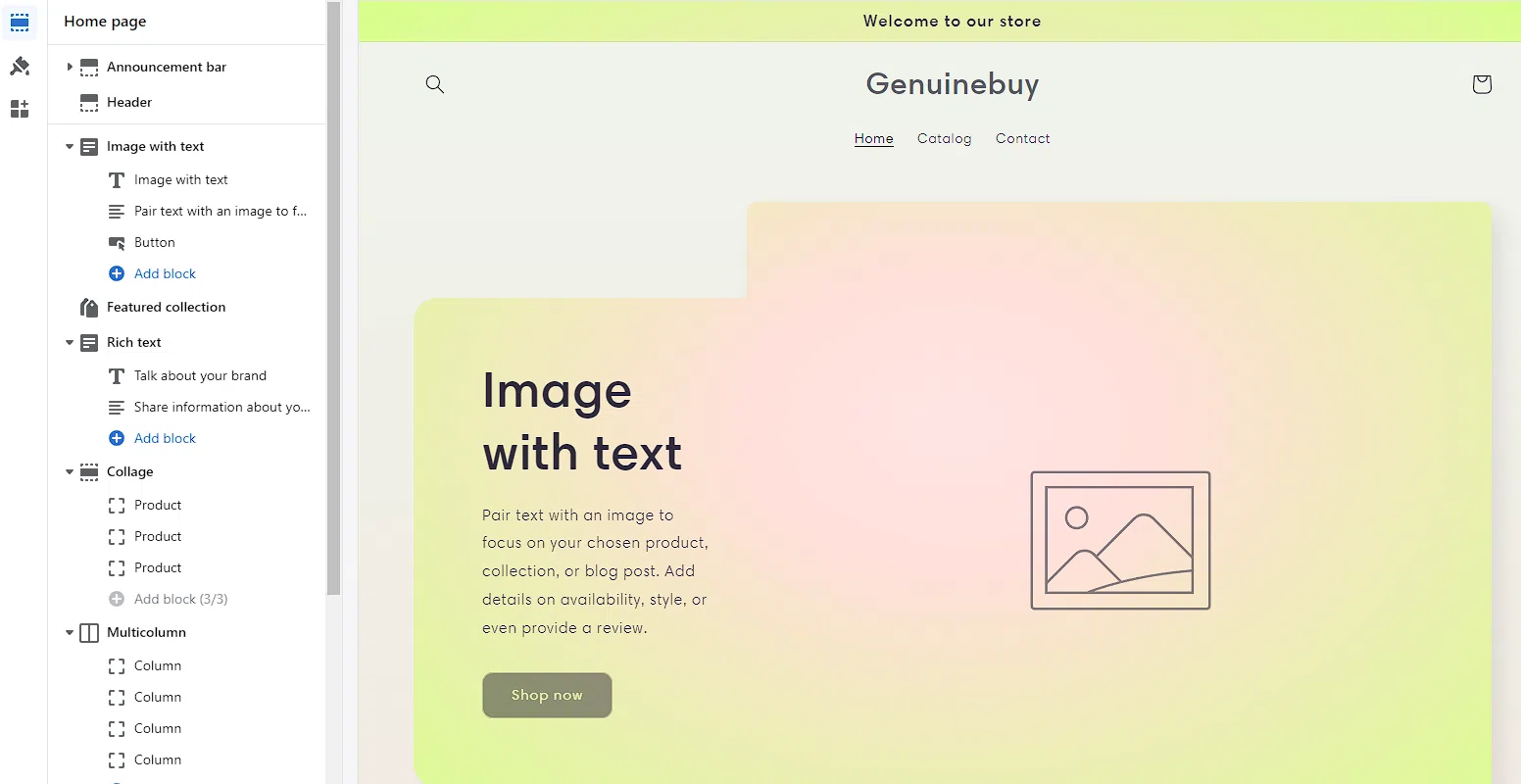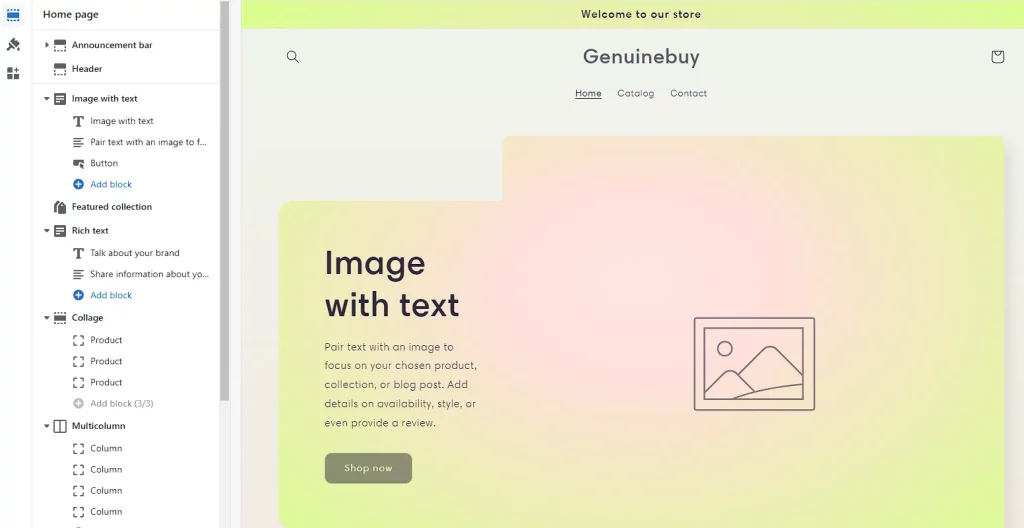 In our testing, we still found Shopify to be a bit frustrating, and making visual changes took time and learning. However, Shopify is undoubtedly leagues better than BigCommerce and Weebly. With small improvements to its user interface for frontend editing, Shopify would easily be among the top 3.
Shopify Themes – Free and Paid
One of the factors that can affect your store's conversion rate is its appearance. A well-designed and visually appealing store is more likely to attract and retain customers, which can ultimately lead to more revenue.
The simplest way to improve the appearance of your store is to use a custom Shopify theme, which can give your store a professional and polished look. By investing in a high-quality theme, you can make your store more appealing to customers and increase the chances that they will return to make additional purchases.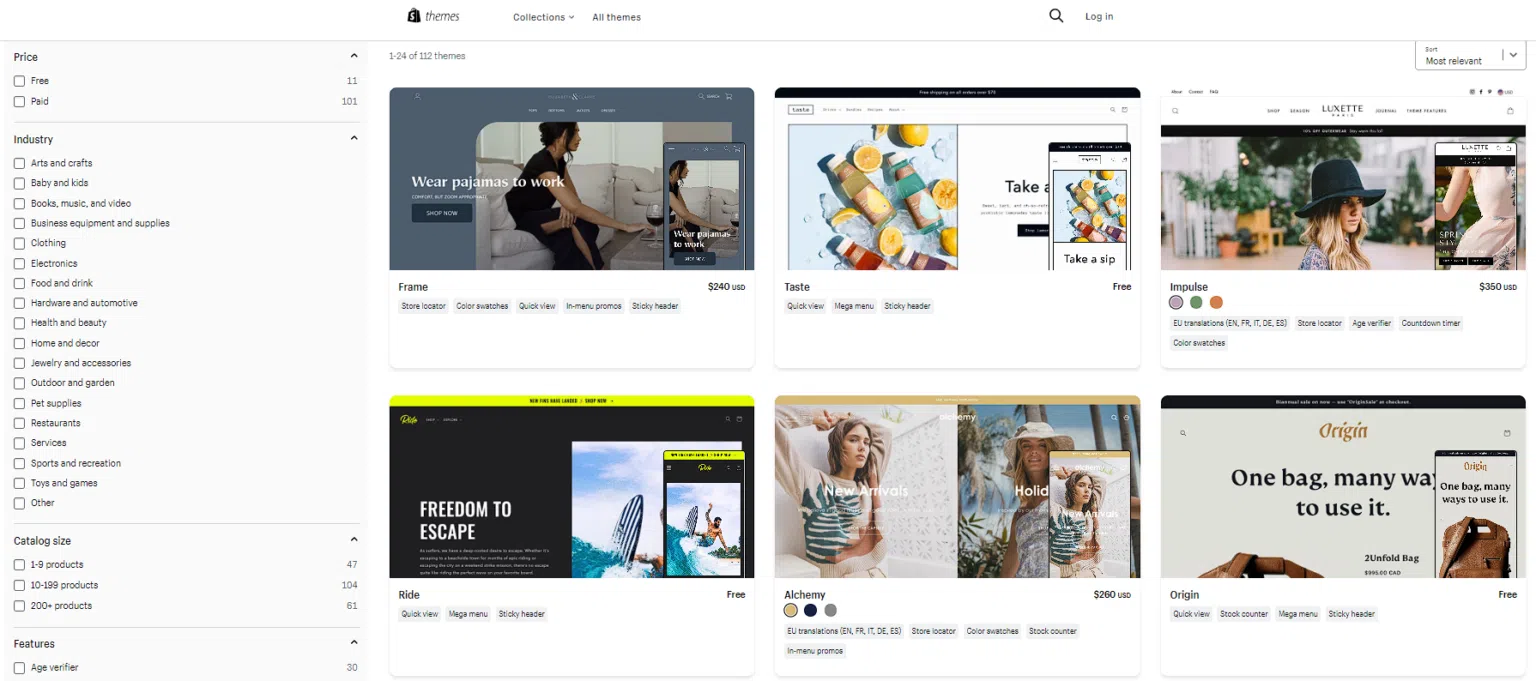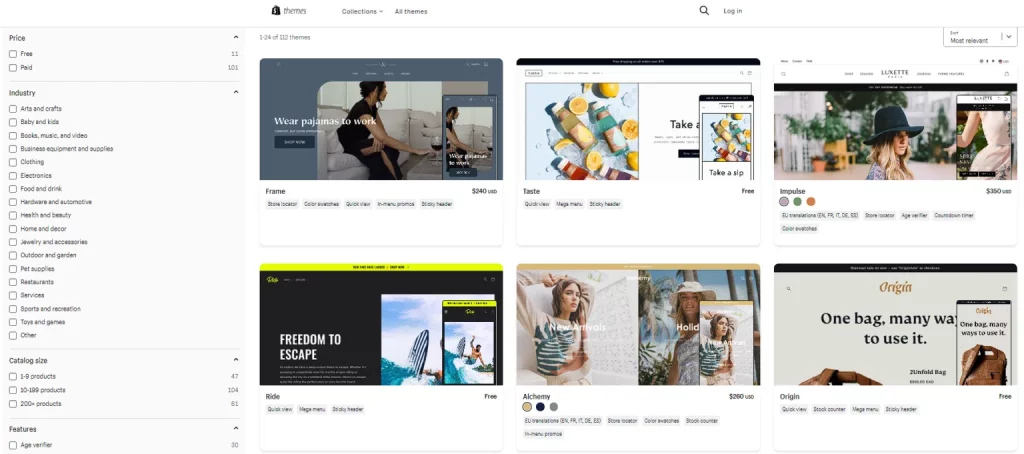 One of the standout features of Shopify is its user-friendly interface. The platform is designed to be intuitive and easy to navigate, even for those with little technical expertise. This makes it a great option for people who are looking to start their first online business, as they can quickly and easily set up a professional-looking store without needing to learn any complex coding or design skills.
Shopify themes are known for their clean, elegant, and attractive designs. They are created by professional designers, so you can trust that they will be functional and easy to use. When you choose a Shopify theme for your store, you can be confident that it will enrich your store's overall appearance and provide a positive customer experience.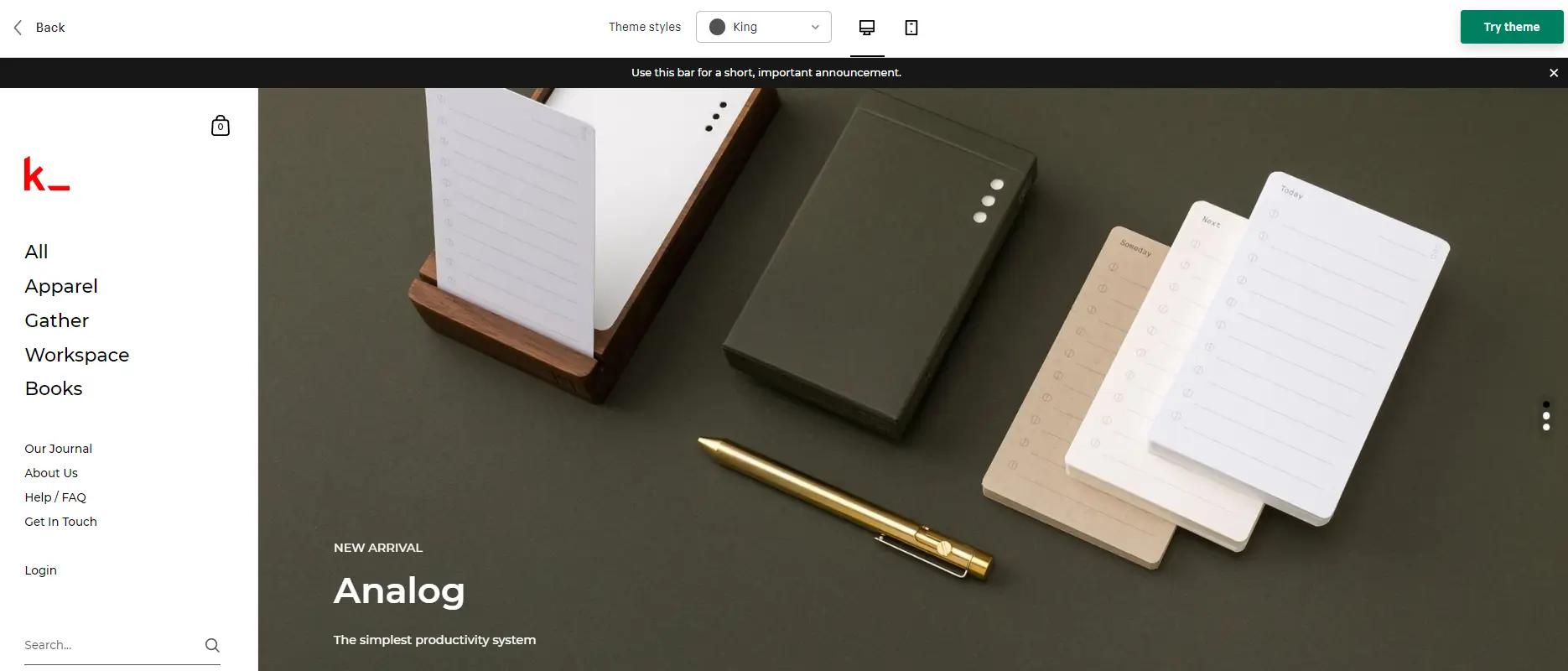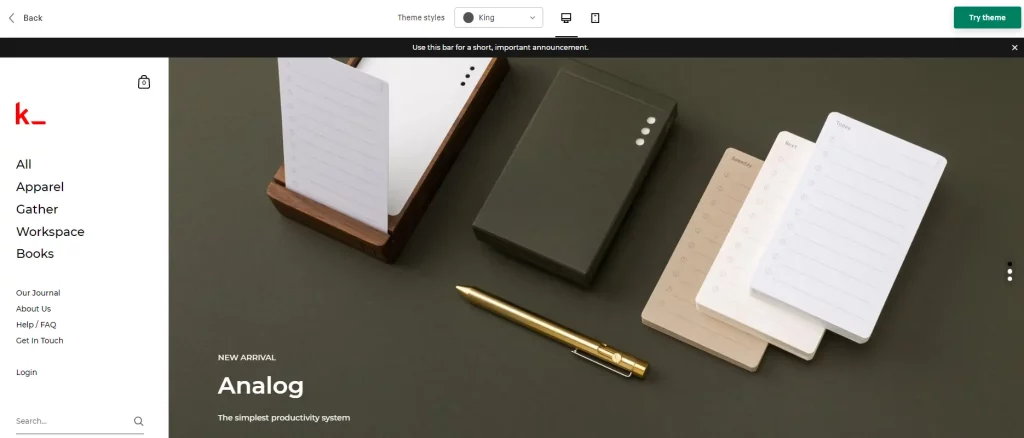 If you're not sure if investing in a premium theme is worth it, you can try out one of the free themes available on the Shopify platform. Free themes, such as Sense, Debut, and Dawn, can provide a good starting point for your store and allow you to see how a new theme can improve its appearance.
While free themes may not offer the same level of functionality and attractiveness as paid themes, they can still help you enhance the look of your store and improve the customer experience. If you decide that a premium theme is a right choice for your store, you can always upgrade to a paid theme at a later time.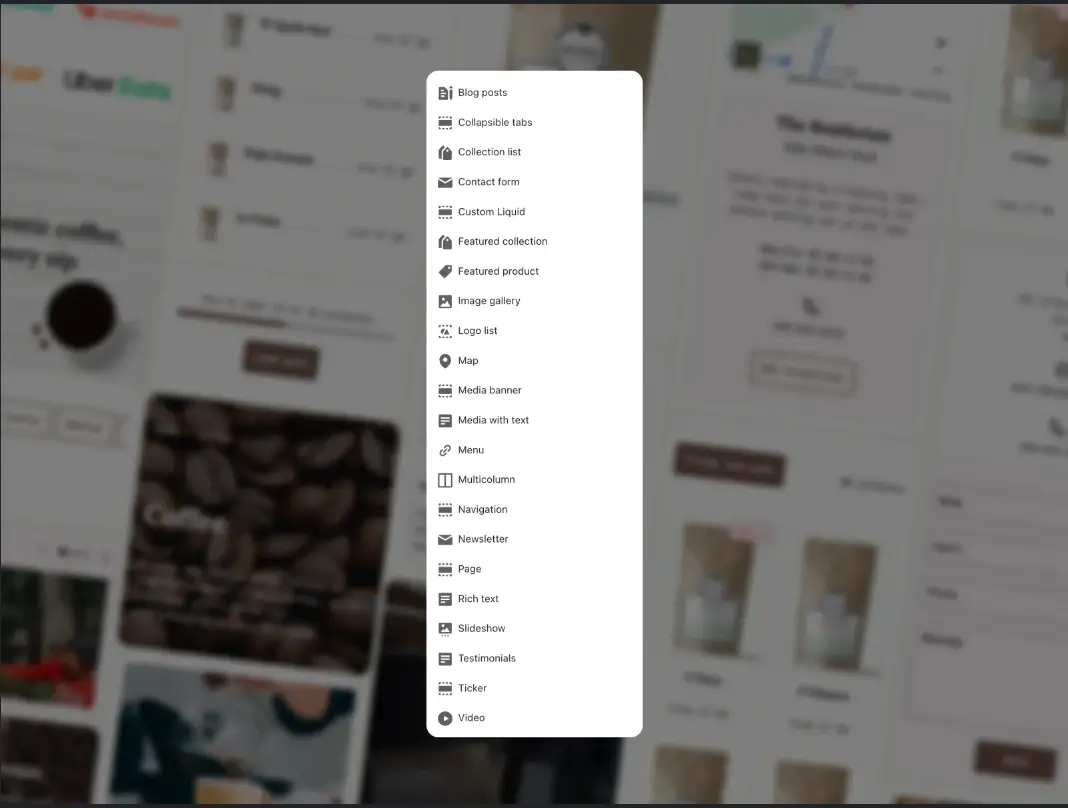 Although it's possible to get started with a free Shopify theme, we generally recommend switching to a paid theme once your business starts generating a decent amount of revenue.
The initial cost of a paid theme may be a bit higher for new businesses, but it is a one-time payment and can provide significant benefits in terms of design and functionality. UI-UX professionals explicitly design paid themes, so you can expect high-quality customizable templates to help your store stand out.
In the long run, a paid theme can be a worthwhile investment enabling you to attract and retain customers.
Shopify Marketing and SEO Tools
To ensure that your online store is successful, it is important to be visible and attract a large number of customers. One way to do this is through Search Engine Optimization (SEO), which is the process of optimizing your website to increase its chances of ranking high in Google search results. Without effective SEO, your store may go unnoticed by potential customers, hindering its chances of success.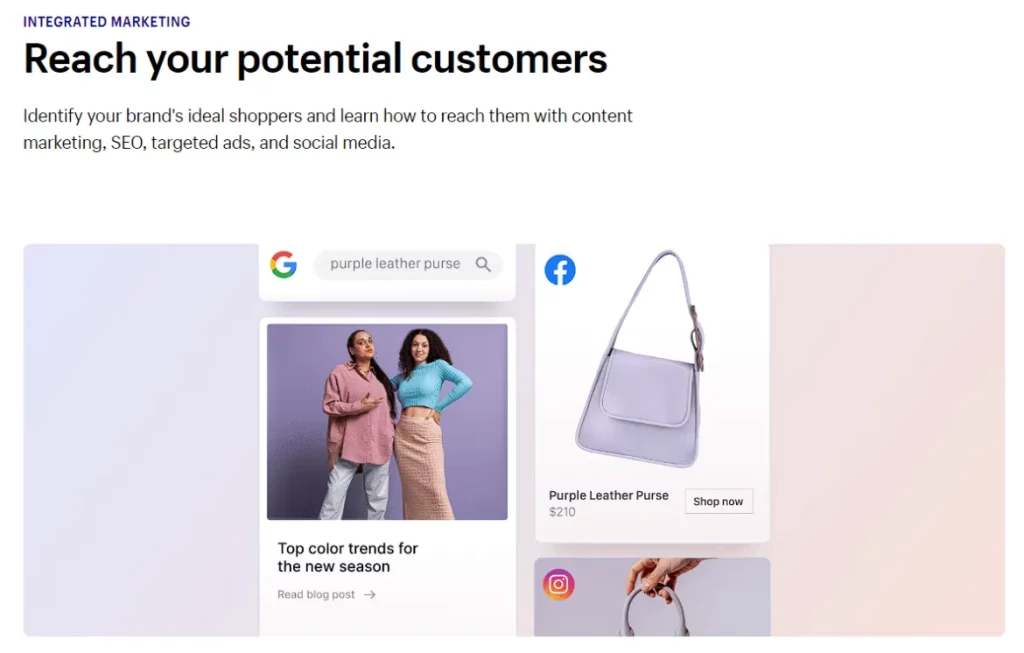 Shopify includes a range of marketing and SEO tools to help users promote and grow their online stores. These tools can be handy for small businesses and entrepreneurs looking to establish an online presence and reach a wider audience.
However, Shopify lacks in terms of keyword optimization and support, something that's offered by Shopify's closest competitor, Big Commerce. Some of the key marketing and SEO features offered by Shopify include:
Blogging tools
Reporting or Analytics tool
Email Marketing integration
Multilingual website option
Shopify Advanced Reporting
To determine the effectiveness of your SEO efforts, it is important to use reporting tools that provide insights into how visitors are interacting with your website. These tools can help you identify what is working well and what may need improvement.
Without such tools, it would be difficult to determine the success of your SEO strategies and make informed decisions about your online store. It is therefore crucial to consider the availability of reporting tools before signing up for any service or platform.
Shopify Pricing
Shopify is a popular e-commerce platform that offers a range of pricing plans to suit different business needs. The most basic plan comes at a price of $29/month and includes various features:
Unlimited product listings
24/7 Customer support
Secure checkout
This Shopify plan includes a customizable online store, the ability to sell on social media and online marketplaces, and support for up to three staff accounts.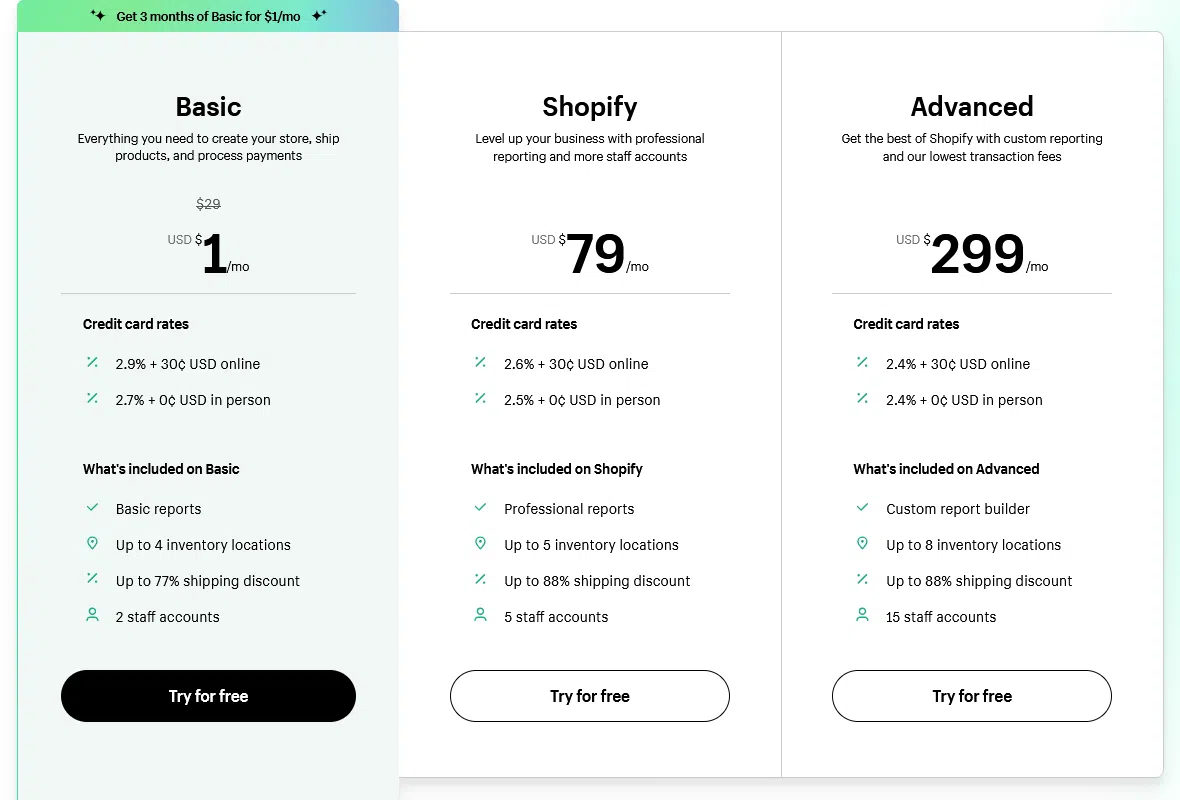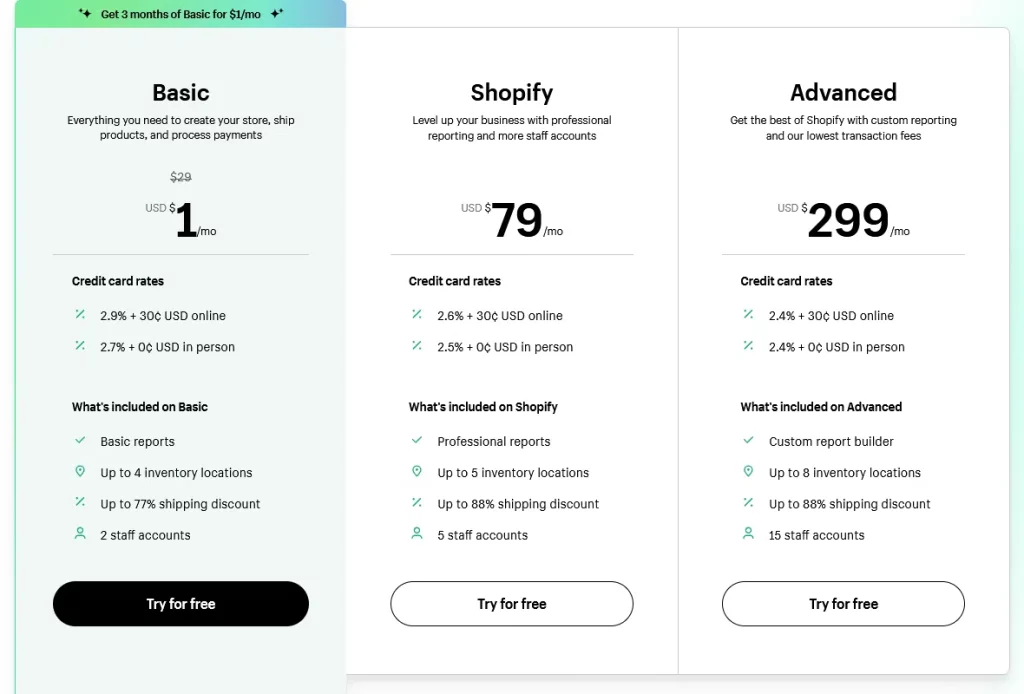 Other Shopify pricing plan, which starts at $79 per month, includes additional features:
Professional reports
Abandoned cart recovery
The Advanced Shopify plan starts at $299 per month and offers the following features:
Advanced report builder
Real-time shipping
Shopify also has a plan for large and high-volume businesses called Shopify Plus. This plan is customized for each business and pricing is determined based on the specific needs of the business.
Overall, Shopify offers a range of pricing options to suit businesses of different sizes and needs. We have compared all the Shopify Pricing plans for you to help you choose the one that best fits your business's needs and budget.
Shopify Customer Support
Shopify offers comprehensive customer support with help materials available in 21 languages. The support staff is available 24/7 and can be contacted via email, live chat, or phone. Remember, the 24/7 phone support is available in English only. Service hours may vary depending on the region you live in.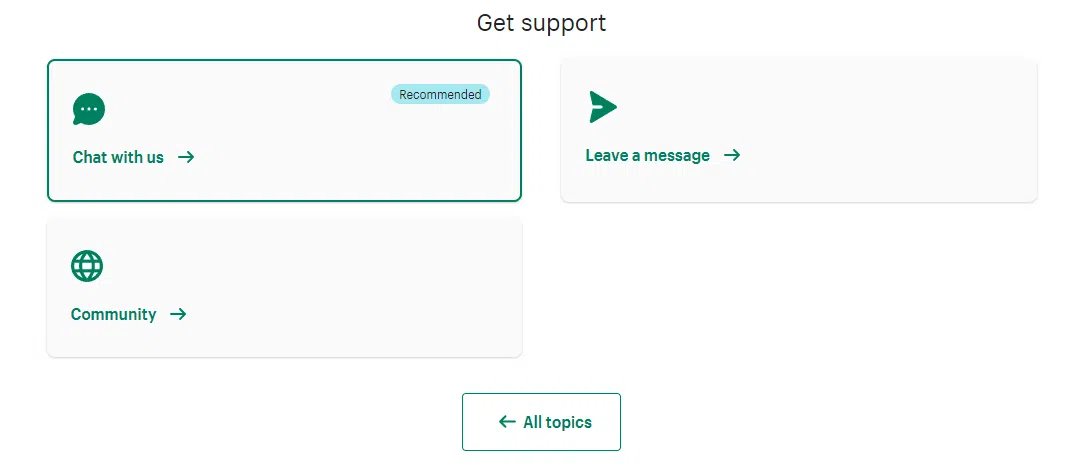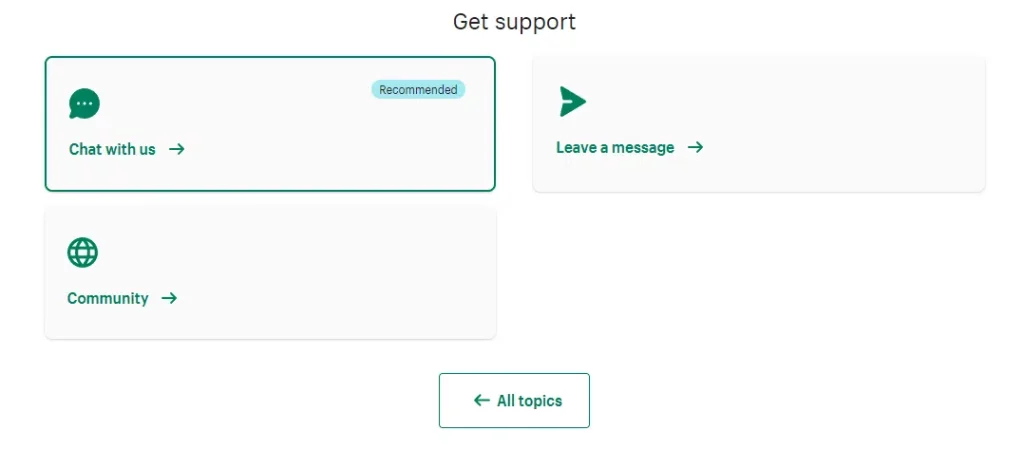 The support materials are generally clear, but it could have been much better if there were screenshots. Everything is presented in a textual format which can sometimes be confusing.
Shopify's support offering is superior to some of its competitors, such as Squarespace, which does not offer phone support.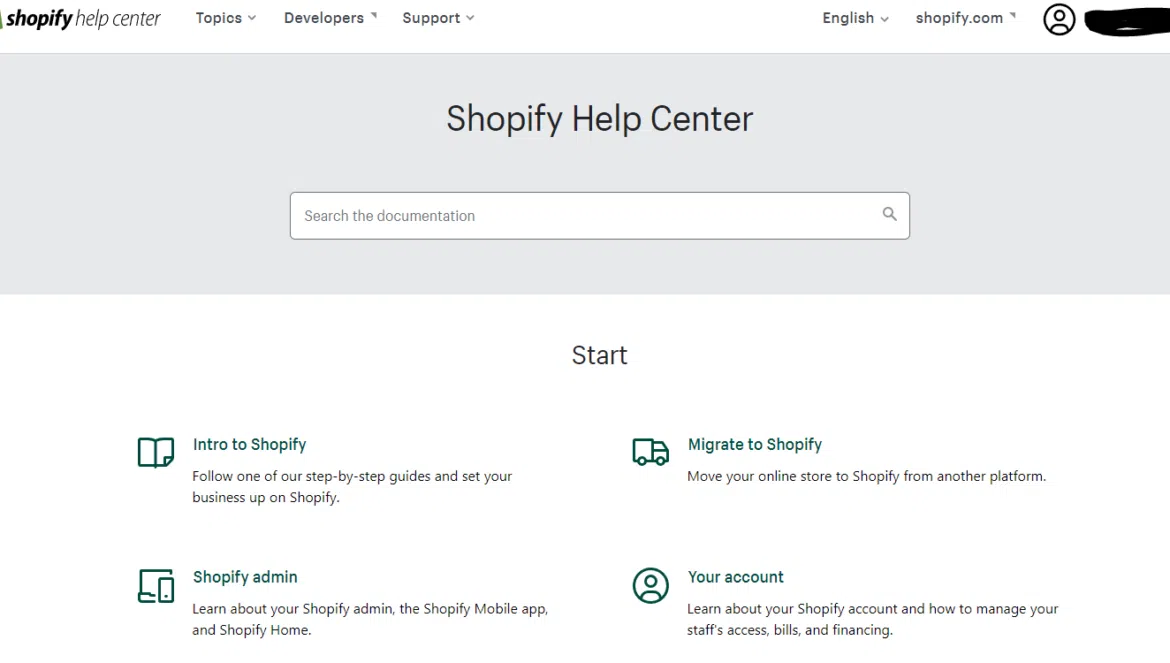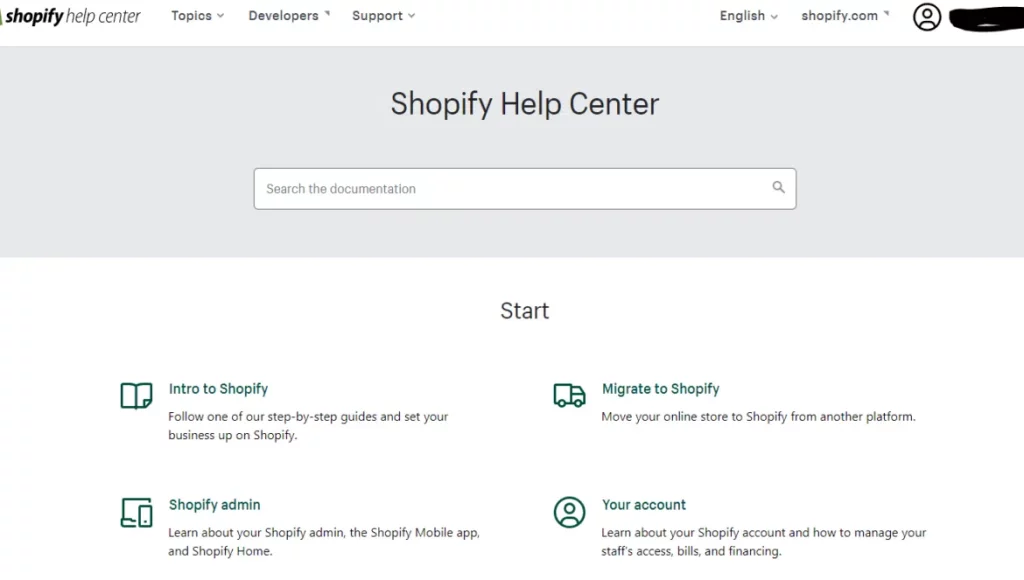 With Shopify support, we found that for more technical inquiries, such as help with CSS or other coding elements, the standard support service may not always provide the desired answers.
If you face technical problems, asking questions in the Shopify community could prove to be more helpful than queuing with support.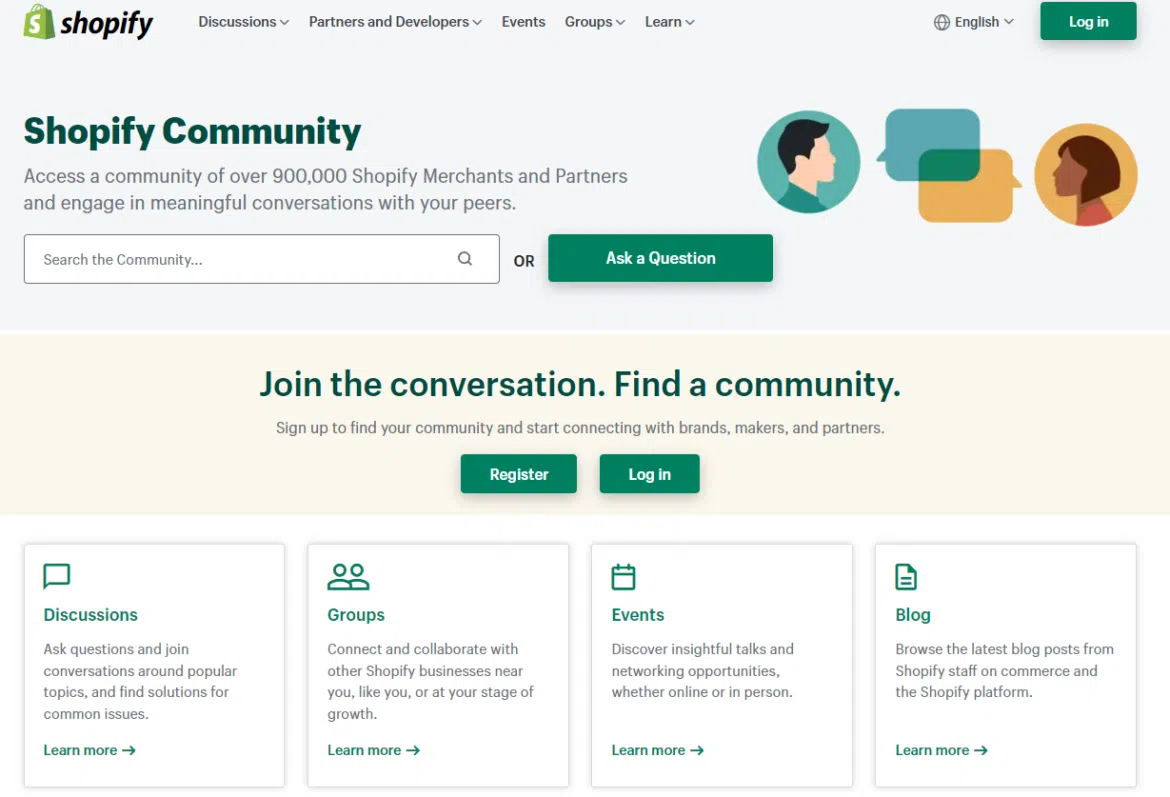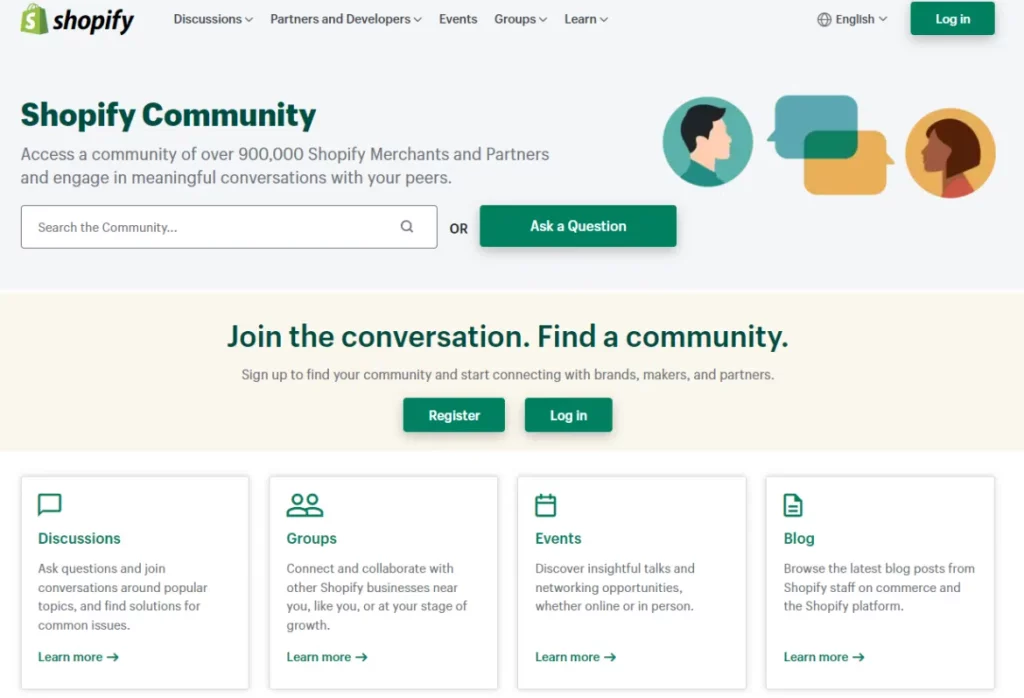 If you are subscribed to Shopify Plus Plan, you can get advanced specialist support giving you a dedicated support agent.
FAQs