Shopify is one of the most popular e-commerce platforms. It is known for its ease of use and customizability, offering a wide range of tools and features to help users manage and grow their online businesses. Magento, now Adobe Commerce, is a versatile and scalable e-commerce solution where you can create amazing stores for both B2B and B2C, regardless of the number of brands.
But which one is better? In this Shopify vs Magento (Adobe Commerce) comparison, we'll find out which is better for new sellers.
Table of Contents
Shopify vs Magento: Overview
Shopify is a SaaS eCommerce solution that provides everything you need to create a website. It offers hundreds of e-commerce features, advanced reporting tools, and many payment options. Over 6.4 million stores are hosted on Shopify because it is a complete e-commerce solution with total control.

Magento, similar to WordPress, is an open-source platform that you can use for free. However, additional costs are involved, such as web hosting, typically around $10 per month, and security and extensions, which are similar to apps. According to BuiltWith, there are over 178,000 live websites out of 700,000 Magento-powered websites. Magento platform code has seen over 2.5 million downloads which speaks of its popularity.


Shopify vs Magento: Pros and Cons
Shopify
| Pros | Cons |
| --- | --- |
| Suitable for all sizes of businesses. | More expensive than competitors. |
| Multi-Channel selling. | Not intuitive. |
| More than 8000 apps for integration. | Highly reliant on app integrations. |
| Over 100 payment solutions. | Fewer free themes. |
| 140+ well-designed modern themes. | Steep learning curve. |
Magento
| Pros | Cons |
| --- | --- |
| Very large community. | Very expensive paid plans. |
| Extremely flexible with coding. | Not beginner friendly. |
| More than 3600 apps for integration. | Relies on extensions. |
| Best suited for medium and large business. | Installation is complicated. |
| Free open-source version. | Requires extensive coding skills. |
Shopify vs Magento: Ease of Use
Shopify is an in-house-hosted platform, meaning you don't have to set up hosting and create a website from scratch. As a result, Shopify has become a trusted choice for millions of businesses around the world.
There's definitely a learning curve but with its intuitive interface and easy-to-use features, it is possible to get a store up and running on Shopify in a matter of minutes. It also offers an inbuilt Generative AI text tool that helps in creating decent product descriptions.
If you're curious about the user-friendliness of Shopify, you can try the platform for free and check out the features, themes, and how much customization you can make to gauge if it suits your need. If you're wondering how to get started with Shopify, read our Shopify Review.
In our testing, we still found Shopify to be a bit complicated, and making visual changes took time and learning. However, Shopify is undoubtedly leagues better than BigCommerce and Weebly.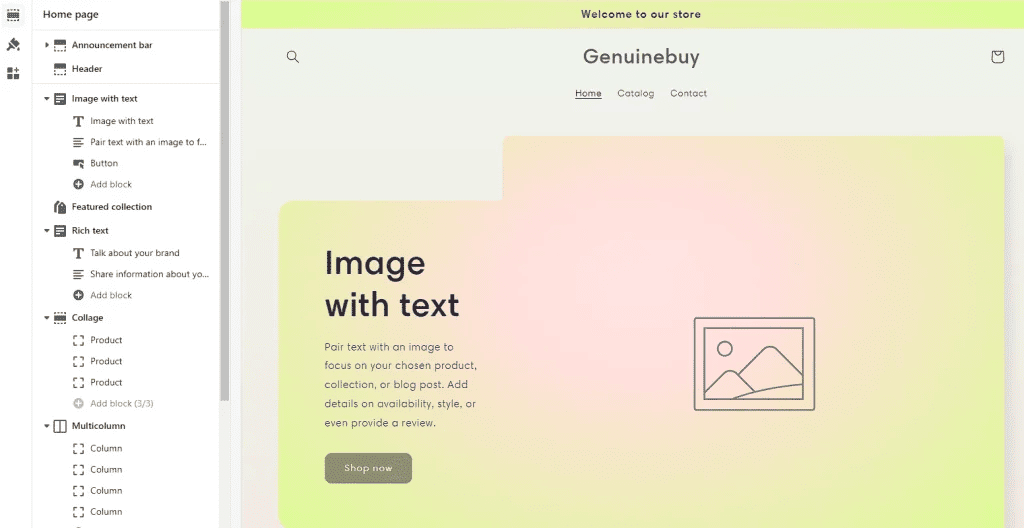 Magento is for those with web development experience and who intend to work on the store themselves. It's not at all user-friendly for those new to e-commerce or Magento specifically.
If you're starting, it might be best to skip Magento entirely in that case. It's more suited for businesses with the budget and resources to create and maintain a Magento power store. A Magento store can cost anywhere between $15,000 – $30,000.
The Magento interface is often considered quite reasonable for developers as they have the know-how. Also, the quick and straightforward self-hosting setup, and a neatly stacked menu that includes features like customers, products, promotions, sales, and reports, help developers quite a lot.
Again, the only easy thing about Magento is its dashboard or admin panel which is relatively straightforward.
Saying the platform is not user-friendly wouldn't be an overstatement, as getting started with the store requires loading the files to the local server via FTP.
So if you don't possess the developer skills, we recommend checking out other platforms like Squarespace, Wix, Shopify or Storenvy. However, if you have the budget to bring in a dedicated developer, you're good to go.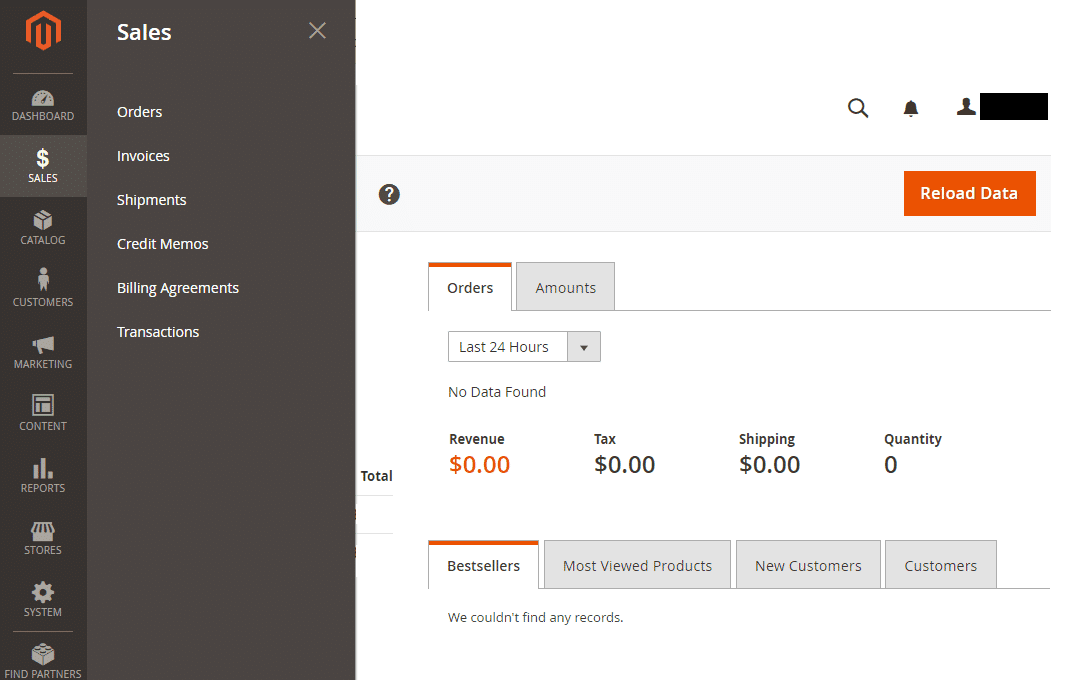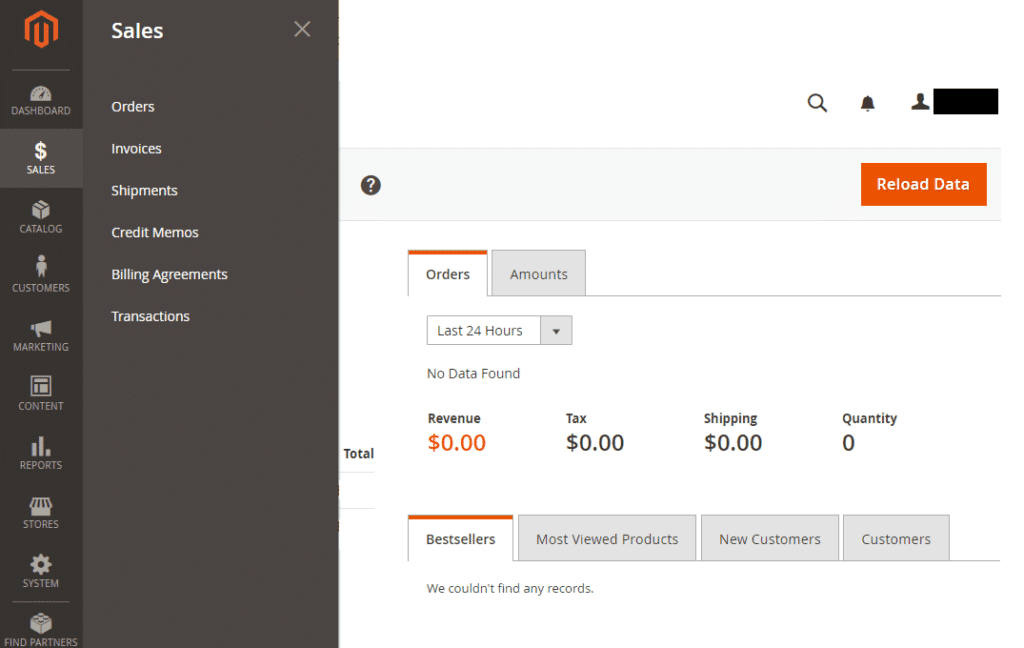 Verdict: This one is difficult to decide as, on the one hand, you have a beginner-friendly platform, Shopify. While on the other hand, Magento is incredibly suited to experienced developers or medium and large businesses for providing extreme flexibility. But we will give the win to Shopify for being beginner-friendly and flexible for both novices and experienced users.
Shopify vs Magento: Design and Flexibility
On Shopify, the simplest way to improve the appearance of your store is to use a custom theme, which can give your store a professional and polished look.
Investing in a high-quality theme can make your store more appealing to customers and increase the chances that they will return to make additional purchases.
Shopify themes are known for their clean, elegant, and attractive designs. They are created by professional designers, so you can trust that they will be functional and easy to use.
To edit a template, you can use Shopify's drag-and-drop builder to adjust elements and make the template work according to you.
Free themes, such as Sense, Debut, and Dawn, can provide a good starting point for your store and allow you to see how a new theme can improve its appearance. You won't get as many free themes as Shift4Shop but you'll get more customization.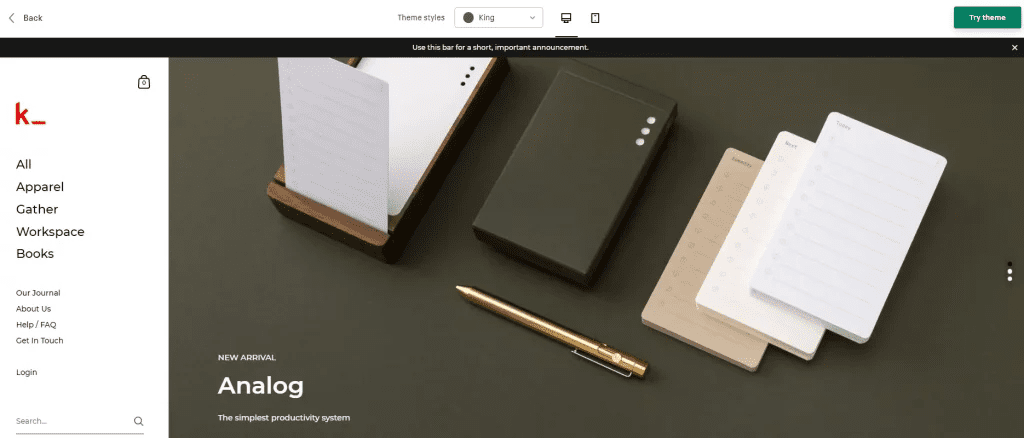 As a company, Magento doesn't offer or sell any themes or templates. However, if you have the required skills, the custom design tools provided by the platform are excellent, letting you create unique designs.
The Adobe Commerce Marketplace is a great place to start if you're looking for a pre-built template to customize later. The marketplace features a decent range of nicely designed templates from third-party developers or design firms. Some of the themes on this marketplace are free. However, if you're looking for something particular, you can expect to spend anywhere between $130-$500. You can also search for templates on Theme Forest.
Remember, just because you found a theme doesn't mean your store will transform into this perfect place. You will still require some coding knowledge to utilize the theme completely. Only take the theme as a starting point. What's even better is that often, you get access to several useful extensions when you buy a theme.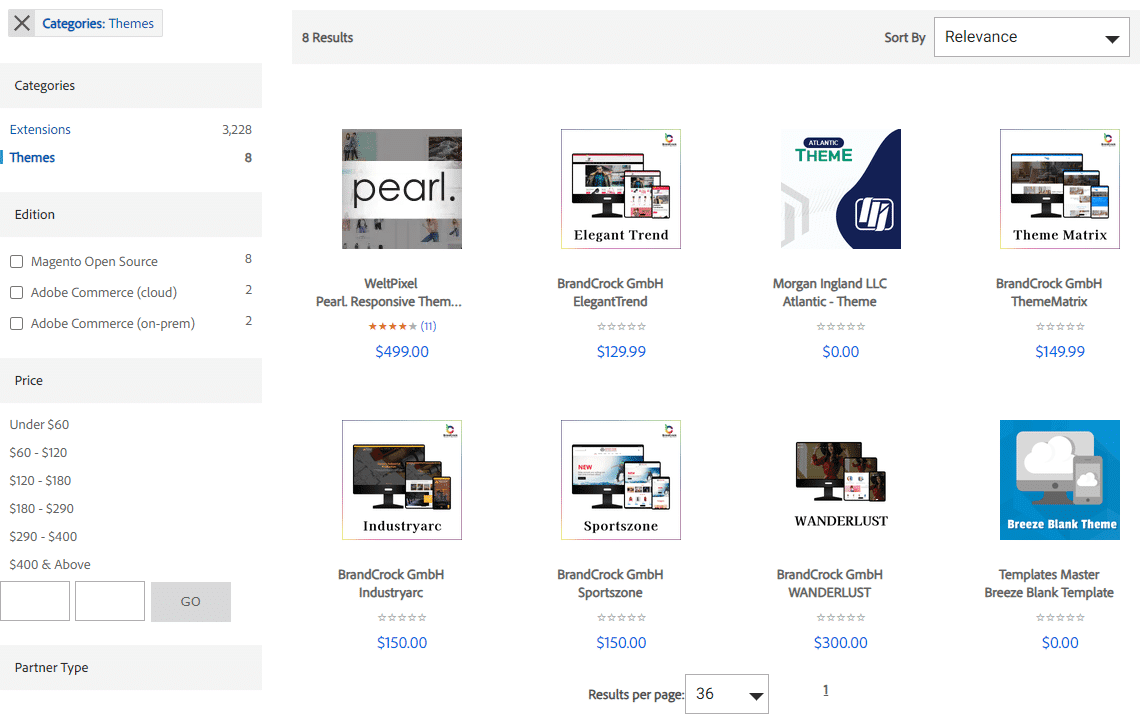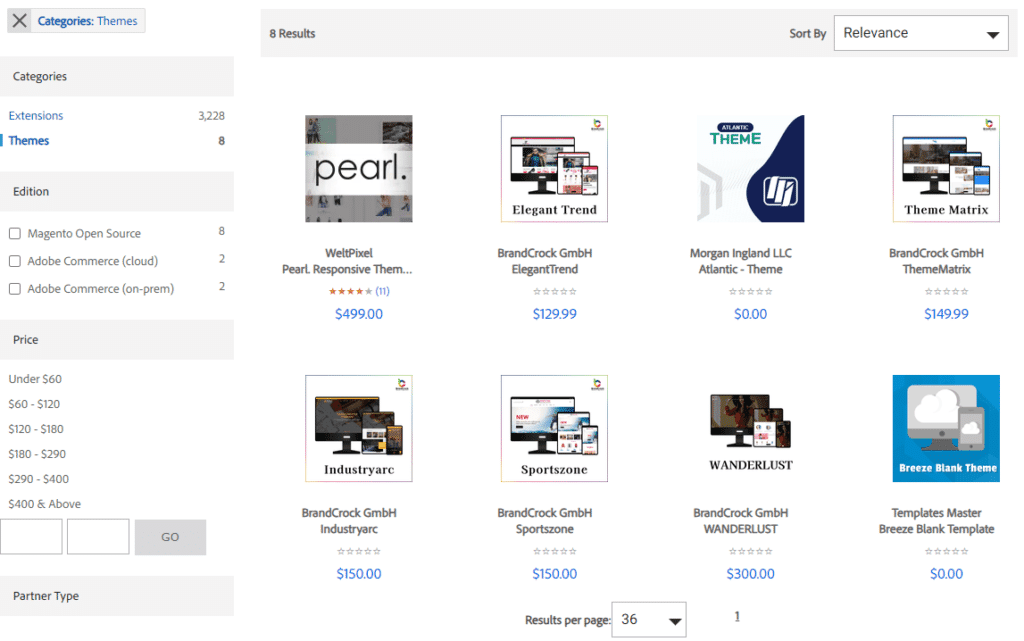 Verdict: If sheer customization is one of your objectives, then Magento scores an easy win. You can customize your Magento store however you want using code.
Shopify vs Magento: Marketing Tools
E-commerce features are good to have, but without proper marketing, even the most beautiful stores get unnoticed. To grow your store and be visible to the audience, you may need certain marketing features:
SEO (Search Engine Optimization)
Shopify includes various marketing and SEO tools to help users promote and grow their online stores. These tools can be handy for small businesses and entrepreneurs looking to establish an online presence and reach a wider audience.
However, Shopify lacks keyword optimization and support, something that's offered by Shopify's closest competitor, Big Commerce. Some of the key marketing and SEO features offered by Shopify include:
Blogging tools
Reporting or Analytics tool
Email Marketing integration
Multilingual website option
To determine the effectiveness of your SEO efforts, it is important to use reporting tools that provide insights into how visitors are interacting with your website. These tools can help you identify what works well and what may need improvement.
What's more impressive about Magento is that it pretty much eliminates the need for additional marketing tools and offers everything from email marketing to on-site ads. SEO settings are even configured automatically, providing a ready-to-use setup. Of course, if you prefer more control, you can dive in and adjust things to suit your specific needs.
Magento's open-source and premium versions include mobile optimization and standard SEO tools. You can rest assured that your store will be well-optimized, search engines will easily find your site, and everything will be displayed appropriately on smaller devices such as smartphones and tablets.
You can make use of SEO extensions as well if you wish. There are both free and paid extensions for different functionalities. Paid extensions range from $10-$799.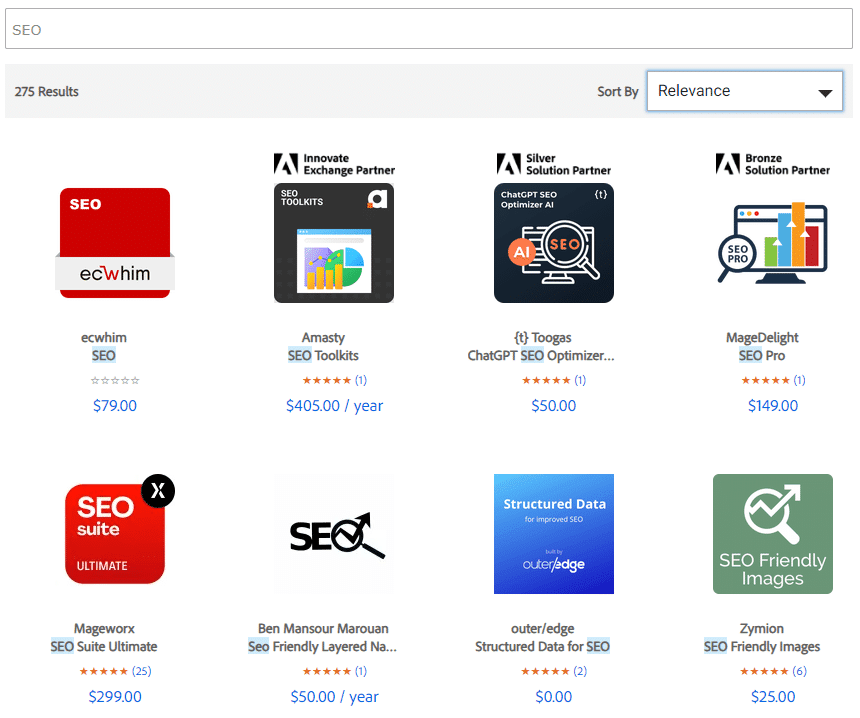 Verdict: Magento wins this round ever so slightly for offering better control over SEO with more options. You can customize URLs and do other SEO work easily. On Shopify, you'll have to use third-party apps for most of your SEO needs.
Also Read: Big Cartel vs Squarespace: Which One Is Best For You In 2023?
Mobile App
Shopify has a dedicated mobile app that allows you to sell on the go and edit your store's theme. You can adjust the layouts, arrange or rearrange items/elements and even install a new theme. Here are all the things you can do on Shopify Mobile App.
Manage and track orders: You can easily manage and track your orders, ensuring smooth order fulfillment.
Process payments: The app allows you to process payments securely, providing a seamless checkout experience for your customers.
Add new products: You can add new products to your online store directly from the app, making it convenient to expand your product catalog.
Customize your online store: The app lets you customize your store, updating the store's appearance and branding.
Run marketing campaigns: You can run marketing campaigns and promotions to attract and engage customers, helping you boost your sales.
Check Analytics and Reports: From the app, you can see how your store is performing, including sales data, traffic analytics, and other key metrics.
Check Store Notifications: Stay informed with push notifications, receiving alerts for new orders, abandoned carts, customer inquiries, and other important updates.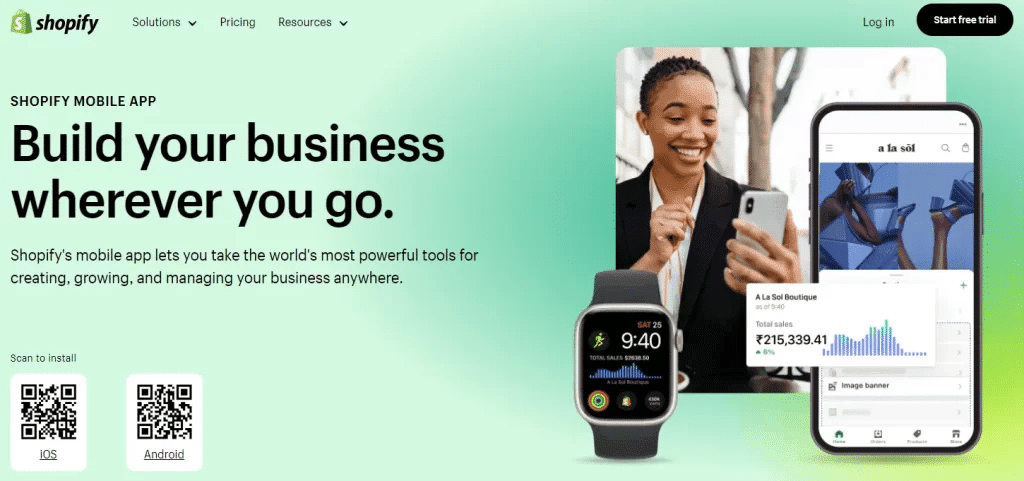 Magento doesn't offer an in-house mobile app for developers or e-commerce store owners. But, a relatively large community of third-party developers has created a mobile app for Magento.
Some third-party provide apps for free while others charge a fee. According to Mageplaza, the paid app can cost anywhere between $19-$599. Each app offers different functionalities. Here's what you can do with the app:
Make changes to the store: You can change the theme, color schemes, or font of your store from the app.
Manage and track orders: You can easily manage and track your orders, ensuring smooth order fulfillment.
Process payments: The app allows you to process payments securely, providing a seamless checkout experience for your customers.
Add new products: You can add new products to your online store directly from the app, making it convenient to expand your product catalog.
Check Analytics and Reports: From the app, you can see how your store is performing, including sales data, traffic analytics, and other key metrics.
Check Store Notifications: Stay informed with push notifications, receiving alerts for new orders, abandoned carts, customer inquiries, and other important updates.
Verdict: Shopify wins as it offers an inbuilt Mobile app for store owners to manage the store and sales.
Email Marketing
Shopify offers a built-in email marketing feature, however, it requires a bit of coding. If you want to use email marketing but don't want to code, the easiest way is to use third-party apps.
Some popular options include Seguno, Klaviyo, Campaign Monitor, Constant Contact, and Privy. These apps provide comprehensive email marketing solutions and integrate seamlessly with your Shopify store.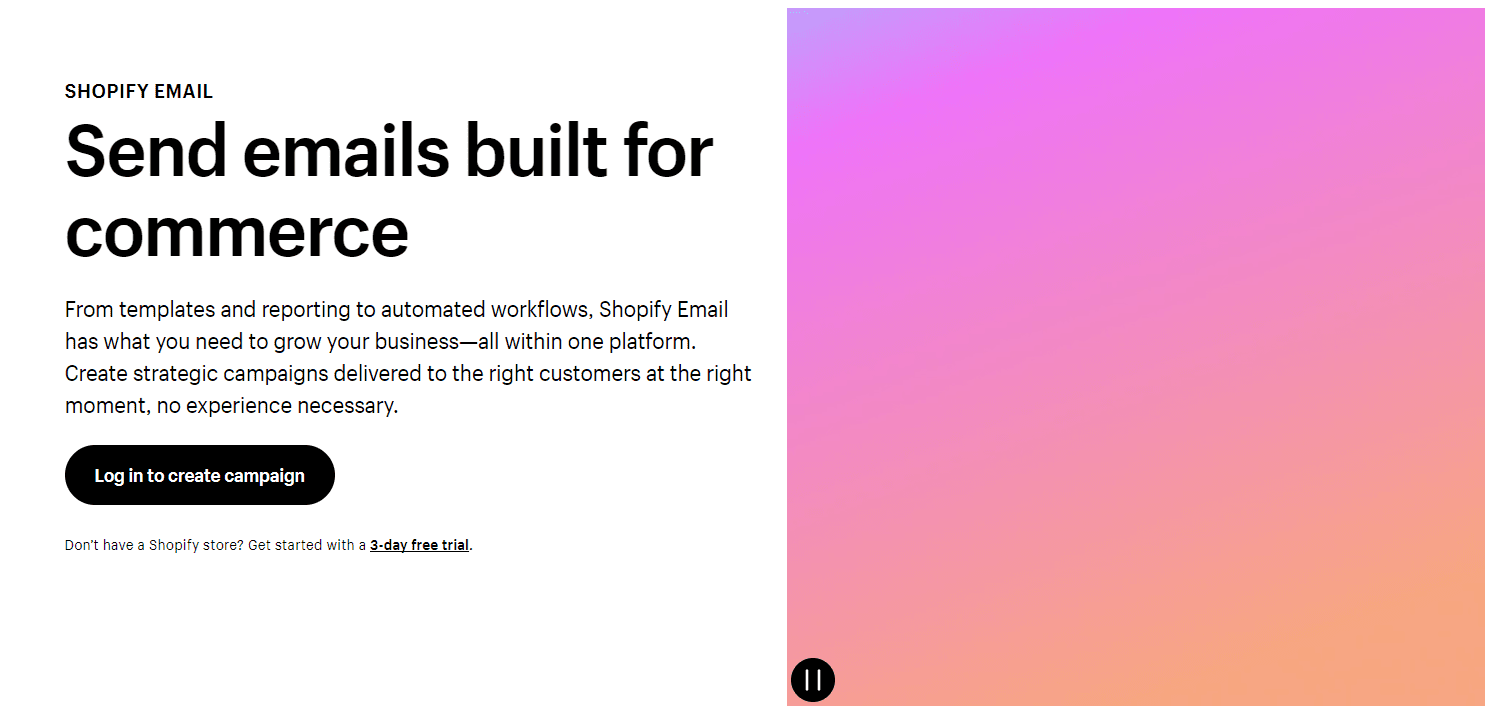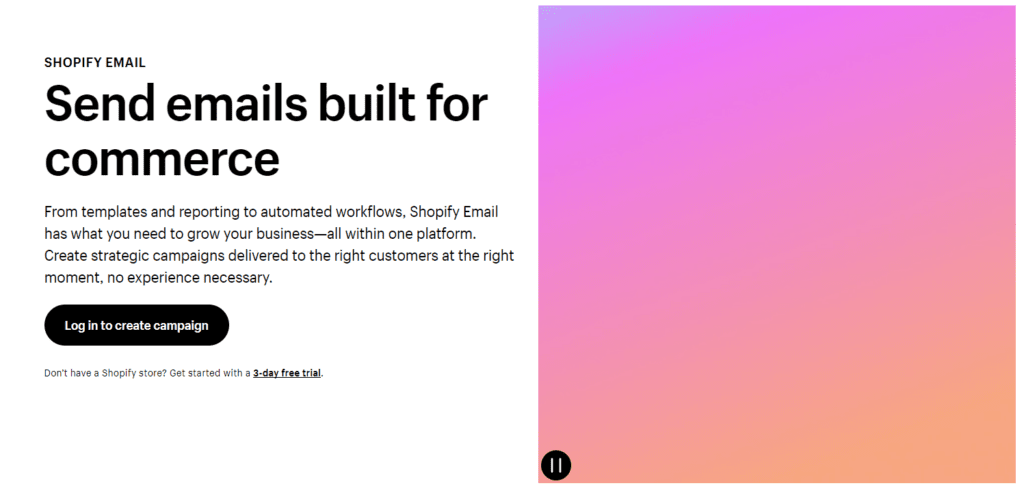 Most of Magento's marketing capabilities rely heavily on extensions and its Marketplace. For instance, if you're planning to run email campaigns, you'll have to get an extension for email marketing. But your vices won't end here, as you'll still need a web developer to integrate the extension on your store properly.
Extensions like Sendinblue, Recapture, or Remarkety are good options and can be affordable.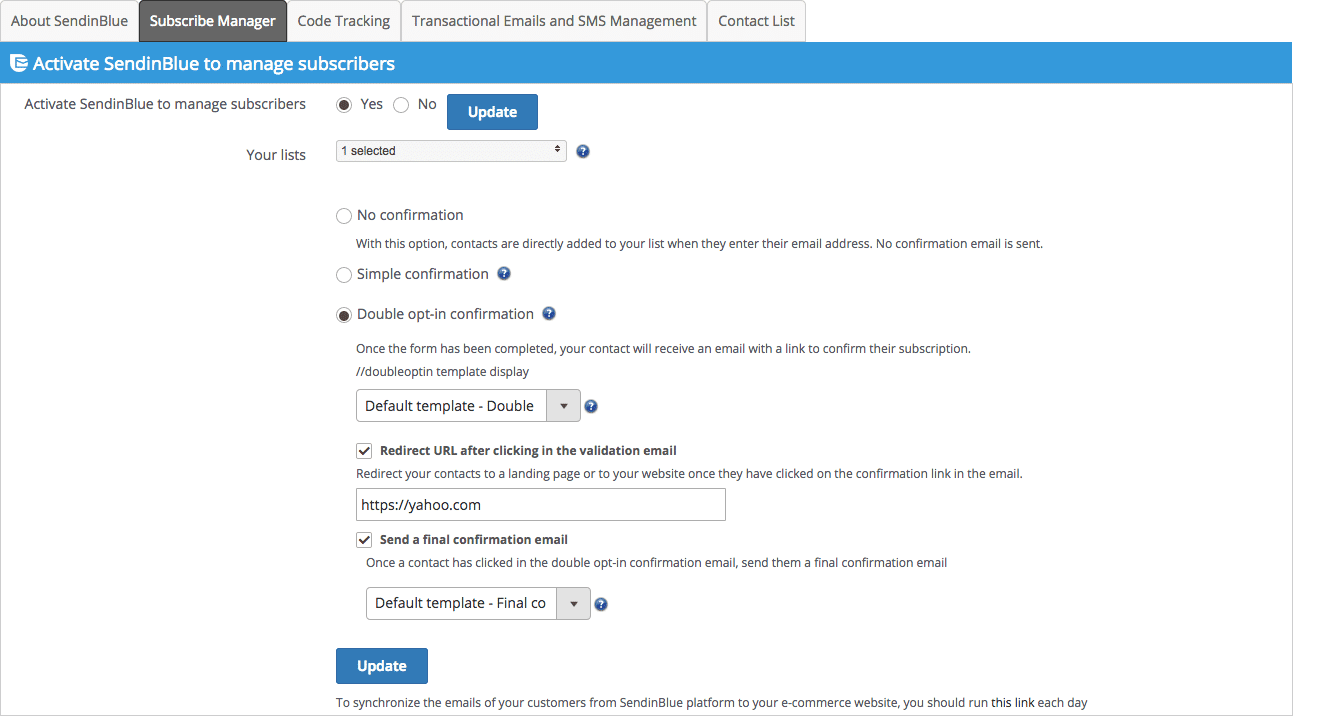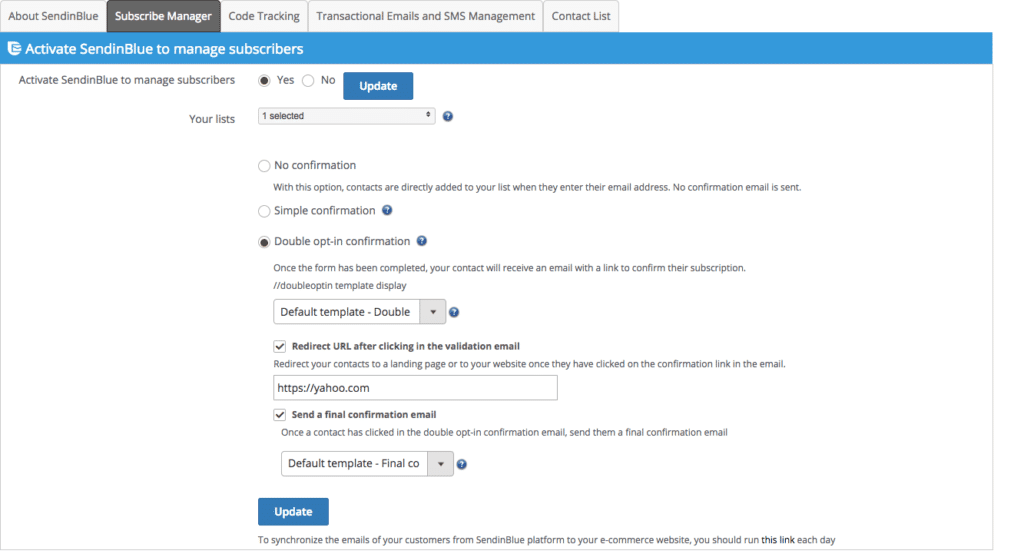 Verdict: Shopify wins this one. Although Shopify too uses extensions for Email marketing, the process of integrating it into your store is simpler. Shopify also offers other built-in marketing features that Magento doesn't.
Blogging
Shopify does offer blogging functionality and a decent range of tools, but it is not its strongest offering. Shopify blogging is much better than some competitors like Shift4Shop, Volusion, or BigCommerce. And yet not as good as Squarespace or Wix.
On Magento, to have a blog, you will have to install an extension, either free or paid. Once you have the extension, you can start pushing out blogs. Don't expect much for the SEO as you will still be needing an extension for that as well.
Shopify vs Magento: Payment Processors
Shopify Payment is Shopify's in-house payment solution for online credit/debit card transactions. It is also the only payment solution where Shopify doesn't charge a transaction fee.
Let's say you want to use other third-party payment options. In that case, Shopify will charge 2%, 1%, and 0.5 transaction fees in Basic, Shopify, and Advanced plans.
There's also a transaction fee when a customer buys a product using a credit card. The fees are:
Basic: 2.9% and $0.30 for online, 2.7% for in person
Shopify: 2.6% and $0.30 for online, 2.5% for in person
Advanced: 2.4% and $0.30 for online, 2.4% for in person
This transaction fee is nothing to be worried about as it is quite normal. The processing fee is charged whenever someone buys a product online or offline using a credit card. Similarly, on Shopify, the transaction fee is charged. These fees help Shopify operate your store.

Magento offers several convenient payment features, including guest checkout, one-click payments, and an option to ship to alternate addresses if necessary. Additionally, you can set up a "bill me later" to help your customers by financing their purchases.
Magento's integration with payment systems like PayPal and Authorize.net simplifies transactions, and the shopping cart automatically calculates and displays tax and shipping charges.
There are over 840 payment gateways that you can use with Magento. Integrating with the payment service providers may incur some charges.
Processing credit and debit card transactions aren't free either with any payment provider, regardless of the provider. Different providers charge different transaction fees. When working with Magento, it's important to analyze various payment providers that can be integrated with your store to determine the lowest rates.
Verdict: Magento leads ahead with more features and payment options.
Shopify vs Magento: Pricing
When choosing a plan, you need to be very careful about it. You don't want to choose a plan in which you require any more features in the future, and you also would not like to waste your money on features or tools you will not use soon. And don't forget about the monthly subscription fee you will be charged for.
Shopify Offers
Shopify starter at $5/month: In this plan, sales can be processed through the same website or Facebook. For each transaction, 2.9% is taken by Shopify along with another $0.30.
Shopify Basic at $29/month: A website of Shopify and the transaction fees same as of Shopify Lite. In this plan, users can also benefit from the provided two employee accounts and can also use the discount codes.
Shopify a $79/month: There is a drop in the transaction fees in this plan which is 2.6% and $0.30/transaction. Get all the features of basic Shopify and accounts for five employees plus gift cards.
Advanced Shopify a $299/month: Transaction fees are reduced to 2.4%, along with $0.30 for every transaction. You also get accounts for fifteen employees plus advanced reporting options to level up your sales performance.
Shopify Plus: This is for sellers with a high volume of sales and a huge amount of transactions in a minute. The fees and all other associated costs are flexible and vary from seller to seller and his needs.
Shopify also offers a 3-days trial and 3 months subscription at $1/month.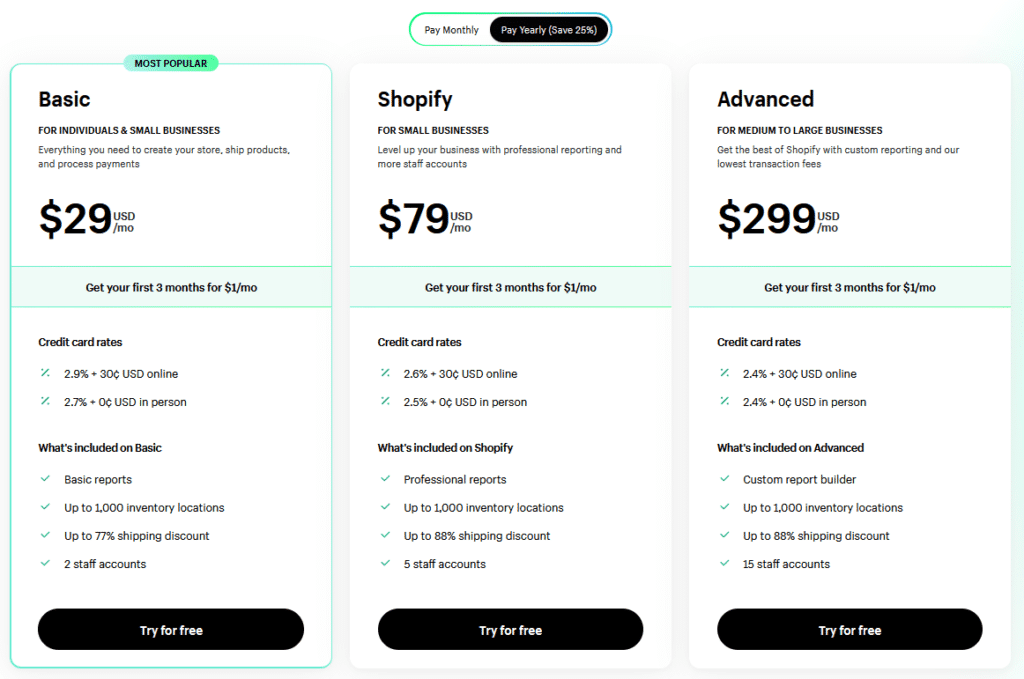 Magento has a couple of different versions. One is Magento Open Source, previously known as Magento Community Edition. This version is an entirely open-source option available at no cost. Anyone interested can visit the Magento website and download a copy of this software for free.
The other option is Magento Commerce. It is a premium version, and its costs vary on businesses' needs. No two businesses will have an identical monthly plan. If you wish to taste Magento Commerce in its glory, you can contact Adobe with your information, and they'll provide you with a fully functional demo.
Magento Commerce is mighty powerful and versatile, and no other e-commerce platform comes close to what Magento can do. We have seen costs ranging from $15,000/month to $30,000/month, so it's fair to say Magento's paid plans are significantly costly compared to Shopify.
Verdict: There's no winner here, as these two platforms serve different needs. Now it all depends on your budget and requirements. So, which one you would choose?
Shopify vs Magento: Customer Support
Shopify offers comprehensive customer support with help materials available in 21 languages. The support staff is available 24/7 and can be contacted via email, live chat, or phone. Remember, the 24/7 phone support is available in English only.
Shopify's support offering is superior to some of its competitors, such as Squarespace, Big Cartel, or Etsy, as they do not offer phone support. Connecting with a representative is fast, and efficient on Shopify.
With Shopify support, we found that for more technical inquiries, such as help with CSS or other coding elements, the standard support service may not always provide the desired answers.
If you face technical problems, asking questions in the Shopify community could prove to be more helpful than queuing with support.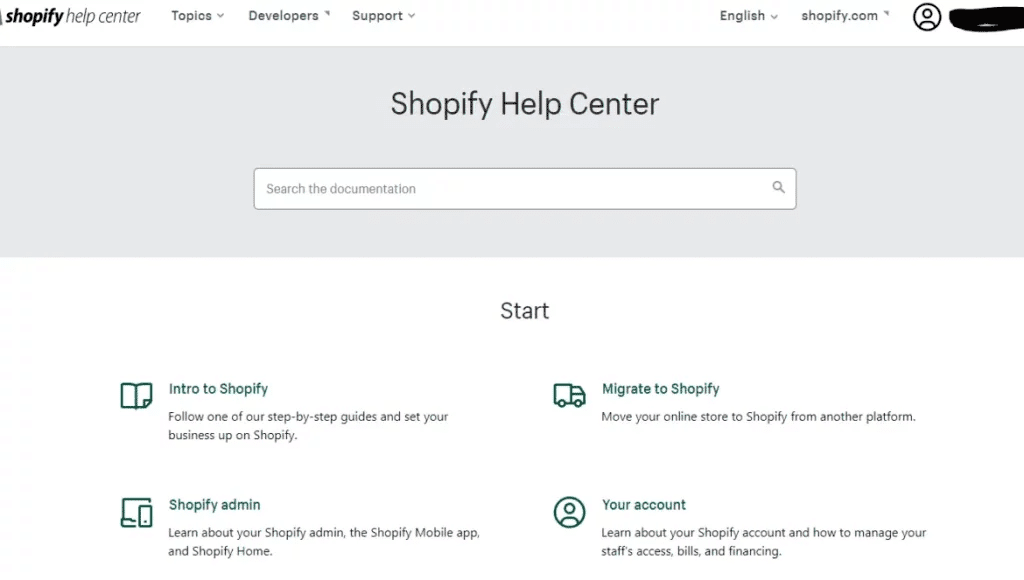 Magento's support has you covered if you're comfortable with a do-it-yourself approach. The website is packed with various resources to help with business and technical inquiries, primarily offering assistance to those wanting to fix issues by themselves.
Magento boasts a wealth of resources for those looking to educate themselves. Beyond an informative blog, there's a knowledge base where you can find ample information and a super active forum to interact with other Magento users or developers.
But you'll be disappointed if you're looking for dedicated Magento support like live chat or phone support. Some support options are available if you're on specific Magento Commerce plans; otherwise, you're on your own.


Verdict: Shopify wins here for dedicated and overall customer support. Shopify's support is also beginner friendly as new users can connect and directly talk to a Shopify technician. While on Magento, users will have to rely on fellow Magento users or reading materials.
The Bottom Line: Shopify vs Magento—Which One Is Best For You?
Shopify is a complete e-commerce solution while Magento is a completely open-source e-commerce platform. However, in terms of cost-effectiveness and being beginner-friendly, we found Shopify to be an absolute bang for the buck.
Magento is free, but the costs start to add up when you begin building your store. You have to buy domain, hosting, and security, and remember, most of the extensions you will use will cost you a small fortune.
If you're low on budget, have coding experience, and want to try out an e-commerce platform and sell items, go for Magento. It is open-source and has many free and paid extensions for almost everything. Here you can cut costs by installing free extensions.

However, if you want to open a store and sell items or simply want a complete e-commerce solution. In that case, Shopify is the way to go.