Shopify is one of the most popular e-commerce platforms. It is known for its ease of use and customizability, offering a wide range of tools and features to help users manage and grow their online businesses.
While OpenCart is a very popular and one of the oldest open-source e-commerce solutions. It is touted as one of the direct competitors to WooCommerce and Magento since both are open-source and known for being light and easy to build a store with.
But which one is better? In this Shopify vs Opencart comparison, we'll find out which is better for new sellers.
Table of Contents
Shopify vs OpenCart: Overview
Shopify is a SaaS eCommerce solution that provides everything you need to create a website. It offers hundreds of e-commerce features, advanced reporting tools, and many payment options. Over 6.4 million stores are hosted on Shopify because it is a complete e-commerce solution with total control.


Opencart is an open-source e-commerce platform that started in 1999 and now powers over 300,000 stores. It is a free-to-use self-hosted platform, that lets you create a store on your accord. You will need to buy a domain, a hosting service, and basic coding knowledge to get started.


Shopify vs OpenCart: Pros and Cons
Shopify
| Pros | Cons |
| --- | --- |
| Suitable for all sizes of businesses. | More expensive than competitors. |
| Multi-Channel selling. | Not intuitive. |
| More than 8000 apps for integration. | Highly reliant on app integrations. |
| Over 100 payment solutions. | Fewer free themes. |
| 140+ well-designed modern themes. | Steep learning curve. |
Opencart
| | |
| --- | --- |
| Free to download and use.* | Requires coding skills. |
| Customizable since it is open source. | Self-development and maintenance. |
| Tons of app integrations. | Heavily relies on apps and plugins. |
| Plenty of tools and plugins to help with development. | Limited marketing features. |
| Lots of themes | Limited customization flexibility. |
Shopify vs OpenCart: Ease of Use
Shopify is an in-house-hosted platform, meaning you don't have to set up hosting and create a website from scratch. As a result, Shopify has become a trusted choice for millions of businesses around the world.
There's definitely a learning curve but with its intuitive interface and easy-to-use features, it is possible to get a store up and running on Shopify in a matter of minutes. It also offers an inbuilt Generative AI text tool that helps in creating decent product descriptions.
If you're curious about the user-friendliness of Shopify, you can try the platform for free and check out the features, themes, and how much customization you can make to gauge if it suits your need. If you're wondering how to get started with Shopify, read our Shopify Review.
In our testing, we still found Shopify to be a bit complicated, and making visual changes took time and learning. However, Shopify is undoubtedly leagues better than BigCommerce and Weebly.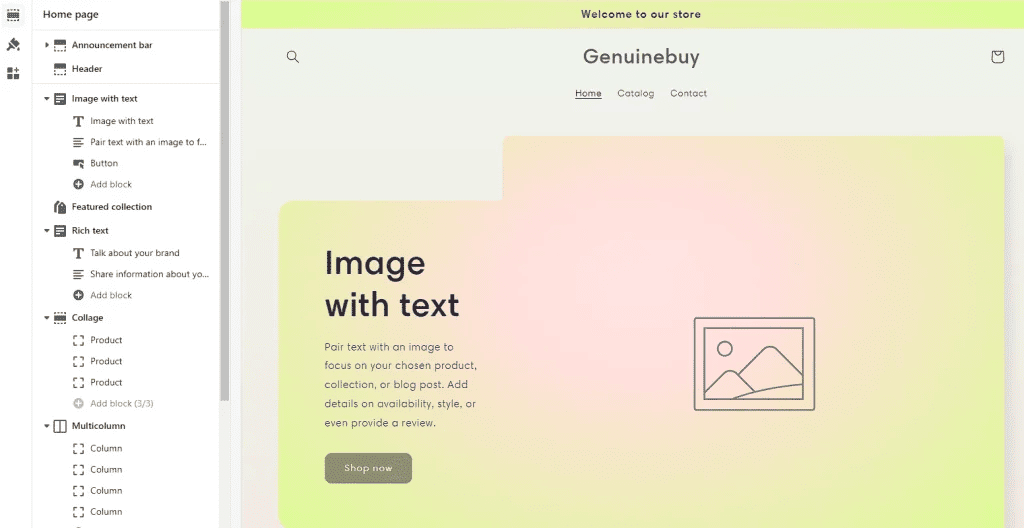 Opencart is a mixed bag. On the one hand, it provides a dashboard, which is unusual for an open-source platform. This dashboard makes managing your open cart store easier.
On the other hand, setting up a store is complicated. You have to download and upload Opencart files on your hosting service to use it. If you have never done this before, it will be tough. And this fact alone makes OpenCart not beginners friendly.
If you don't want to put extra effort into downloading and exploring OpenCart, you can use their demo to get a feel for the solution. In any case, you will have to set up the store by yourself by downloading Opencart and connecting it with your hosting provider.
Overall, Opencart may be easy to begin with but when it comes to setting up your store, you're going to have to learn a few things like setting up with hosting, downloading and loading templates etc. You can buy Opencart Cloud starting from $99/month. This plan offers hosting and easy setup, making it slightly easier to work with up, however, the steep cost is way ridiculous.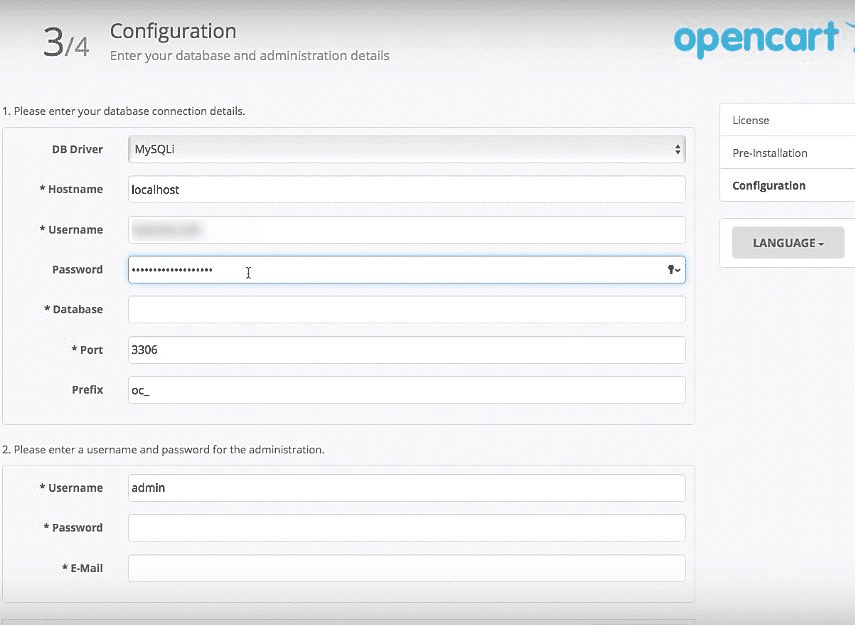 Shopify vs OpenCart: Website Design and Flexibility
On Shopify, the simplest way to improve the appearance of your store is to use a custom theme, which can give your store a professional and polished look.
Investing in a high-quality theme can make your store more appealing to customers and increase the chances that they will return to make additional purchases.
Shopify themes are known for their clean, elegant, and attractive designs. They are created by professional designers, so you can trust that they will be functional and easy to use.
To edit a template, you can use Shopify's dragdropr (drag and drop) to adjust elements and make the template work according to you.
Free themes, such as Sense, Debut, and Dawn, can provide a good starting point for your store and allow you to see how a new theme can improve its appearance. You won't get as many free themes as Shift4Shop but you'll get more customization.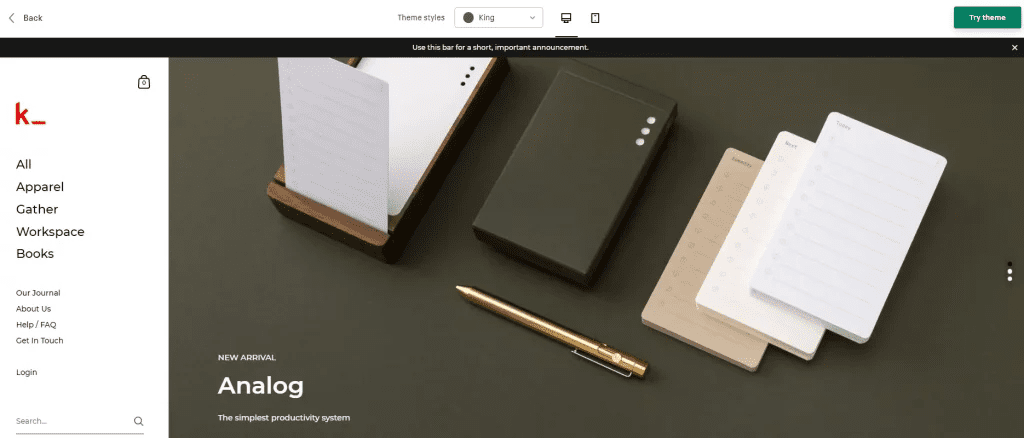 Opencart has more than 500 free and paid themes, made by Opencart partners and third-party devs. But there's a catch! You can't use any of those themes, except one, with the latest version of Opencart 4.0.2.2, and that too costs $20.00.
We had to spend some really good time understanding how to install themes as it requires uploading some files and then editing the code. If you don't know your way around HTML, CSS, or PHP, this is not for you.
OpenCart themes consist of template files written in PHP. You can modify these template files directly to change the appearance of your store. You can override the default stylesheet by adding custom CSS. OpenCart themes have a stylesheet.css file that you can either replace or add to.
Some extensions on Opencart let you edit your store in more of a visual way and without editing the code. But we still believe Opencart is not for beginners.


Shopify vs OpenCart: Marketing Tools
E-commerce features are good to have, but without proper marketing, even the most beautiful stores get unnoticed. To grow your store and be visible to the audience, you may need certain marketing features:
SEO (Search Engine Optimization)
Shopify includes various marketing and SEO tools to help users promote and grow their online stores. These tools can be handy for small businesses and entrepreneurs looking to establish an online presence and reach a wider audience.
However, Shopify lacks keyword optimization and support, something that's offered by Shopify's closest competitor, Big Commerce. Some of the key marketing and SEO features offered by Shopify include:
Blogging tools
Reporting or Analytics tool
Email Marketing integration
Multilingual website option
To determine the effectiveness of your SEO efforts, it is important to use reporting tools that provide insights into how visitors are interacting with your website. These tools can help you identify what works well and what may need improvement.
OpenCart primarily focuses on the performance of eCommerce businesses and offers limited SEO options. The only changes you can make are keywords which are usually product/page titles, and product/page descriptions are automatically picked for meta descriptions.
So there is next to no control over the SEO aspect. However, the Opencart marketplace has SEO extensions you can download and use. Then again, free extensions won't do much, and premium ones cost anywhere between $50-$100. If you want more features, you will have to subscribe to Opencart Cloud which costs $99/month.


Mobile App
Shopify has a dedicated mobile app that allows you to sell on the go and edit your store's theme. You can adjust the layouts, arrange or rearrange items/elements and even install a new theme. Here are all the things you can do on Shopify Mobile App.
Manage and track orders: You can easily manage and track your orders, ensuring smooth order fulfillment.
Process payments: The app allows you to process payments securely, providing a seamless checkout experience for your customers.
Add new products: You can add new products to your online store directly from the app, making it convenient to expand your product catalog.
Customize your online store: The app lets you customize your store, updating the store's appearance and branding.
Run marketing campaigns: You can run marketing campaigns and promotions to attract and engage customers, helping you boost your sales.
Check Analytics and Reports: From the app, you can see how your store is performing, including sales data, traffic analytics, and other key metrics.
Check Store Notifications: Stay informed with push notifications, receiving alerts for new orders, abandoned carts, customer inquiries, and other important updates.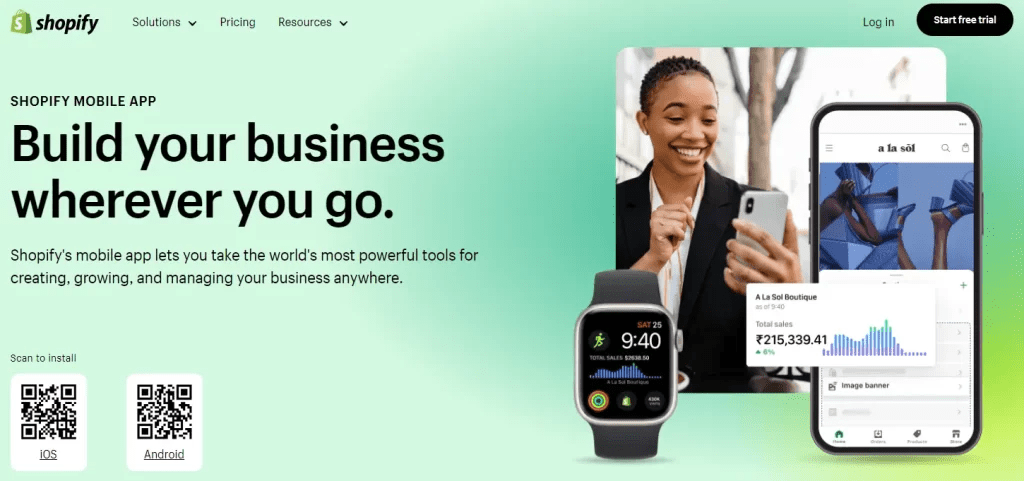 Opencart doesn't have a mobile app but there are several developers who have created Opencart mobile app that you can buy and install on your phone to manage your store and do things like:
Real-time order tracking
Unlimited Push notifications
Inventory management and more.
Email Marketing
Shopify offers a built-in email marketing feature, however, it requires a bit of coding. If you want to use email marketing but don't want to code, the easiest way is to use third-party apps.
Some popular options include Seguno, Klaviyo, Campaign Monitor, Constant Contact, and Privy. These apps provide comprehensive email marketing solutions and integrate seamlessly with your Shopify store.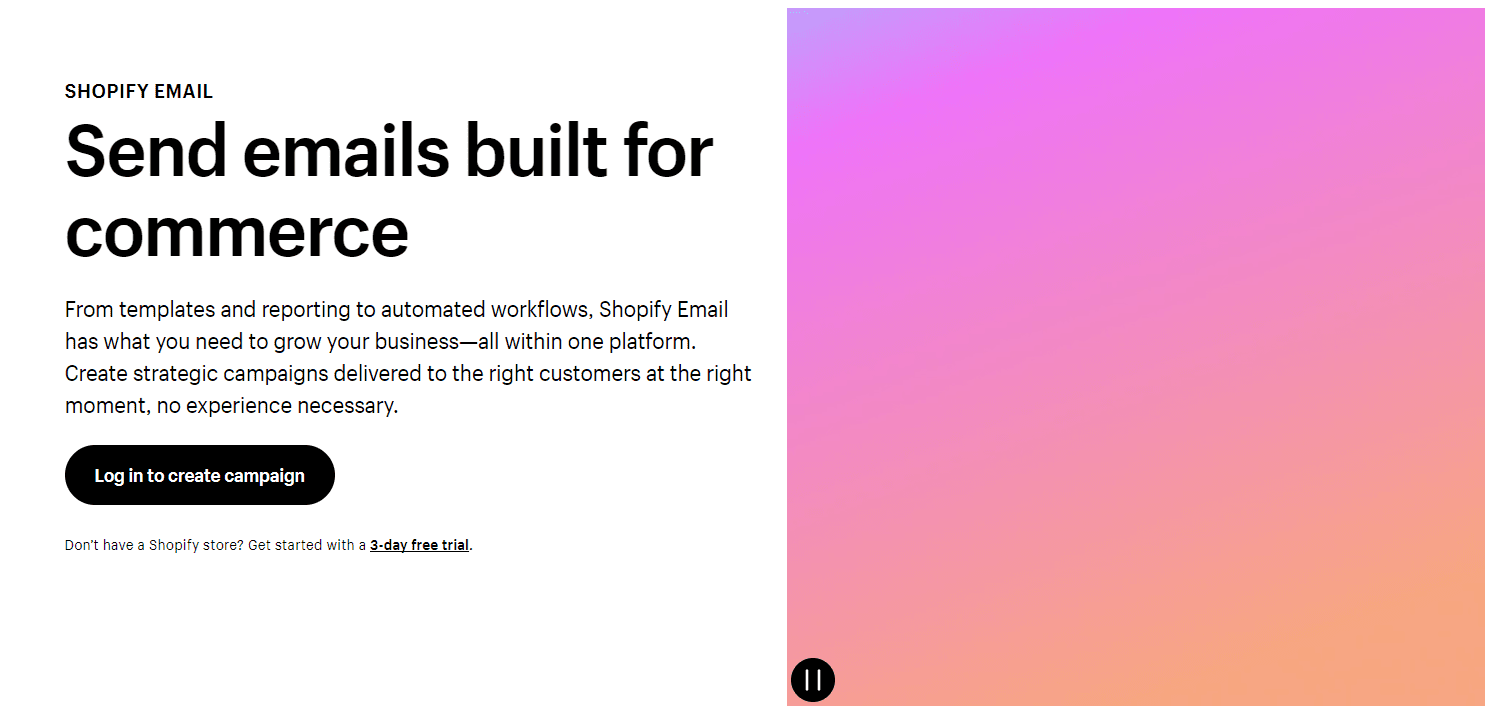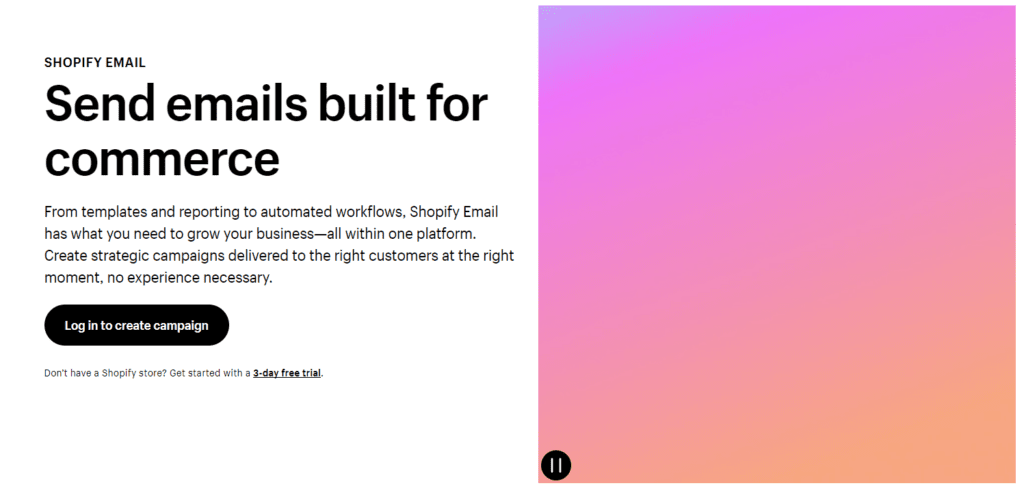 Opencart has a built-in email feature that lets you send emails to your customers. You can create different email lists like newsletter subscribers, customer groups, affiliate partners, etc. For more advanced features, Opencart relies on third-party app extensions.


Blogging
Shopify does offer blogging functionality and a decent range of tools, but it is not its strongest offering. Shopify blogging is much better than some competitors like Shift4Shop, Volusion, or BigCommerce. And yet not as good as Squarespace or Wix.
On Opencart, to have a blog, you will have to install an extension, either free or paid. Once you have the extension, you can start pushing out blogs. Don't expect much for the SEO as you will still be needing an extension for that.
Shopify vs OpenCart: Payment Processors
Shopify Payment is Shopify's in-house payment solution for online credit/debit card transactions. It is also the only payment solution where Shopify doesn't charge a transaction fee.
Let's say you want to use other third-party payment options. In that case, Shopify will charge 2%, 1%, and 0.5 transaction fees in Basic, Shopify, and Advanced plans.
There's also a transaction fee when a customer buys a product using a credit card. The fees are:
Basic: 2.9% and $0.30 for online, 2.7% for in person
Shopify: 2.6% and $0.30 for online, 2.5% for in person
Advanced: 2.4% and $0.30 for online, 2.4% for in person
This transaction fee is nothing to be worried about as it is quite normal. The processing fee is charged whenever someone buys a product online or offline using a credit card. Similarly, on Shopify, the transaction fee is charged. These fees help Shopify operate your store.

Opencart by itself doesn't charge anything for listing items or accepting payments for the sold items. When you use extensions for payment methods, you will be charged by the payment gateway provider. For example, if you use Square, you will pay 2.9% + $0.30 on each payment processed. Different payment gateways, different charges.
For payment gateways, there are over 100 different service providers that you use so there's really no limitation on how you want to transact on Opencart.
Shopify vs OpenCart: Pricings
When choosing a plan, you need to be very careful about it. You don't want to choose a plan in which you require any more features in the future, and you also would not like to waste your money on features or tools you will not use soon. And don't forget about the monthly subscription fee you will be charged for.
Shopify Offers
Shopify starter at $5/month: In this plan, sales can be processed through the same website or Facebook. For each transaction, 2.9% is taken by Shopify along with another $0.30.
Shopify Basic at $29/month: A website of Shopify and the transaction fees same as of Shopify Lite. In this plan, users can also benefit from the provided two employee accounts and can also use the discount codes.
Shopify a $79/month: There is a drop in the transaction fees in this plan which is 2.6% and $0.30/transaction. Get all the features of basic Shopify and accounts for five employees plus gift cards.
Advanced Shopify a $299/month: Transaction fees are reduced to 2.4%, along with $0.30 for every transaction. You also get accounts for fifteen employees plus advanced reporting options to level up your sales performance.
Shopify Plus: This is for sellers with a high volume of sales and a huge amount of transactions in a minute. The fees and all other associated costs are flexible and vary from seller to seller and his needs.
Shopify also offers a 3-days trial and 3 months subscription at $1/month.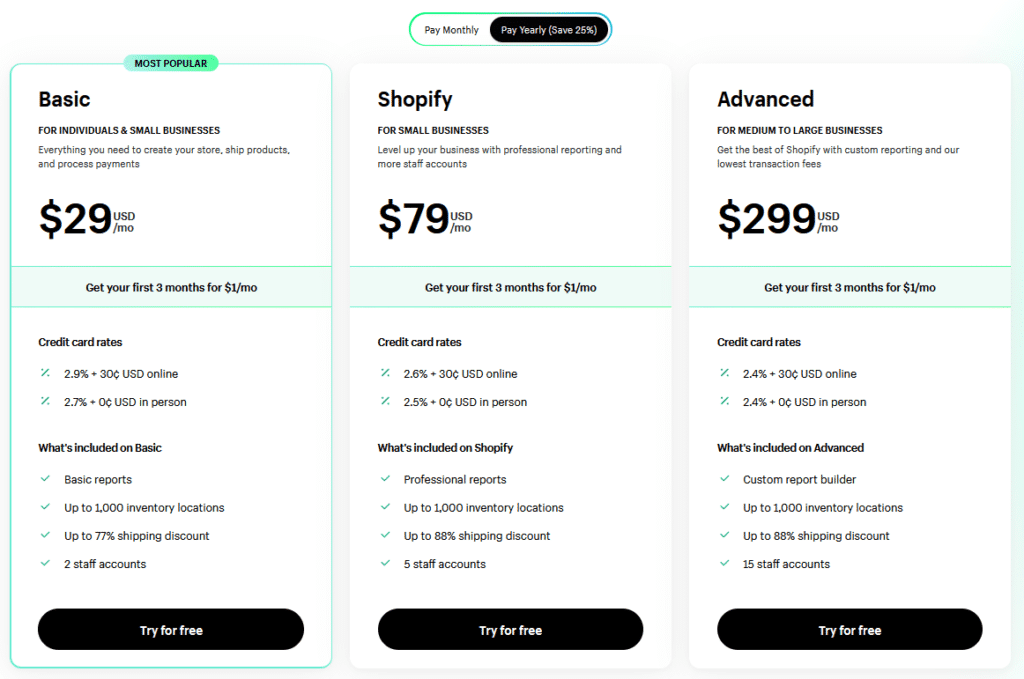 Opencart is open source and free to use. But there are some costs associated with operating a store. You will have to buy a hosting service, as Opencart won't provide you with one. You will have to buy SSL for security.
Then there are extensions that can be expensive and are a must to run the store smoothly. And we're not counting maintenance and probable expenses on themes if you don't know coding.
Opencart does have a cloud service, Opencart's e-commerce solution. It starts at $99/month and offers hosting and other good features.
Bronze – $99 per month, suitable for small businesses
Silver – $149 per month, designed for small and medium-sized organizations
Gold – $229 per month, perfect for enterprises
Shopify vs OpenCart: Customer Support
Shopify offers comprehensive customer support with help materials available in 21 languages. The support staff is available 24/7 and can be contacted via email, live chat, or phone. Remember, the 24/7 phone support is available in English only.
Shopify's support offering is superior to some of its competitors, such as Squarespace, Big Cartel, or Etsy, as they do not offer phone support. Connecting with a representative is fast, and efficient on Shopify.
With Shopify support, we found that for more technical inquiries, such as help with CSS or other coding elements, the standard support service may not always provide the desired answers.
If you face technical problems, asking questions in the Shopify community could prove to be more helpful than queuing with support.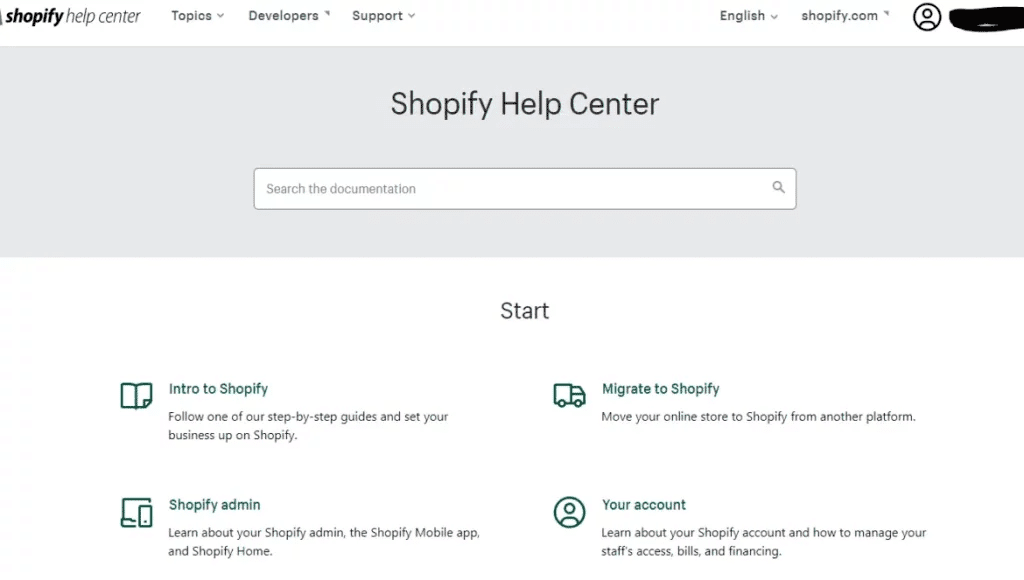 Opencart is sluggish in customer support. The only available option to reach experts is by email between 09:30 AM and 18:30 HK time on business days. There's also a contact form that definitely works like the email. Opencart will take 24-72 business hours to respond to your queries made via email or contact form.
It has a largely active community forum, so chances are you will find answers way faster in the forum. If you're on edge to get support, you can take the help of Enterprises service experts, who will charge you $50 to help you change your password.


The Bottom Line: Shopify vs OpenCart—Which One Is Best For You?
Shopify is a complete e-commerce solution while Opencart is a completely open-source e-commerce platform. However, in terms of cost-effectiveness and being beginner-friendly, we found Opencart to be an absolute bang for the buck if you can overlook the costs associated with hosting, SSL, and extensions.
Both Shopify and Opencart can be ideal for small to medium size businesses looking for an affordable e-commerce solution or wanting to expand. That said, Shopify outshines Opencart in every aspect, whether design or ease of starting a store. The only drawback we found is it costs way more than Storenvy.
If you're low on budget, have coding experience and want to try out an e-commerce platform and sell items in small quantities, go for Opencart. It is open-source, has tons of extensions and you can pretty much sell anything. However, if you have an existing store and want to expand or open a store and sell many items, or you simply want a complete e-commerce solution. In that case, Shopify is the way to go.