If you plan to open an online store on Shopify, you must have gone through all the Shopify pricing. You are probably confused about which Shopify plan is best for your store. Each plan comes with a different set of features, and shortlisting what features you want and don't can be cumbersome.
Table of Contents
Other variables like Shopify apps, payment gateways, etc., must be considered as they can incur extra costs you may not have planned. We'll take you through everything in this article and help you decide which Shopify plan is best for you. You can also read our Shopify review article to know if Shopify is worth getting into.
How Much Is Shopify?
How much does Shopify cost every month? There are 6 different Shopify pricing plans, including one customized plan to choose from:
Basic: $29 per month
Shopify: $79 per month
Shopify Advanced: $299 per month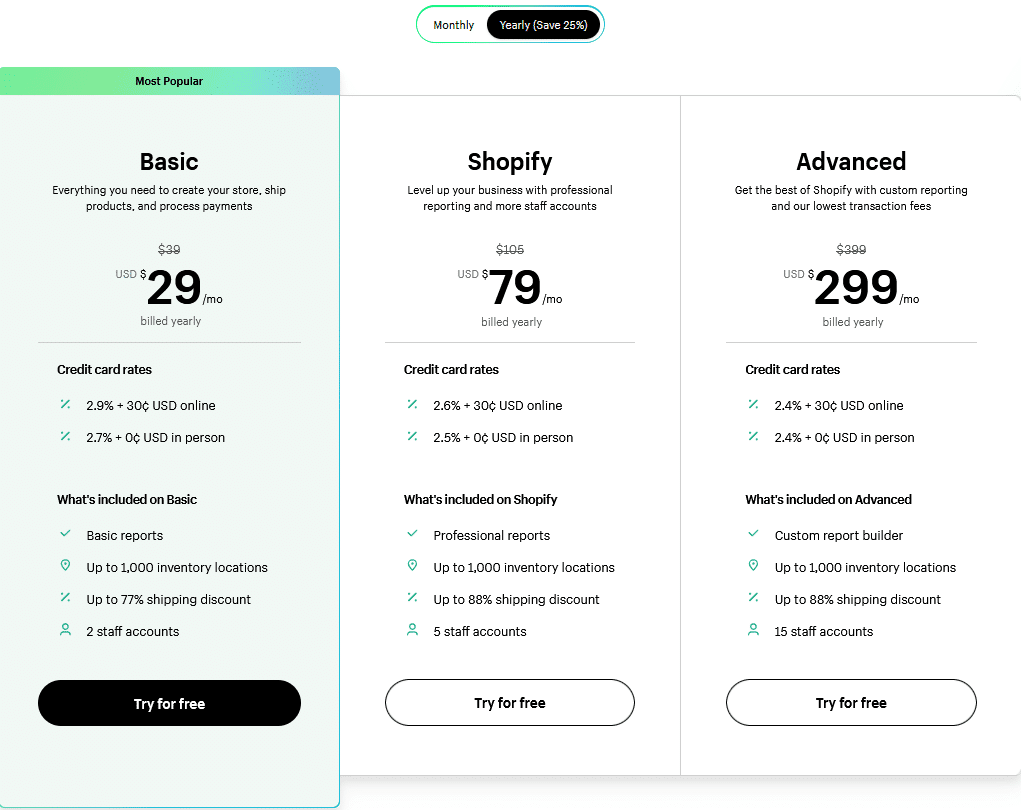 The other alternate Shopify pricing plans are:
Starter: Starting at $5 per month
Shopify Plus: $2000 per month
Commerce Components: Customized plan based on the components and elements you choose.


Which Shopify Pricing Plan Is Best For You?
All the Shopify pricing plans offer plenty of features matching different business needs. To find out which one is best for you, start going through the features these plan offer and jot down what features are important to you.
Each plan offers a different set of features. The higher plan always consists of features offered by the lower plan. The four standard plans are only set apart by a bunch of features that you can check in our comparison below.
Features
Starter
Basic
Shopify
Advanced
Price
$5
$29
$79
$299
Transaction Fee
Shopify Payment – 0%
Other Gateway – 5.0%
Shopify Payment – 0%
Other Gateway – 2.0%
Shopify Payment – 0%
Other Gateway – 1.0%
Shopify Payment – 0%
Other Gateway – 0.5%
Free SSL
✅
✅
✅
✅
Detailed Report
❌
❌
✅
✅
Advanced Report
❌
❌
❌
✅
Delivery & Pickup
❌
❌
❌
✅
Gift Cards
✅
❌
✅
✅
Discount
❌
✅
✅
✅
Duties and Import Tax
❌
❌
❌
✅
Comparisons of Different Shopify Pricing Plans
Starter
Shopify Starter plan is for those with an audience or who want to connect existing audiences on platforms like Instagram or Facebook (Meta). You can't create a complete online store using this plan, but you can access features like product pages, checkout by Shopify, and start selling products to your audience.
You can directly share links to the products on Instagram, WhatsApp, Facebook, or anywhere, allowing your customer to make fast and legit transactions to buy the products.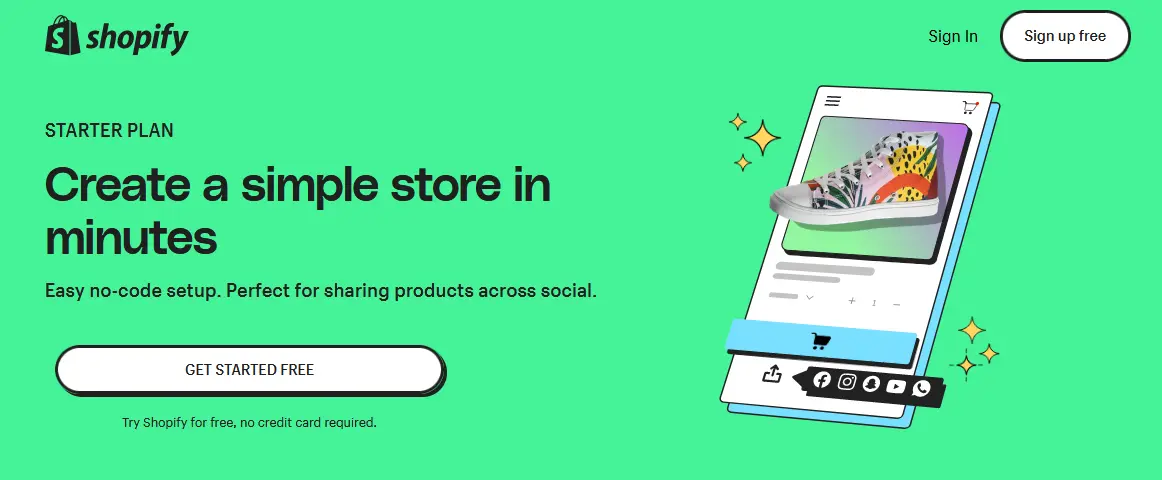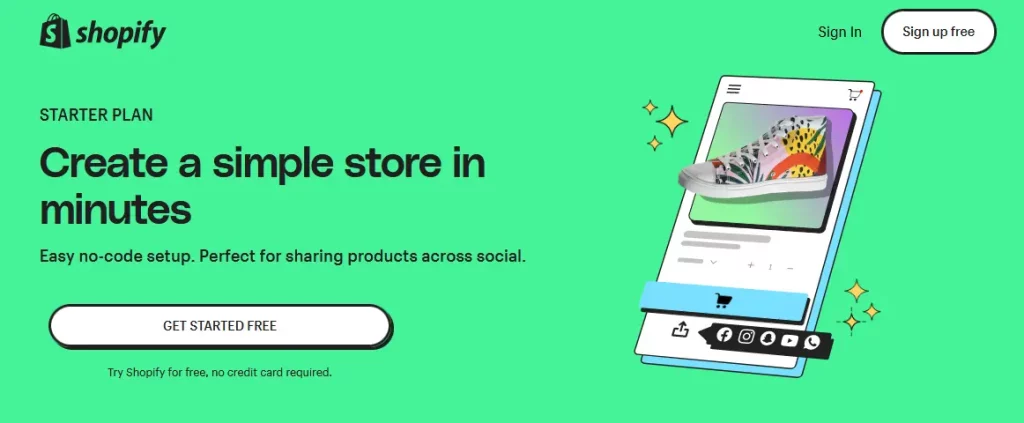 If you feel like expanding your product lineup through a proper Shopify store in the future, you can upgrade your plan. Your data will be migrated to your Shopify store, and you won't lose anything in the process.
The starter plan charges 5% and $0.30 per transaction.
Basic
The most entry-level plan to get a complete e-commerce website on Shopify is called Basic. It is different from Shopify's Starter plan in many ways.
Offers upto 2 staff accounts
You can have up to 1,000 inventory locations
Gives access to basic reporting and analytics
Allows selling in one country.
The Basic plan is good if you're starting a new online store and want to test Shopify in all its glory minus a few advanced features. If you go for the basic plan, you can upgrade to a higher one later, for example, the Shopify plan or even an advanced one.
Shopify charges 2.9% and $0.30 per transaction in Shopify basic on top of $29/ monthly charges if subscribed annually. However, you can reduce the cost by opting for the (regular) Shopify pricing plan if your store makes $5-10k or more in monthly sales.
Shopify
Shopify (regular) offers a few additional features over the Shopify Basic plan. Here are some questions to help you determine if this plan is right for you:
Shopify's Shopify plan costs $79 per month if subscribed annually and offers some additional features compared to Shopify Basic. It is suited more to already operating stores or medium-sized stores wanting to migrate to Shopify. This plan offers:
Upto 5 staff accounts
Professional reports
Ecommerce automations
Up to 88% discount on shipping
And everything from Shopify Basic
Shopify will charge %2.6 and $0.30 on every transaction.
Advanced
Shopify Advanced is ideal for medium to big businesses tracking many customers and shipping in moderate to high volumes. This plan offers every feature in Shopify Advanced plus:
Upto 15 staff accounts
Custom/advanced report builder
0.5% charges on the use of 3rd party payment gateways
Duties and import tax calculation at checkout
Shipping insurance
Shopify Advanced plan is future-proof for businesses with good sales and planning to expand operations. It covers almost every aspect of e-commerce, from processing payments to shipping, reports, and taxes. However, Shopify will still charge 2.4% and $0.30 on all online credit card transactions.
Plus
Shopify Plus might be the right plan if you're running a very high-volume business. It is Shopify's enterprise-grade all-in-one ecommerce solution. Its variable fee option adapts to complex businesses making large sales.
You'll need to talk to a Shopify Plus Expert to get absolute clarity on your requirements and pricing with Shopify Plus.
With Shopify Plus, you get various benefits like a dedicated engineer, lower transaction fees, and an option to customize the checkout experience for customers.
When subscribed to the Shopify plan, you get access to the following:
Omnichannel selling, including social media, email, and SMS.
Shopify Launchpad to automate sales and promotions.
Create a storefront with headless commerce on top of your website and manage D2C, B2B, and even retail from one central dashboard.
Shopify flow to automate repetitive tasks.
Shop Pay for faster checkout.
Robust loyalty program for customer retention.
Built-in data analytics for customer segmentation.
Shopify Custom Domain
When you register with Shopify to open a store, you're allocated a default subdomain. For example rustyclothing.myshopify.com. But if you want a custom domain name, you will have to buy one.


There are many ways to buy a domain. Either you can buy from Shopify's domain page or use services like Godaddy. Namecheap and more.
Usually the domain costs start from $11 per year to hundreds or even thousand depending on the type. Premium domains often cost more. Having a custom domain is important if you're trying to build a brand out of your business.
Some Shopify competitors like Wix or Squarespace offer free custom domain with their yearly plan.
Shopify Pricing vs Competitors Pricing
When you compare Shopify's cheapest plan with some of the competitor's cheapest plans, Shopify sure looks costlier. That said, Shopify is one of the best eCommerce platforms with all the necessary features and higher pricing. Looking at the price to value, you'll notice a few differences.
For example, to get abandoned cart recovery on Squarespace, you pay $49/ month, billed annually. At the same time, Shopify offers the feature even with their most basic plan. Wix Offers abandoned cart recovery for a plan starting at $27/month. However, you don't get advanced shipping options, something Shopify provides.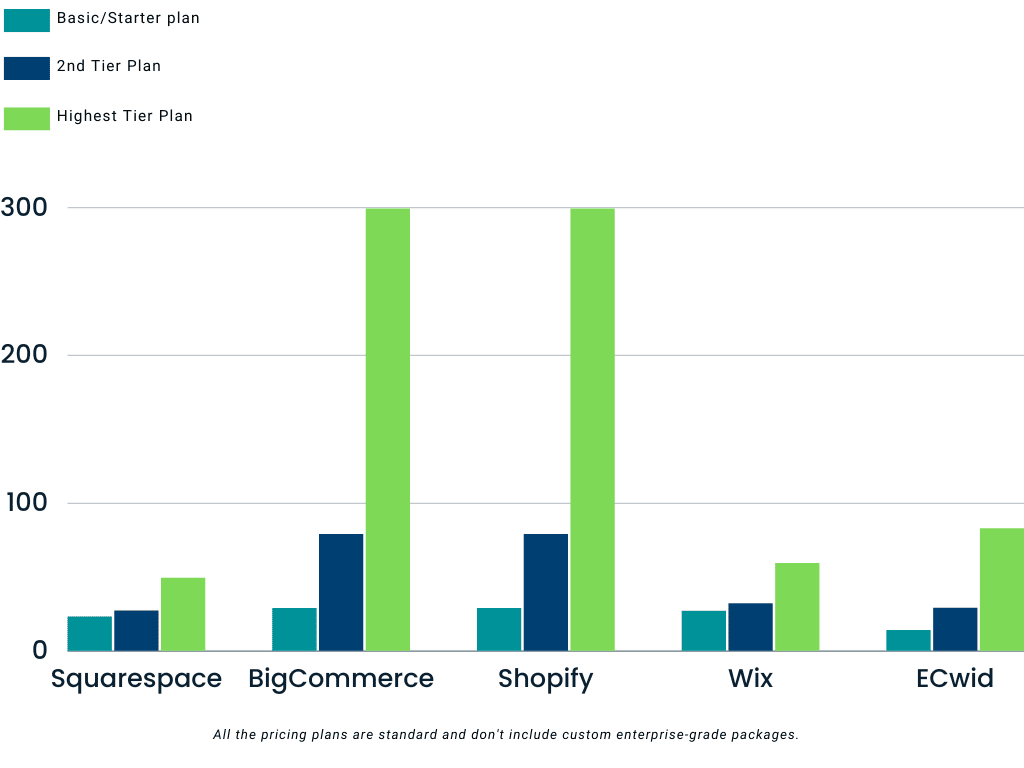 Big Commerce is the only closest competitor Shopify has in terms of features and price. However, Big Commerce doesn't offer abandoned cart recovery in their starter plan. Shopify charges 2% on each transaction, and Big Commerce doesn't. So it's fair to say Shopify makes up for the higher cost by offering more necessary features to operate an online store properly.
Shopify Free Trial and Discounts
Shopify offers a 3-day free trial for you to get the hang of it, testing new features and the feel of the store. In those three days, you can set up a proper store, go online and start selling and if you like it, you can upgrade to a premium plan.
Suppose selling on other marketplaces like Facebook or Instagram is something you want to try, or you plan on starting a small store. In that case, Shopify offers discounts on its Basic and Starter pack. You can subscribe to any of the two plans for just $1/month for 3 months. You'll pay only $3 for 3 months instead of $87.

This offer is only eligible if you subcribe for monthly billing. For annual packages, you'll be paying in full. You can also save 25% by opting for annually billed plan.
| Shopify Pricings | Monthly | Annual (Per month) | Discount |
| --- | --- | --- | --- |
| Shopify Basic | $39 | $29 | 25.64% |
| Shopify | $105 | $79 | 24.76% |
| Advanced | $399 | $299 | 25.06% |
Shopify Payments
Shopify Payment is Shopify's in-house payment solution for online credit/debit card transactions. It is also the only payment solution where Shopify doesn't charge a transaction fee.
Let's say you want to use other third-party payment options. In that case, Shopify will charge 2%, 1%, and 0.5 transaction fees in Basic, Shopify, and Advanced plans.
There's also a transaction fee when customer buys a product using credit card. The fees are:
Basic: 2.9% and $0.30 for online, 2.7% for in person
Shopify: 2.6% and $0.30 for online, 2.5% for in person
Advanced: 2.4% and $0.30 for online, 2.4% for in person
This transaction fee is nothing to be worried about as it is quite normal. Every time someone buys a product online or offline using a credit card, the processing fee is charged. Similarly, on Shopify, the transaction fee is carged. These fee help Shopify operate your store.
If you want to avoid these charges, using Shopify Payments is the best way. And not worry, more than 80% of Shopify users are using Shopify payments.
Shopify PoS
Shopify plans come equipped with a dedicated PoS (Point of Sale) feature. If you have a physical store, in-person payments become quite the norm and to accept in-person payment, you'll need Shopify POS pro. It'll charge an additional $89/month per location on top of your Shopify pricing plan.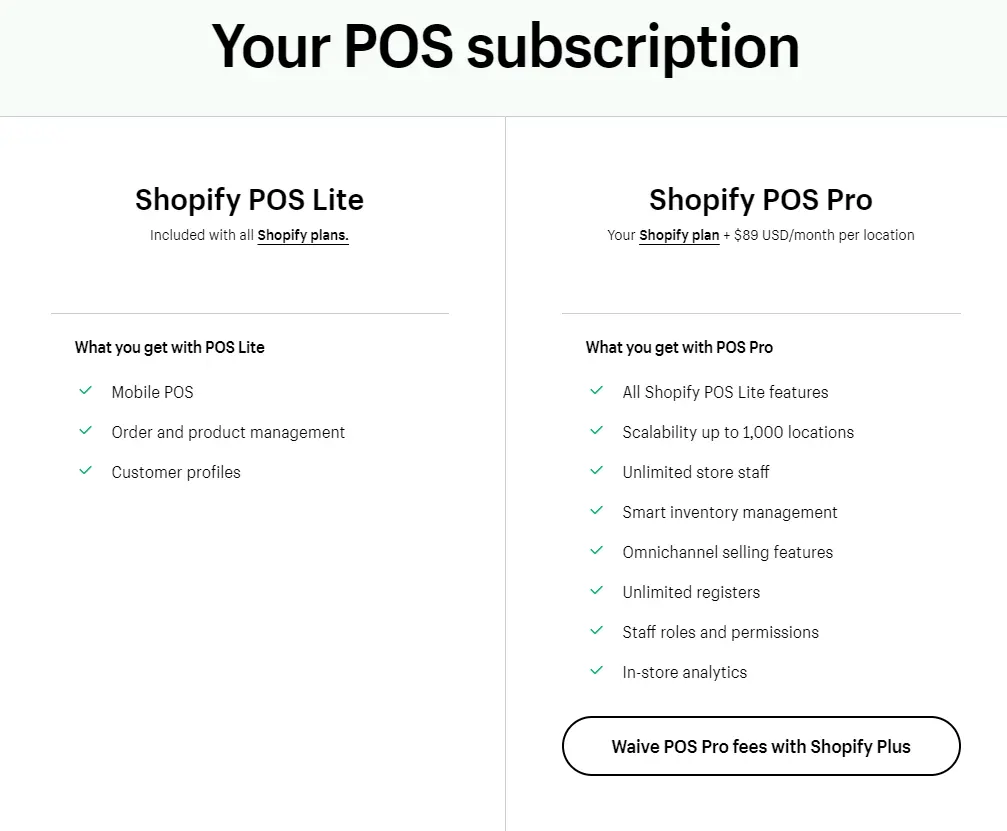 Shopify Apps
Shopify app store hosts over 6000 apps to help make for a more functioning online store. It brings much-needed flexibility in terms of required tools for SEO, Email marketing, or Marketplace selling. The prices for these apps vary, mostly depending on their functionality.
For example, apps like Page Speed Optimizer cost zero, while product review apps like Loox can cost upto $299.99/month.
Conclusion: Which Shopify Plan Is Best For You In 2023?
Starting a business comes with its fair share of headaches, and deciding to spend money is one of them. However, you cannot go wrong when choosing a perfect Shopify pricing plan for your business. Picking a plan will be a breeze if you have your needs listed. All you have to do is:
Create a list of the features you want, like dropshipping or Storefront.
Calculate additional charges such as domain registration, transaction fee, paid apps, Shopify POS pro, etc.
Decide if you want to use Shopify's proprietary or third-party payment method.
Once you have all these in clear, you can go ahead and choose the best plan. If that doesn't help, know this, the plans can always be changed to higher or lower depending on your requirements.
FAQs