Shopify is one of the most popular e-commerce platforms. It is known for its ease of use and customizability, offering a wide range of tools and features to help users manage and grow their online businesses. Squarespace is no slouch. It is also an amazing all-around website builder. It's easy for beginners, yet it has plenty of options to satisfy experienced users with technical know-how.
Both platforms serve a variety of industries, with Shopify having a more robust interface suited for large-scale operations while Squarespace is more on the visual end of the spectrum that creates gorgeous-looking stores. But which one is better? This Shopify vs Squarespace comparison will help you find out.
Table of Contents
Shopify vs Squarespace: Overview
Shopify is a SaaS eCommerce solution that provides everything you need to create a website. offers hundreds of e-commerce features, advanced reporting, and tons of payment options. Over 6.4 million stores are hosted on Shopify because it is a complete e-commerce solution with total control.


Squarespace, on the other hand, is a prime example of one-size-suits-all. It is a multifaceted website builder serving various niches. From artists to e-commerce to restaurants to personal websites, Squarespace has a place for you, no matter who you are or what you do. That could be why almost 3 million websites are hosted on Squarespace. It is easy to use, affordable, has plenty of customization, and has many marketing features.


Shopify vs Squarespace: Pros and Cons
Shopify
| Pros | Cons |
| --- | --- |
| Suitable for all sizes of businesses | More expensive than competitors |
| Multi-Channel selling | High transaction fees |
| More than 8000 apps for integration | Highly reliant on app integrations |
| Over 100 payment solutions | Fewer free themes |
| 140+ modernly designed themes | Steep learning curve |
Squarespace
| Pros | Cons |
| --- | --- |
| Visually stunning templates | Customizations limited to grids only. |
| Beginner-friendly drag-drop builder | Customizations are limited to grids only. |
| Better value for money | Steep learning curve to get the best out of the editor. |
| Excellent e-commerce and marketing tools | Only the top plan offers abandoned cart recovery |
| Good customer support | |
Shopify vs Squarespace: Ease of Use
Shopify is known for its user-friendly interface and is a popular choice for beginners looking to start an eCommerce business. It is a self-hosted platform, which means that it takes care of the technical aspects of setting up a website, such as hosting and security, making it much easier to use compared to open-source platforms like WooCommerce.
As a result, Shopify has become a trusted choice for millions of businesses around the world.
There's definitely a learning curve but with its intuitive interface and easy-to-use features, it is possible to get a store up and running on Shopify in a matter of minutes.
If you're curious about the user-friendliness of Shopify, you can try the platform for free and check out the features, themes, and how much customization you can make to gauge if it suits your need. If you're wondering how to get started with Shopify, read our Shopify Review.
In our testing, we still found Shopify to be a bit frustrating, and making visual changes took time and learning. However, Shopify is undoubtedly leagues better than BigCommerce and Weebly.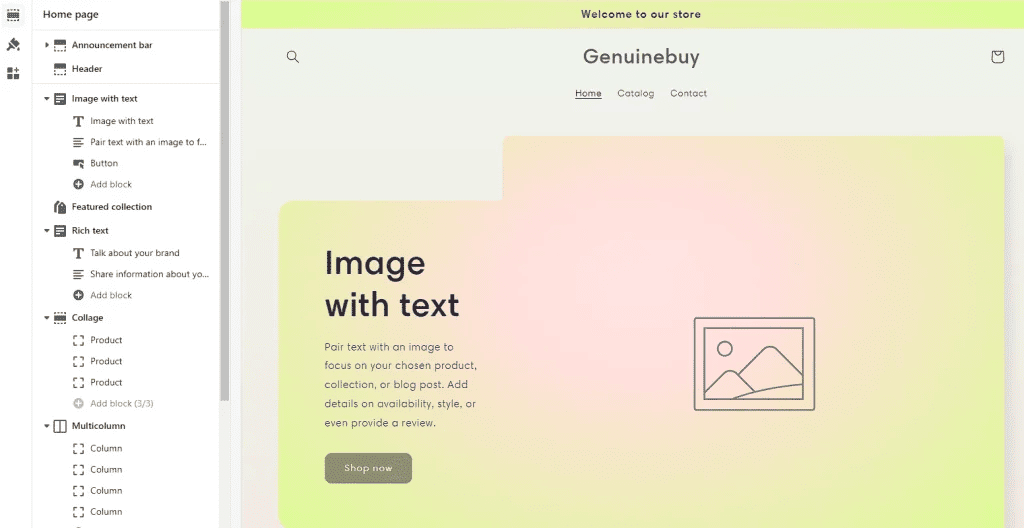 Squarespace is a little complicated, to begin with, and that puts off many builders. For example, when you first sign up with Squarespace to create a store, you have to go through a setup checklist process. You can skip this process as it all leads to the same destination, the template page. If you want to learn how to edit or change Squarespace template, we have a created guide that you can check.
As you get the hang of Squarespace's editor, you will learn to love creating designs with it. To make things better, Squarespace has help prompts at each step when you first start. And there's always easy access to help materials in the help center or Squarespace forum.
Squarespace's editor, Squarespace Fluid Engine, has a grid system layout on the page which allows you to add design and content within the grid but limits the free movement of the elements. Contrary to Wix, Squarespace doesn't provide a version history of your previous edits, so you might want to manually save your progress.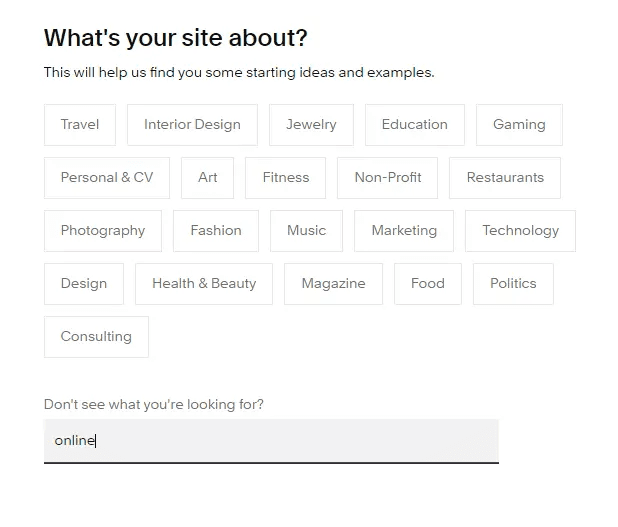 Shopify vs Squarespace: Design Flexibility
On Shopify, the simplest way to improve the appearance of your store is to use a custom theme, which can give your store a professional and polished look. By investing in a high-quality theme, you can make your store more appealing to customers and increase the chances that they will return to make additional purchases.
Shopify themes are known for their clean, elegant, and attractive designs. They are created by professional designers, so you can trust that they will be functional and easy to use. To edit a template, you can use Shopify's dragdropr (drag and drop) to adjust elements and make the template work according to you.
If you're not sure that investing in a premium theme is worth it, you can try out one of the free themes available on the Shopify platform. Free themes, such as Sense, Debut, and Dawn, can provide a good starting point for your store and allow you to see how a new theme can improve its appearance. You won't get as many free themes as Shift4Shop but you'll get more customization.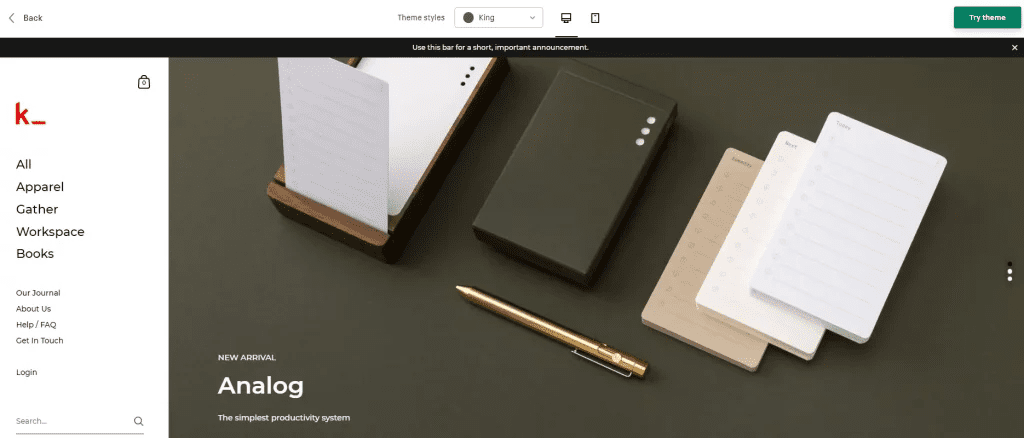 Squarespace jumps ahead in the design department and is the clear winner here. With stunning and highly customizable templates, Squarespace goes head-to-head with some dedicated e-commerce players like Wix and Big Commerce. With little learning, Squarespace is extremely customizable.
There are over 40 beautiful online store templates with great functionalities and appealing layouts. You can also browse other templates Squarespace has categorized for different industries and niches.
The best part about all Squarespace templates is they use one core template with different block item placements. It means you can create just about any template or layout on your own, no matter what template you choose. There's no wrong way here. Any item or block you add to the section gets locked to the grid, making for precise placements.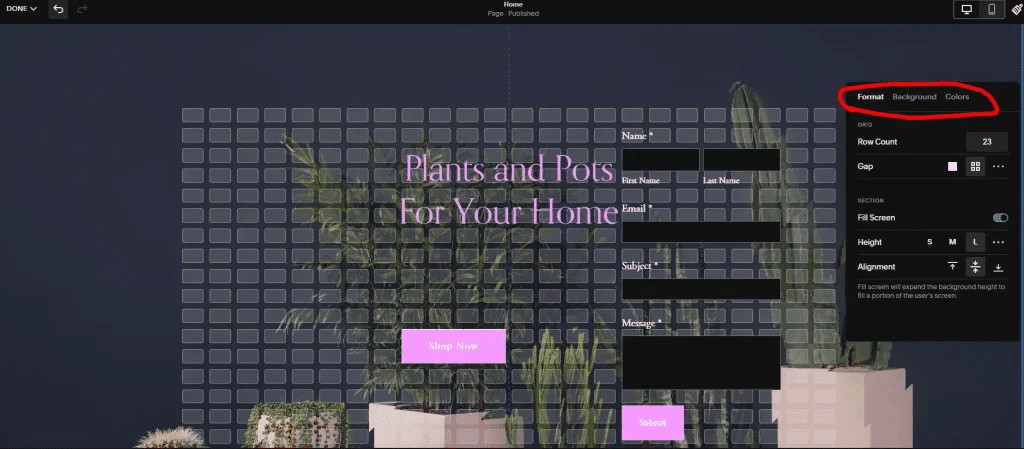 Shopify vs Squarespace: Marketing Tools
E-commerce features are good to have, but without proper marketing, even the most beautiful stores get unnoticed. To grow your store and be visible to the audience, you may need certain marketing features:
SEO (Search Engine Optimization)
Shopify includes various marketing and SEO tools to help users promote and grow their online stores. These tools can be handy for small businesses and entrepreneurs looking to establish an online presence and reach a wider audience.
However, Shopify lacks in terms of keyword optimization and support, something that's offered by Shopify's closest competitor, Big Commerce. Some of the key marketing and SEO features offered by Shopify include:
Blogging tools
Reporting or Analytics tool
Email Marketing integration
Multilingual website option
To determine the effectiveness of your SEO efforts, it is important to use reporting tools that provide insights into how visitors are interacting with your website. These tools can help you identify what is working well and what may need improvement.
Squarespace handles SEO flawlessly, as it has inbuilt optimization capabilities. By default, Squarespace applies all the optimizations automatically with the option for manual intervention. It has an SEO checklist to assist users in ensuring the best optimization possible. If you're new to SEO, you'd appreciate this assistance because you wouldn't have to search on Google for help.
In terms of email marketing, Squarespace offers both an in-built email marketing tool and 3rd party integration. You can select email templates to start editing and then sending.
You get a bunch of essential features including SEO-friendly redirects, clean URLs, Google Sitemaps, and the ability to customize how each page is previewed on social media (Wix does that too). However, you'll have to add tags and page descriptions manually.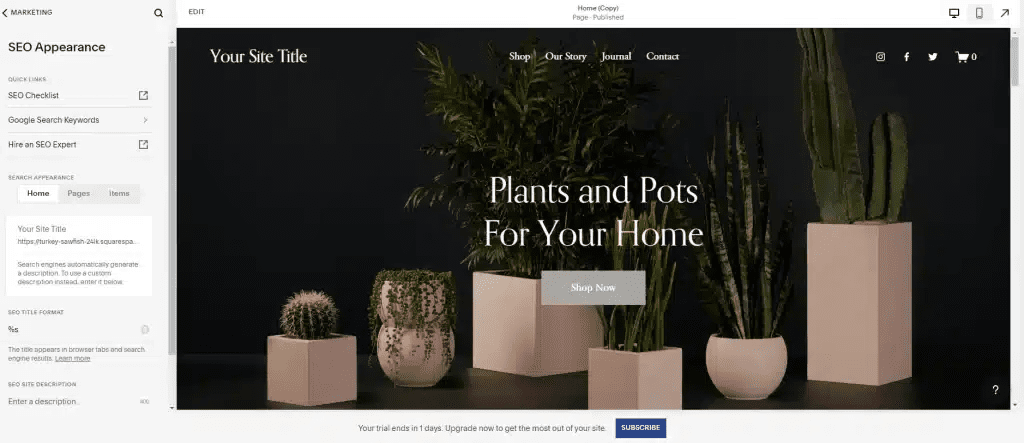 Mobile App
Shopify has a dedicated mobile app that allows you to sell on the go and edit your store's theme. You can adjust the layouts, arrange or rearrange items/elements and even install a new theme.
Having a mobile app gives you more freedom to do things you otherwise couldn't do without a computer. So, if on-the-go selling or managing your store is something you want, Shopify is the better option.
Squarespace mobile app offers all the necessary features you'll ever need. It allows you to conveniently manage your online store, process orders, check analytics, and even edit your website—all from a standalone app.
Earlier, Squarespace had different apps for different functionalities, but they have consolidated everything in one package to make store management on the go simpler.
Email Marketing
Shopify offers a built-in email marketing feature, however, it requires a bit of coding. If you want to use email marketing but don't want to code, the easiest way is to use third-party apps. Some popular options include Seguno, Klaviyo, Campaign Monitor, Constant Contact, and Privy. These apps provide comprehensive email marketing solutions and integrate seamlessly with your Shopify store.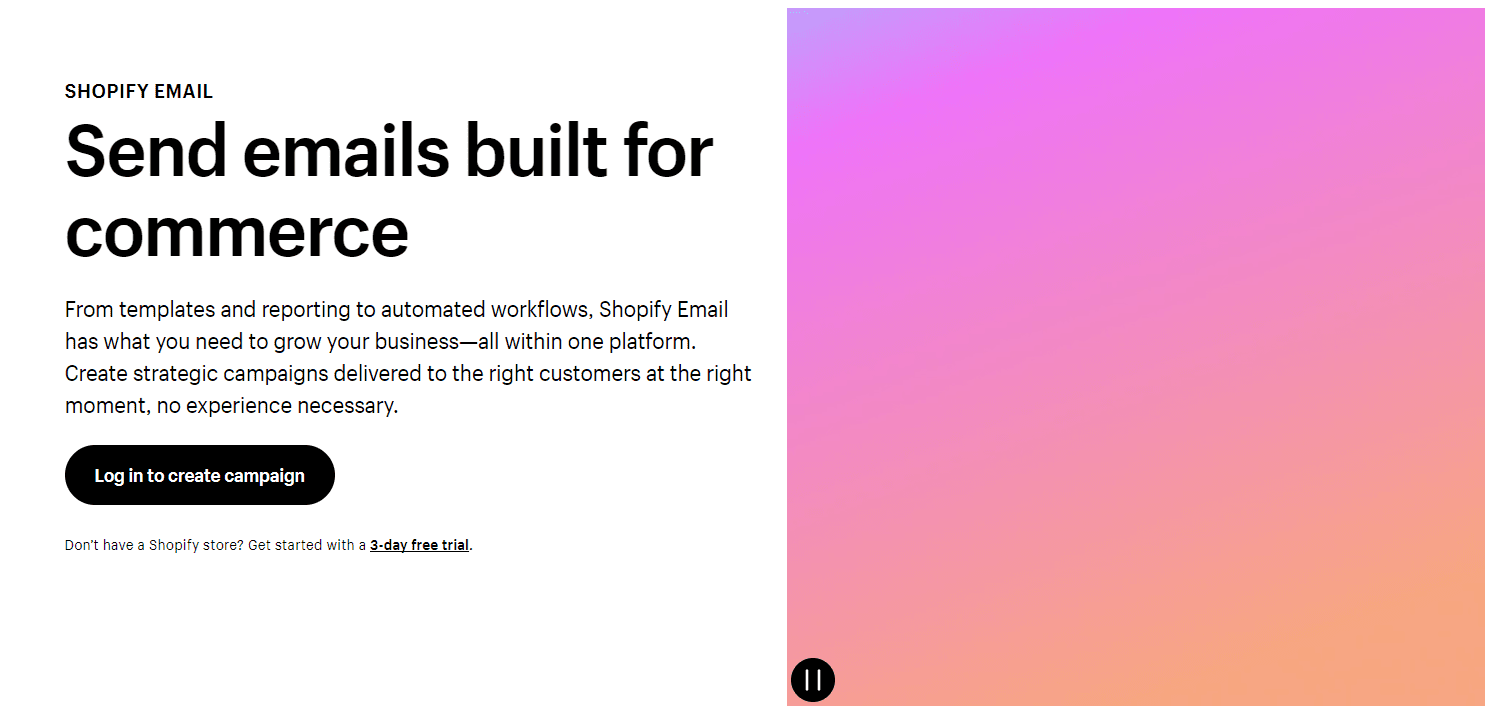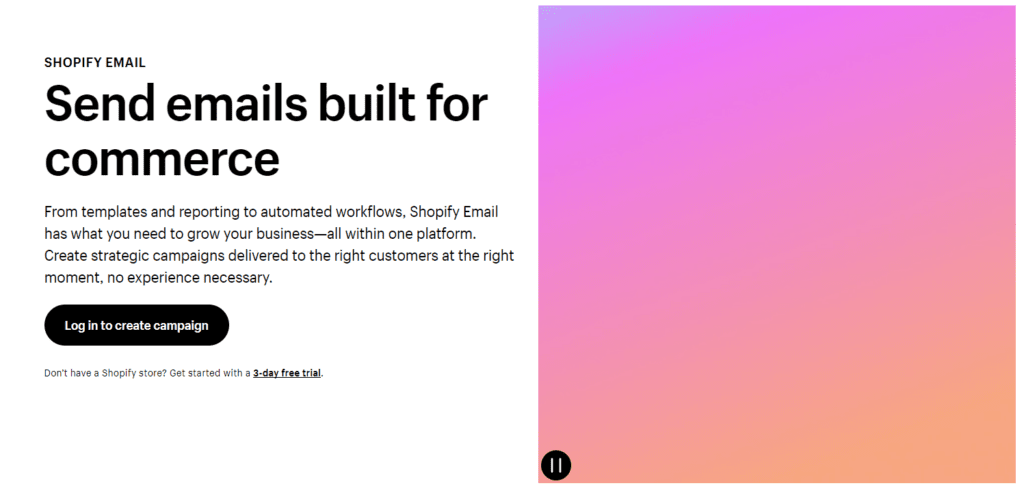 Squarespace offers both an in-built email marketing tool and 3rd party integration. You can select email templates to start editing and then sending. It really is easy and intuitive and doesn't take long to figure out. If you have previously used MailChimp, you connect your account with Squarespace and continue where you left off.


Blogging
While Shopify does offer blogging functionality and a decent range of tools, it is not its strongest offering. Shopify blogging is much better than some competitors like Shift4Shop, Volusion, or BigCommerce. And yet not as good as Squarespace or Wix. What else won't you get? Reporting and analytics option for your blog.
Squarespace takes the stage here, as blogging is its forte. There are tons of inbuilt tools to help you nourish and promote your blog from the dashboard. Since it is a visual-focused platform, adding many images to your blog will make it stand out. It is crucial, as more than 49% of marketers say that images or visuals play an important role in the success of a business.


Shopify vs Squarespace: Payment Processors
Shopify Payment is Shopify's in-house payment solution for online credit/debit card transactions. It is also the only payment solution where Shopify doesn't charge a transaction fee.
Let's say you want to use other third-party payment options. In that case, Shopify will charge 2%, 1%, and 0.5 transaction fees in Basic, Shopify, and Advanced plans.
There's also a transaction fee when a customer buys a product using a credit card. The fees are:
Basic: 2.9% and $0.30 for online, 2.7% for in person
Shopify: 2.6% and $0.30 for online, 2.5% for in person
Advanced: 2.4% and $0.30 for online, 2.4% for in person
This transaction fee is nothing to be worried about as it is quite normal. Every time someone buys a product online or offline using a credit card, the processing fee is charged. Similarly, on Shopify, the transaction fee is charged. These fees help Shopify operate your store.

Squarespace offers 3 payment processors, including Stripe, PayPal, and Square. Square lets you accept offline payments but is limited to the US only. With Stripe, you unlock several payment options like Apple Pay, After Pay, and more, while with PayPal, you can also use Venmo.
You pay a 3% transaction fee on Squarespace unless you're subscribed to their commerce plans and advanced commerce plans.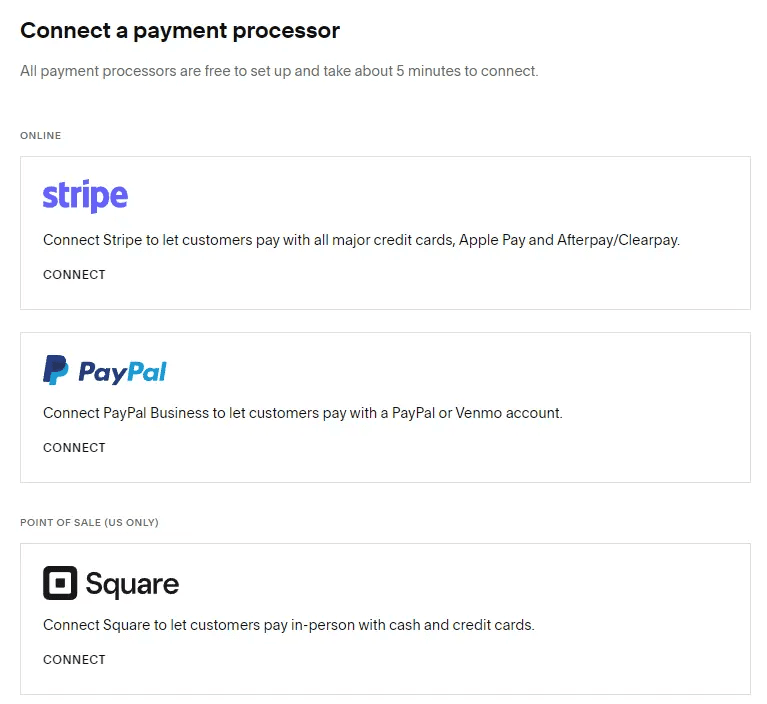 Shopify vs Squarespace: Pricing
When choosing a plan, you need to be very careful about it. You don't want to choose a plan in which you require any more features in the future, and you also would not like to waste your money on tools you will not use in the near time. And don't forget about the monthly subscription fee you will be charged for.
Shopify Offers
Shopify starter at $5/month: In this plan, sales can be processed through the same website or Facebook. For each transaction, 2.9% is taken by Shopify along with another $0.30.
Shopify Basic at $29/month: A website of Shopify and the transaction fees same as of Shopify Lite. In this plan, users can also benefit from the provided two employee accounts and can also use the discount codes.
Shopify a $79/month: There is a drop in the transaction fees in this plan which is 2.6% and $0.30/transaction. Get all the features of basic Shopify and accounts for five employees plus gift cards.
Advanced Shopify a $299/month: Transaction fees are reduced to 2.4%, along with $0.30 for every transaction. You also get accounts for fifteen employees plus advanced reporting options to level up your sales performance.
Shopify Plus: This is for sellers with a high volume of sales and a huge amount of transactions in a minute. The fees and all other associated costs are flexible and vary from seller to seller and his needs.
Shopify also offers a 3days trial, and 3 months subscription at $1/month.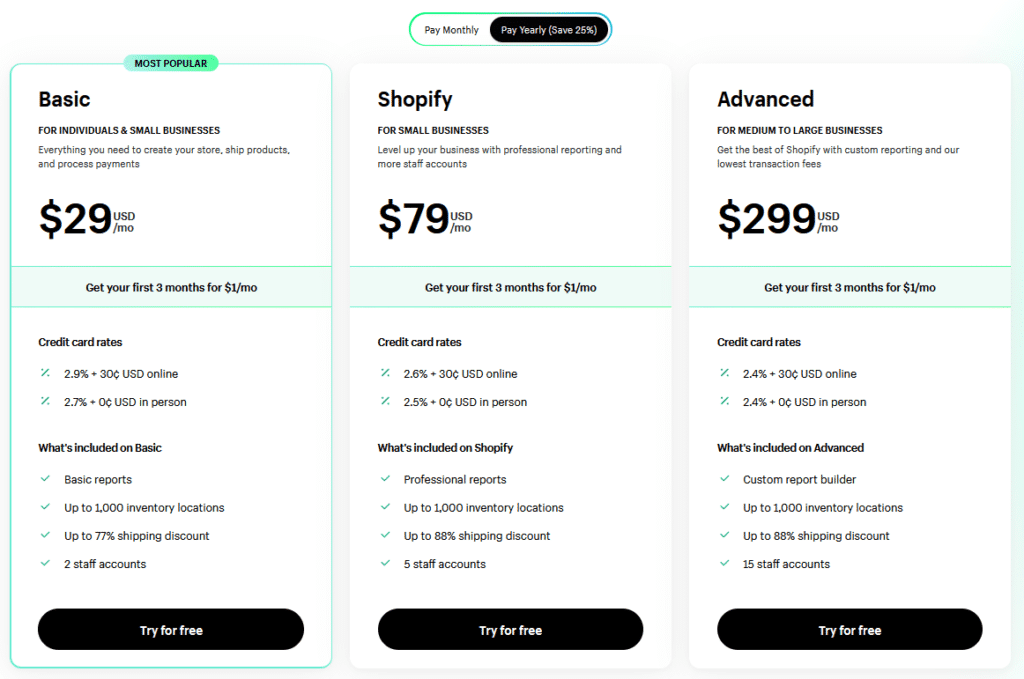 Squarespace plans start at $16/month, billed annually. But if your sole focus is selling, you need to subscribe to either Business or Commerce Basic costing $23 and $27/month, respectively, to enjoy more e-commerce features. Given the price and features, Squarespace is a bang for your buck if you plan on creating a beautiful store to sell tons of items and manage and market the store.
You get advanced features like premium themes and templates, great marketing and e-commerce tools, analytics, and reporting. You can sell as many products as you want without any restrictions. There's a 14-day free trial period that you can sign up for to test the platforms and their functionalities.
Squarespace will charge you a 3% transaction fee if you're on either a Personal or Business plan. You also get a free custom domain for a year if you subscribe to Business or higher tier plans, something you don't get with Shopify.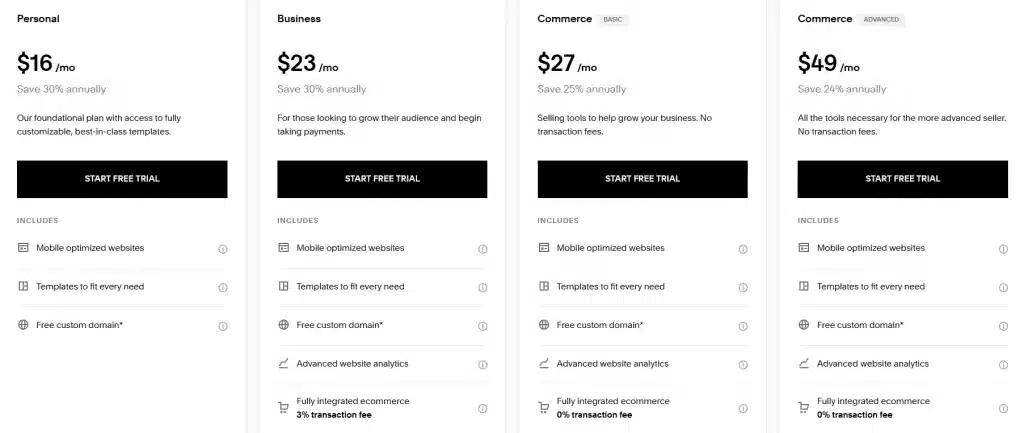 Shopify vs Squarespace: Customer Support
Shopify offers comprehensive customer support with help materials available in 21 languages. The support staff is available 24/7 and can be contacted via email, live chat, or phone. Remember, the 24/7 phone support is available in English only.
Shopify's support offering is superior to some of its competitors, such as Squarespace, which does not offer phone support. Connecting with a representative is fast, and efficient.
With Shopify support, we found that for more technical inquiries, such as help with CSS or other coding elements, the standard support service may not always provide the desired answers.
If you face technical problems, asking questions in the Shopify community could prove to be more helpful than queuing with support.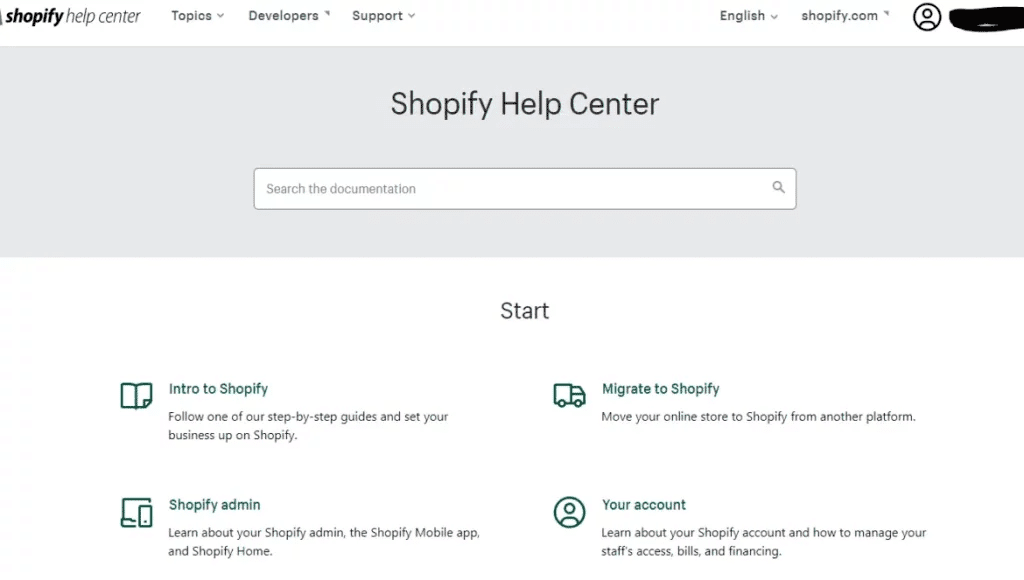 Squarespace offers a suite of customer support, including a Help Center, Live Chat, and Email support. They have covered almost every topic of website building and store setup in their help center.
However, if your problems are still unresolved, you can contact them via email, live chat, or Twitter. There's also a dedicated Squarespace forum where users discuss topics related to website building on Squarespace.
It doesn't offer phone support which many other e-commerce service providers do.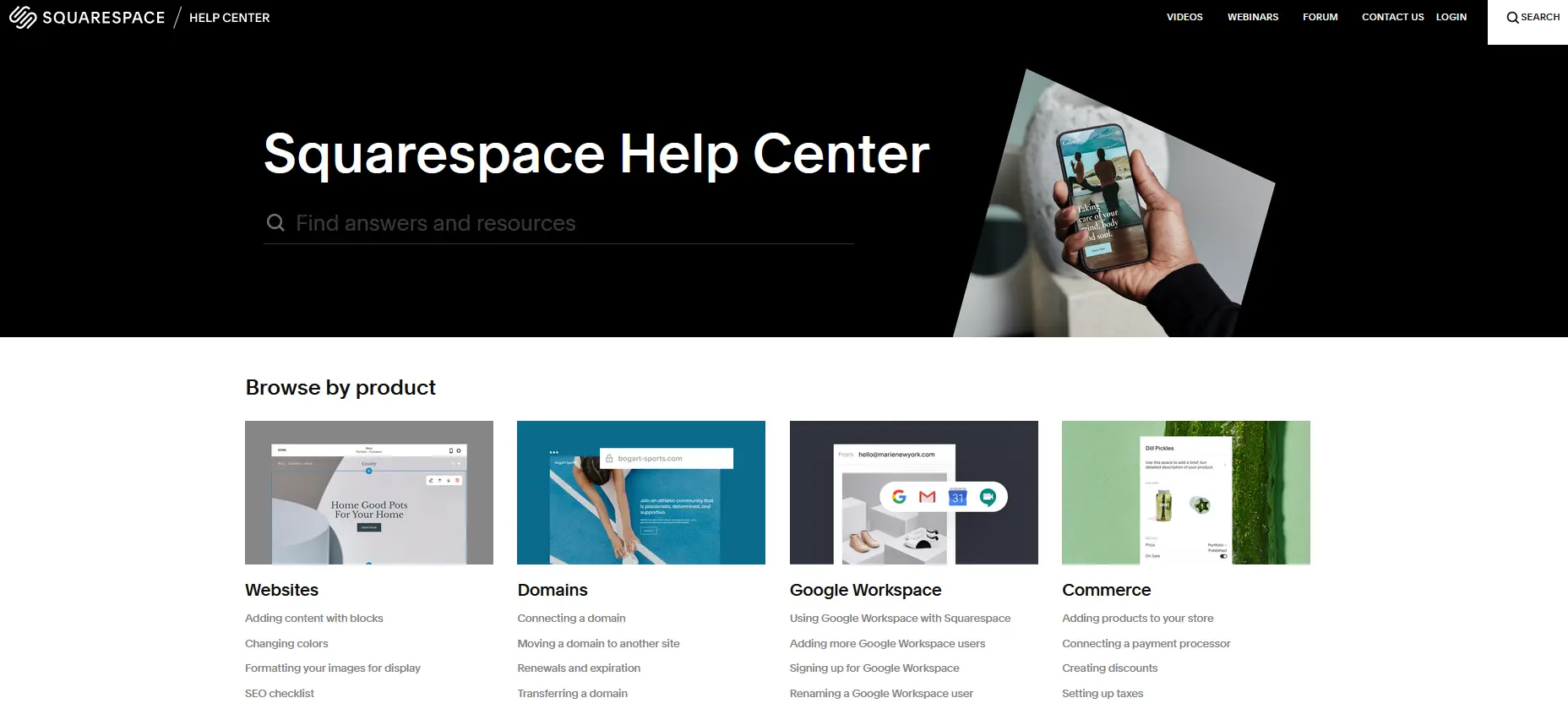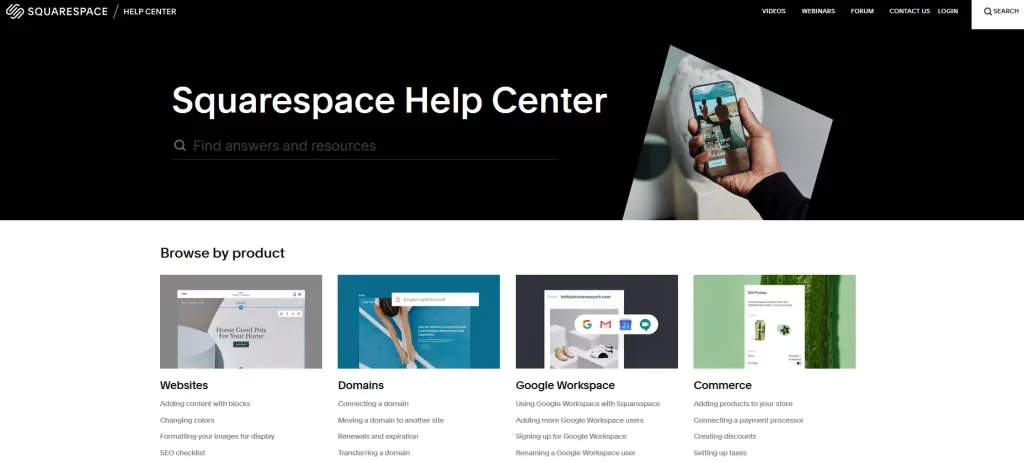 The Bottom Line: Shopify vs Squarespace—Which Is The Best E-commerce Builder?
Shopify has flexibility and customization, and features but it costs more than Squarespace. However, you will enjoy advanced reporting features, which Squarespace lacks. Since Shopify is the go-to e-commerce platform for millions of sellers, the chances of finding help on the internet are much higher.
While Squarespace offers more control over design elements and the stores are more visually appealing, it still isn't THE e-commerce builder. Starting a store on Squarespace is easier and pocket-friendly compared to Shopify, but it lacks some of the good features, like Shopify's advanced reporting, even in the advanced plans.
If you're experienced with e-commerce platform, and has an already running business but want to switch to a better platform for expansion, Shopify is the unbeatable choice. However, if you're starting and have a small budget but want a pretty-looking store with all the basic ecommerce features, Squarespace won't disappoint you.